Continuing our series of interviews featuring this year's Broken Frontier 'Six to Watch' creators we turn today to the work of frequent WIP Comics contributor Rachel Tubb. With her fluid, high-energy cartooning and a knowing wit, her comics put new spins on genre standards. Rachel talks to us today about the importance of comics community for emerging creators, her inspirations, and her creative process…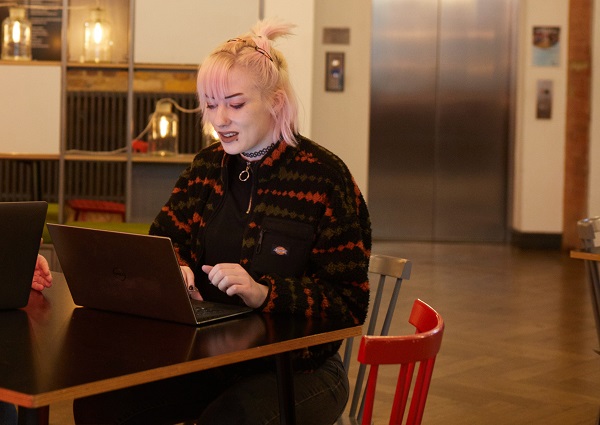 ANDY OLIVER: As one of our 2023 'Six to Watch' creators let's start with you telling us a little about your wider artistic background and your earliest entry point into comics?
RACHEL TUBB: Being raised by an avid comics fan, comics were a part of life from a very early age and always encouraged, including weekly trips to the comic shop – so I almost took them for granted and it wasn't until I was older that I realised that this wasn't necessarily the norm for everyone. Alongside drawing constantly I religiously collected Simpsons comics as a kid, as well as Teen Titans, Futurama, Tomb Raider, Justice League Adventures, to name a few.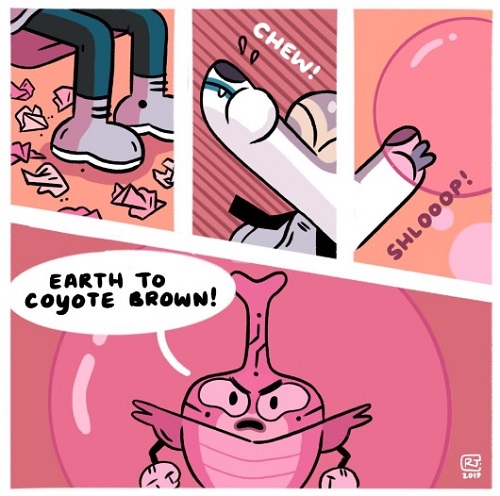 I wound up doing an illustration degree at Lincoln, which was great but, as with many degrees in the arts, tough to find a career with afterwards. So I had this need to draw but no real outlet, and then I noticed that webcomics were a thing. I started paying more attention to comics, falling back in love with them and I began making my own Instagram webcomic Coyote Brown (above) – which is pretty crude now looking back on it, but it really helped me to begin a working relationship with the medium.
AO: I first discovered your work via the WIP Comics anthologies. How important has that group been to you not just in building a profile but also in terms of peer support and honing your comics craft?
TUBB: WIP's been great. And it's reinforced something that you at Broken Frontier often appraise – the importance of community in comics. Just knowing that there are a bunch of other like-minded people out there that are spending disproportionate amounts of time at a desk obsessively drawing odd things, that's really nice. There's a solidarity in that. The recent South London Comic and Zine Fair (SLCZF) really helped to reinforce that too, there's a real buzz and energy from this really supportive network of people. Taking part in the anthologies has been a great way to hone the craft – working within the boundaries of a single theme and page count is, oddly, incredibly freeing.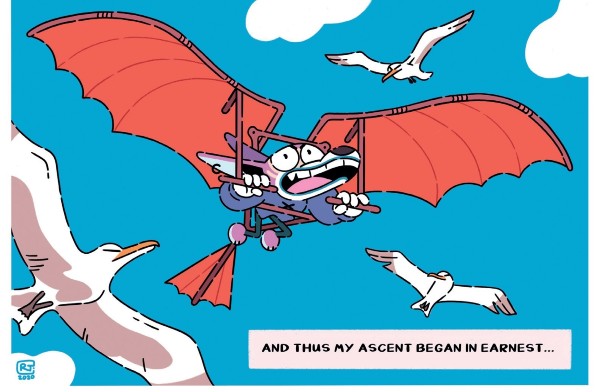 AO: Looking back on your short stories for WIP how do you see your craft, confidence and approach having developed over those stories? What have you been particularly pleased with in your WIP contributions?
TUBB: Yeah, I've learned so much since I started and I'll always have a fondness for that very first comic Lupelangelo (above) as part of the Failure anthology back in 2020. As with a lot of things, you don't really appreciate how much work, time and effort go into something like comics until you actually do it. Each year I've taken part it's sort of birthed a new set of oddball characters who wouldn't exist otherwise, so that's nice. I'm pretty excited about the comic I'm working on as part of the upcoming Change anthology too.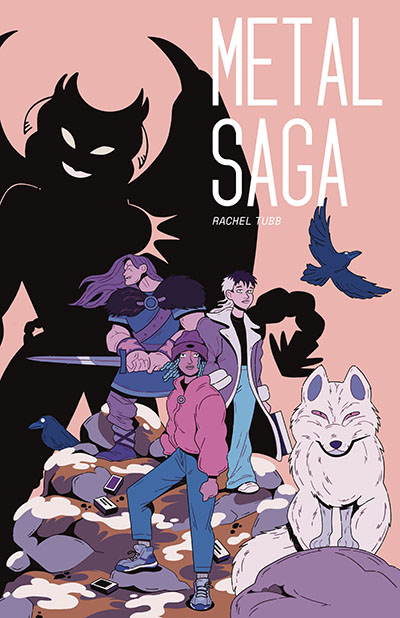 AO: We recently reviewed your short comic Metal Saga as part of our SLCZF coverage. There's a humorous subversion of genre to much of your material which is very much apparent in Metal Saga. How would you describe its premise without giving too much away?
TUBB: It's a silly tale that looks quite serious from the outside. It begins with a present day hiker meeting a talking arctic fox with a collection of mixtapes, and this is linked to a long history of conflict around the mountain and the creature that lives in it, taking us back to the Middle Ages. The bones of the story was essentially the three little pigs and the big bad wolf. But instead of pigs, it's Viking warriors with swords. And instead of a wolf it's a giant dragon lady. "Dreki" is just Icelandic for dragon. I have a fixation with Iceland and particularly medieval Iceland and the sagas. It's a bit of an indulgence in the things I love – Iceland, heavy metal and talking canines.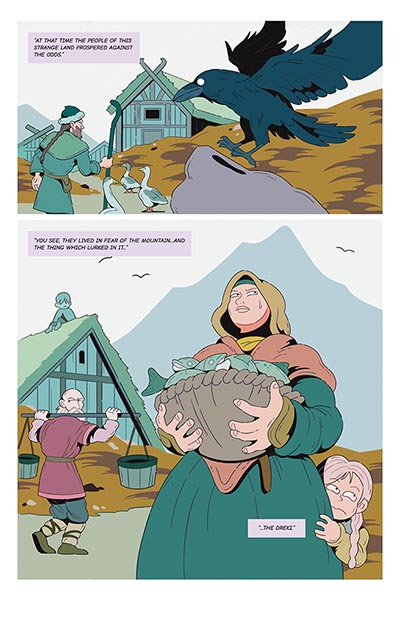 AO: How much of a boost was it to you that Metal Saga was selected to be part of the prestigious Shortbox Fair? Have there been any amendments for the print edition?
TUBB: It was such a boost to be accepted into Shortbox! I then created Metal Saga upon being accepted, so that was a real fuel for its creation process. The Shortbox Fair has produced some really great comics and artists and it was extremely cool to be accepted into that. The initial comic had become a bit rushed towards the end, as I'd originally intended it to be a lot shorter. I've since gone back and made some adjustments, most notably amending the colour palette. Originally the Dreki was this shade of purply-pink, which on reflection made her look a bit vulnerable, which is the opposite of what she should be. She's now an extra-terrestrial shade of grey, which I think helps to better represent her otherworldly nature. I designed a proper cover for it too, which hopefully helps to capture the story somewhat.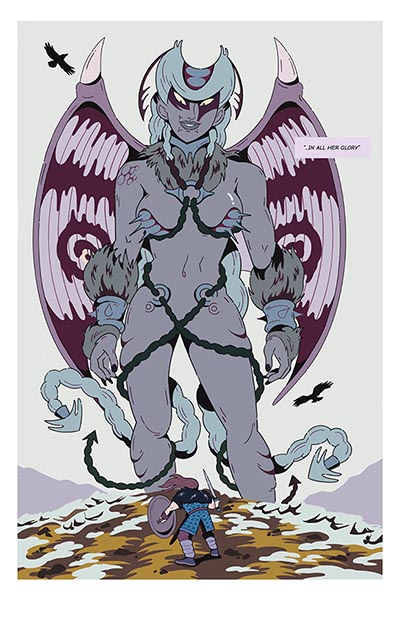 AO: Your comics work to date has been largely centred on stories that have elements of the fantastic to them. Is genre fiction where you see yourself as a comics creator in terms of output? Or are there other narrative areas you would like to explore?
TUBB: I love the escapism that genre fiction offers, and I guess it really caters for the things I like to draw, whether it's oddly proportioned creatures or barbarian heroes or anthropomorphic dogs. I'm also a huge nerd for mythology and history so that sort of has a lot of influence. That said, I'd definitely like to step out of my comfort zone and explore non-genre based fiction. Something that feels a bit more contemporary and rooted in the real world. I have a lot of admiration for creators who produce work like that.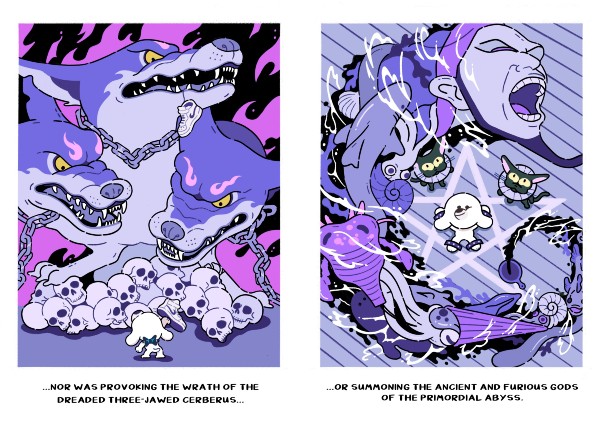 'The Collector' from the Lucky WIP anthology
AO: Your fluid cartooning and character design is such a highlight of your work. Can you give us some insights into your creative process and the mediums you work in?
TUBB: Thank you! My process sort of begins with a messy brainstorm and spider diagrams, followed by a thumbnailing and scripting frenzy which sort of happen in conjunction with each other. From there it's the character design phase, which involves a lot of Pinterest boards and visual research. All my pencils are done on paper first and then scanned in – tablets are great but for me personally they can't emulate that pencil on paper feeling, something you need for this most intricate stage of the process. I then ink, colour and letter digitally on a tablet using good old Procreate and Photoshop.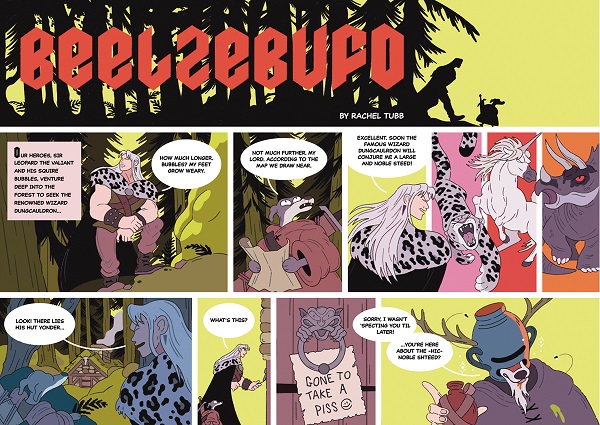 Rachel's entry from the WiPXL anthology
AO: Who do you count among your artistic influences and inspirations?
TUBB: This is a hard one to answer without reeling off an essay! But I'd say the key influencers for me are Genddy Tartakovsky, Andrew Maclean, Miyazaki, Darwyn Cooke, Nick Park, Uderzo and 90s and 2000s anime. Oh and the Simpsons of course. I've been getting into more classic European titles lately too, like Thorgal, Alix and Dylan Dog.
AO: And, finally, what other comics projects are you working on? What can we expect to see next from Rachel Tubb?
TUBB: I'm currently working on my entry for the upcoming WIP Change anthology, but in addition to that I've got some short story format comics I'm working on which are united by a common theme, as well as a comic which involves sheepdogs in the Australian outback. Due to full-time work I don't produce half as much comics as I'd like to, but as we mentioned earlier I'm excited to explore something that isn't as genre-fiction as I'm used to.
You can visit Rachel's website here and buy the WIP Comics anthologies here. Follow Rachel on Twitter here and Instagram here.
Interview by Andy Oliver
Rachel Tubb will be at Gosh! Comics this Saturday, August 5th for Small Press Day