SLCZF 2023! Over the last few years artist Rachel Tubb's work has been very much on my radar through her contributions to the yearly WIP Comics anthologies. Her short comics stories in those pages are always a highlight, and it was with those contributions in mind that I chose her as one of this year's Broken Frontier 'Six to Watch'. Tubb will be tabling at this weekend's South London Comic and Zine Fair with Metal Saga, a longer-form comic that underlines the promise seen in those anthology entries and one that originally debuted digitally last year as part of the Shortbox Comics Fair.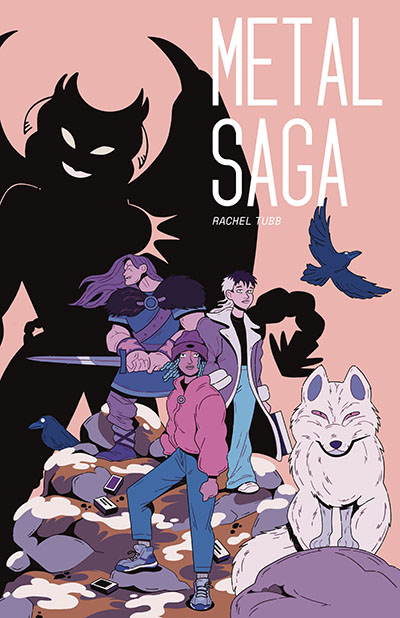 Tubb's WIP work put a knowing and witty spin on the fantasy genre with an amiable irreverence that nevertheless showed a fond appreciation of the genre standards it was lampooning. Metal Saga very much follows in that direction. The story centres on a powerful supernatural entity of myth known as the Dreki, an awesome, menacing god-like creature who for time untold has been a threat to the villagers who live below its mountain home.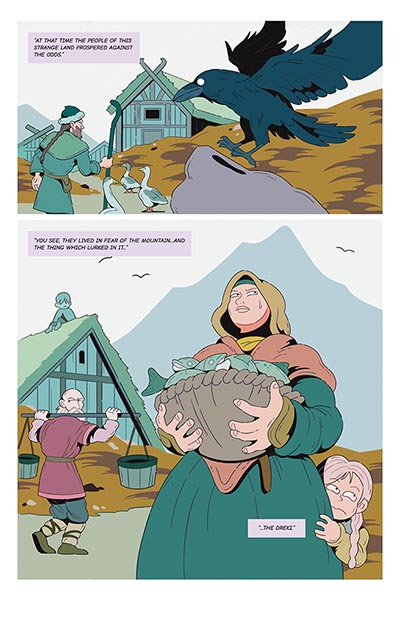 An ancient prophecy decrees that this malevolent presence can only be defeated by an unknown type of metal but all challenges have been met by disaster. In contemporary times a lone mountaineer encounters a mixtape-collecting white fox and the secrets of the Draki's defeat are finally revealed.
I have said in the past when reviewing Tubb's work that she has "a rather fine line in building up to splendid punchlines." In Metal Saga that witty denouement is telegraphed well in advance but the result is that rather than weakening the finale it makes it all the funnier for our eager anticipation.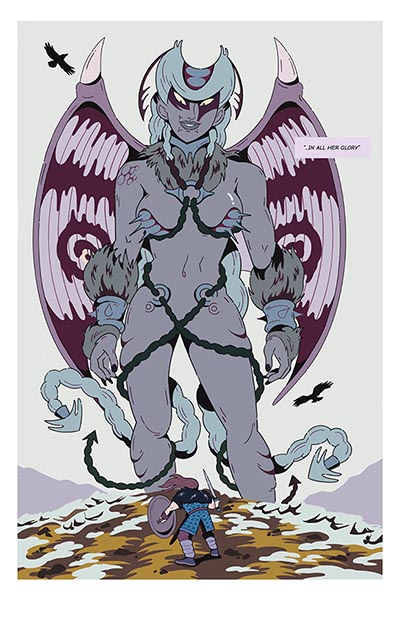 Tubb's cartooning in Metal Saga is as fluid and energetic as we have come to expect, with a strong line in character design and solid world-building in such a limited and concise narrative space. For someone who has put out only a limited amount of comics to date Tubb has a strong understanding of those narrative tricks that work in comics and comics alone. That's particularly apparent in the way she uses a variety of perspectives to create a sense of place and majesty to this mountainous terrain, guiding our eye from different vantage points to full appreciate its grandeur.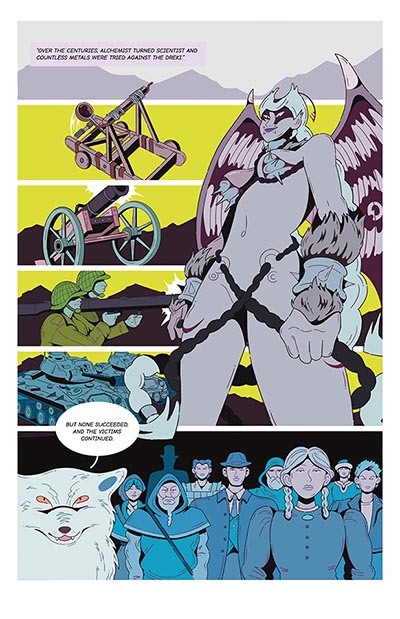 One page towards the end of the story detailing the Dreki's invincible nature over the centuries reminds us of the ways in which comics subverts the linear notion of time with incremental leaps that still refer back to a fixed symbolic point. And the storytelling rhythm to the comic's ultimate confrontation between characters is well-paced in delivery. If you're looking for something self-contained and accessible at SLCZF on July 16th then you won't go far wrong with Metal Saga.
Rachel Tubb (W/A) • Self-published
Review by Andy Oliver
SLCZF is held at Stanley Arts on July 16th. More details here.