SLCZF 2023! As I have mentioned before on occasion here at Broken Frontier one of the great privileges of being involved with BF is getting to see work-in-progress months… or in this case years… ahead of publication. Ellice Weaver's Big Ugly was published in June by Avery Hill Publishing (who will be tabling at this weekend's South London Comic and Zine Fair} and is the 2016 Broken Frontier 'Six to Watch' artist's second graphic novel. It not only lives up to the promise that was so apparent when I first saw those early pages back in 2020, it far exceeds it.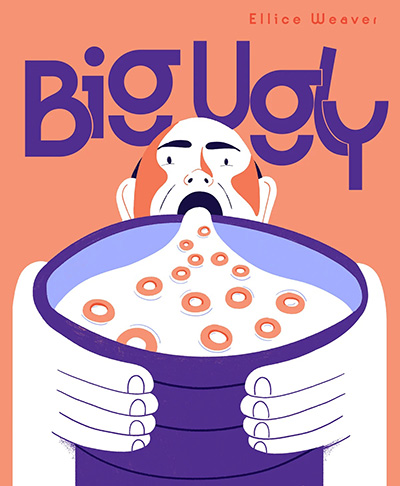 Big Ugly is the story of siblings Mel and Matt, thrown back together again when Matt moves into Mel's flat. Matt is living through an aimless interlude point in his life, while Mel is dealing with her own anxieties and health worries. When Matt becomes involved with Jill, a firm believer in theories of Human Design, the brother-sister dynamic between the two begins to become more strained, and the echoes of their past begin to reverberate in their present…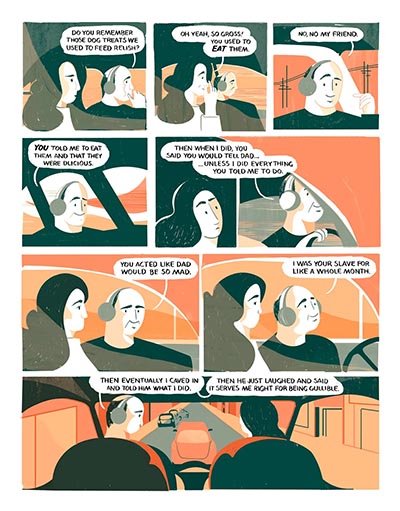 What Weaver provides us with Big Ugly is a character study that looks to ask questions rather than to answer them. As the story progresses we begin to understand how the complexities of the siblings' early relationship have irrevocably shaped the people they became and the way they interact in the here and now, with the Human Design subplot mirroring and commenting on their roles. It's a fascinating exploration of how adulthood is not something we grow into and learn but rather something that is imposed on us; a destination of sorts that we can never actually reach because there is no map to it.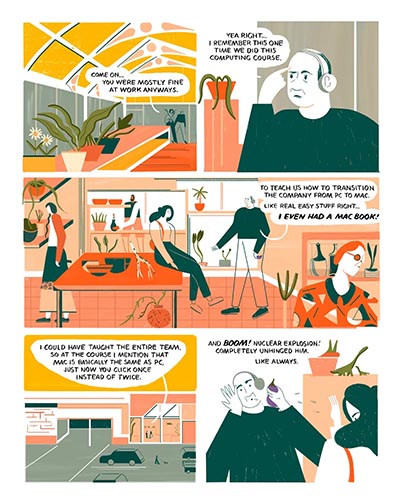 The complexities and nuances of the siblings' relationship, then, are at the book's thematic forefront but this isn't simply a story about how the past informs the present. It's also about revisiting, processing and acknowledging our shared histories, and accepting where they have taken us. What's interesting about the subtlety of Weaver's narrative approach is that the book's understated qualities and its seeming narrative digressions are actually the foundations of both its potency and its focus.
Weaver's art and considered economy of colour are once again highly atmospheric in their application, with Till Lukat's lettering choices always sympathetic and intuitive. Her visual characterisation is exceptional and such a vital part of the success of Big Ugly. The pliable physicality of her characters never distorting body language but instead accentuating and embodying the moods and emotions of her cast. Frequent sidesteps from sequentials to double-page spreads allow her to establish the environments her characters operate within while populating them with countless mini-narratives in their own right.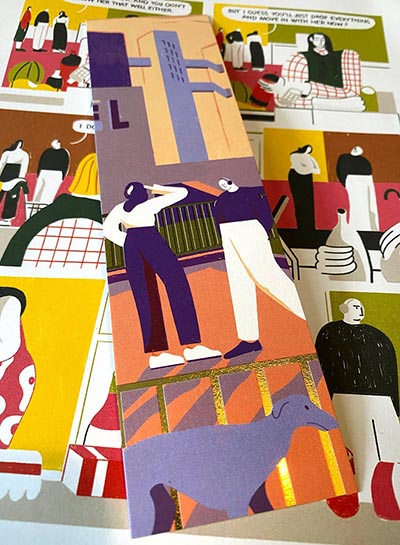 Big Ugly is a story of multiple interconnected themes. It's about forgiveness, recognition, absolution, repentance, the roles we fall into and so much more. But, perhaps just as importantly it's a testament to how much Ellice Weaver's work has matured and grown since Something City. And how, since her self-publishing days, she's evolved from an intriguing new voice to a truly unique one. If you've yet to pick up a copy of Big Ugly then Avery Hill's table at SLCZF is a must-visit location.
Ellice Weaver (W/A), Till Lukat (L) • Avery Hill Publishing, £14.99
Review by Andy Oliver
SLCZF is held at Stanley Arts on July 16th. More details here.