Over the last few years Avery Hill's Reads has served as the micropublisher's showcase comic; a self-styled shop front featuring an ever eclectic mix of genres and approaches to the form. It's featured the work of such UK small press mainstays as Owen D. Pomery, Tim Bird, MJ Wallace and Paul B. Rainey, presented both ongoing serials and complete-in-one tales, and acted as a proving ground for newer creators and potential projects. This fourth issue wraps up volume one of Reads. But those who have been enjoying its diverse mix of material to date need not worry – the  second incarnation of the book is launched next month.
The very nature of the anthology comic – the opportunity it affords to present the work of established creators next to that of debutants or lesser known lights – means that it can often serve as an introduction to creative voices one has yet to encounter. In Reads #4 that honour belongs to Carlos Pascoa whose slice-of-life tale 'The Cable' (below right) is far less pedestrian than the usual fare that can occasionally be associated with that strand of storytelling.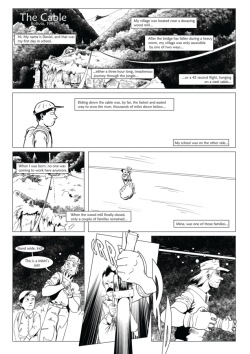 Set in 1997 in a small village in the Bolivian jungle it recounts how the villagers become dependent on riding a steel cable across the chasm that separates them from the rest of civilisation after the bridge over the nearby river collapses. The trepidation that young schoolboy Daniel feels for using this rather precarious form of public transport is contrasted with his super-hero comic -inspired daydreams to create a coming-of-age story that juxtaposes childlike reverie with the harsh realities of remote living.  The use of relatable manga-style cartoonish characters dropped onto ultra-realistic backgrounds ensuring the reader is drawn directly into the world of Daniel and his family. Pascoa's is a name I will be looking out for in future.
No one could accuse this book of playing it safe and the contents of the latest issue are disparate indeed in both tone and subject matter. Dotted through Reads #4 Owen D. Pomery shows his versatility with three thoughtful short stories that are a world away from the comedic excesses of his The Megatherium Club (also from AHP). 'Silent Treatment' (below left) is the longest form entry: a meditation on the strange contradictions inherent in – and the strained relationship between – modern living and the ways we communicate. Pomery is always good value and the work here is more in the vein of his critically acclaimed Between the Billboards; brooding, introspective and slightly unsettling.
Tim Bird, another mainstay of the Avery Hill stable of creators, gives us 'Mixtapes' – a poignant tale of music and lost love. As autobio comics go it's slight in plot but highly effective in delivery. Transient but tender. The second part of MJ and Cameron Wallace's 'Haunters Gonna Haunt' (below right) was covered when I reviewed the one-shot edition of their supernatural sitcom earlier this year. You can catch my full thoughts on that trilogy of tales here.
Before the new beginning next month, though, we also have a time for endings for two established Reads residents. Ricky Miller's 'Metroland' epic – an Avery Hill staple that began in their artszine Tiny Dancing – comes to a temporary finish ready for a bona fide reboot in its own upcoming book, with Rebecca Strickson's stunning photorealism (above centre) ensuring this is a contemplative coda to the run. Similarly, Michael Gosden's 'Bad Times Ahead' concludes in this issue but with an exposition-heavy finale that suggests it can't race to that finishing page quickly enough.
In the past I have sung the praises of the grassroots feel of Reads – its slightly irreverent, self-deprecating tone has had an undeniable charm. That's repeated to a certain degree in a publisher's afterword about the future of Reads in this issue. But you know what? That unassuming, unpretentious, overly modest attitude? It's no longer necessary. I've made this point before but this is the micropublisher that has given us the amazingly confident semi-debut of Jazz Greenhill's The Festival; the pensive and atmospheric psycho-geography of Tim Bird's Grey Area; the madcap historical slapstick of Owen D. Pomery's The Megatherium Club; and the quiet spirituality of Mike Medaglia's Seasons. They're not the little guys on the outside anymore. Mark my words – you should be keeping a very close eye on Avery Hill's projects in the next few months. Without a doubt, 2014 is going to be a huge year for them.
For more on Avery Hill Publishing check out their site here. You can order a copy of Reads #4 from the AHP online store here priced £3.00.