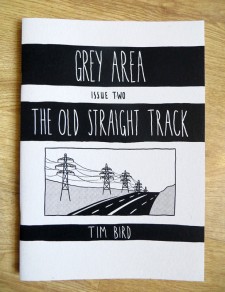 Tim Bird's Grey Area is a comic that pushes environment to the forefront, making geographical locations its central characters and replacing traditional plotting with a flowing journey of contemplative reflection. Earlier this year I reviewed the first issue of the book, subtitled 'While the City Sleeps', which featured three interlinked stories examining the hidden corners of London at night.
This second offering follows the travails of a salesman on the road and acts as something of an ode to the peculiar language of motorways. As per that original issue, this follow-up echoes its sense of loneliness and detachment as we observe our commercial traveller's daily routine of congested traffic, car park conference calls and gloomy service stations. It also has that same evocative ambience of #1; that sense of past lives lived and long-gone predecessors haunting the same routes.
Bird overlays the vast sprawling motorway network of Great Britain with a mystical and arcane pseudo-reality, transforming it into a kind of sprawling entity in and of itself. Separate journeys become parallels to human existence while individual voyagers along these roadways weave in and out of each other's stories, becoming footnotes in the continuity of other lives.
The black and white art on show here perfectly builds up mood as the narrative provides a sense of routine mundanity and a cyclical inevitability to the never ending streams of speeding metal pulsing through the arteries of the traffic system. As the book moves toward a conclusion the lines between journey, traveller, reader and page begin to blur and merge leading us to a fittingly dreamlike and quite remarkable denouement.
Grey Area #2: The Old Straight Track is another piece of beautifully understated storytelling from writer/artist Tim Bird and one that fully deserves your considered attention and support.
Grey Area #2 is published by Avery Hill Publishing and available here priced £3.50.