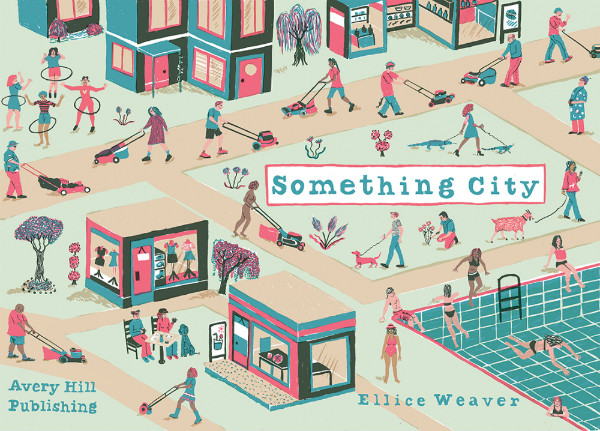 SMALL PRESS DAY IS COMING!
In January of last year we told you all that Ellice Weaver was an artist to keep the closest of eyes on and we weren't wrong! This year our 2016 Broken Frontier 'Six Small Press Creators to Watch' star's first graphic novel Something City was published by Avery Hill Publishing to huge critical acclaim. When I reviewed it here at Broken Frontier last month I said "With its haunting evanescence, entrancing hues and Weaver's unique and charmingly idiosyncratic approach to the page, Something City is a stunning first offering from one of Avery Hill's finest debutants to date."
For the last year or so Ellice has been travelling Europe in a van with her partner and comics artist Till Lukat (you may have read some of their adventures when we spotlighted Till's autobio travelogue comic Off the Grid here). She's back in the UK at the moment though and, ahead of her Small Press Day appearance at London's Gosh! Comics (where she'll be signing the 2017 Broken Frontier Small Press Yearbook at its launch!) I caught up with Ellice post-ELCAF to talk about the themes of Something City, her artistic process and her stunning BF Small Press Yearbook cover…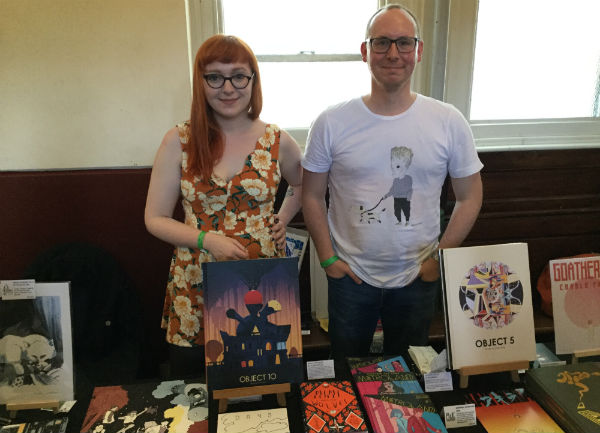 Ellice with Avery Hill Publishing's David White at ELCAF this year
ANDY OLIVER: It's been a phenomenal year for you since we last spoke in terms of both announced projects and deserved acclaim. What have been the highlights of the last few months for you?
ELLICE WEAVER: Well, it's a nice one for me to think about. When I worked on Something City it was quite a solitary experience. You spend a lot of time sat in the quiet and working alone, building up to the moment where you'll be able to send the files away. I had like a constant mantra, "finish the book and go to England, finish the book and go to England". So when I was done it was a great feeling, scanning through the final PDF and feeling excited and proud that I kept to my ideas and got a body of work out of it in the end.
Then when I came to England and went to ELCAF to launch the book it was a really gratifying experience. Suddenly you go from being behind a desk the whole time making work to getting out there and talking to other creators who are doing what you're doing. I really loved that after all the drawing.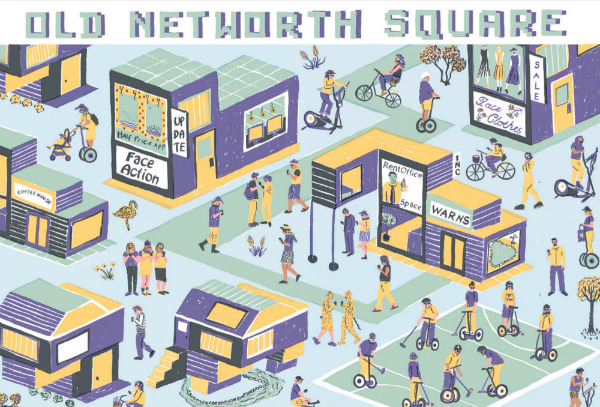 Being picked up by such an important entity in UK indie comics as Avery Hill Publishing is a huge boost for any up-and- coming artist. How did your creative relationship with AHP begin?
I know! They're great. I'm really pleased to be an Avery Hill creator. It goes without saying that their books are fantastic, contemporary, boundary-pushing and gorgeous. I could say a lot of positive things about them. Maybe 2 years ago or so I found out about Avery Hill through Broken Frontier. Then I went to Bristol Comic and Zine Fair, where I was tabling with Till. They were sat opposite me. At this point I knew I wanted to make something longer and really loved the idea of making a book. I got in touch with Ricky ([Miller, Avery Hill co-publisher) with an idea about a grandmother and her grandson. I ran with the idea for about 15 pages or so but then dropped it. I knew it wasn't the right project and was happy to leave it behind (quitting can be so refreshing).
Then a few months later I started working on a couple spreads for Something City, Ricky saw it and got back in touch with me about a book. I wasn't expecting it, we were about to move into the van, maybe even the day after I got the go ahead for Something City. So I was like overwhelmed with working out how to make a book and how to live in a van. I loved the challenge and also the feeling that I wasn't just making a book to represent myself it would also have someone else name on it was a really positive push.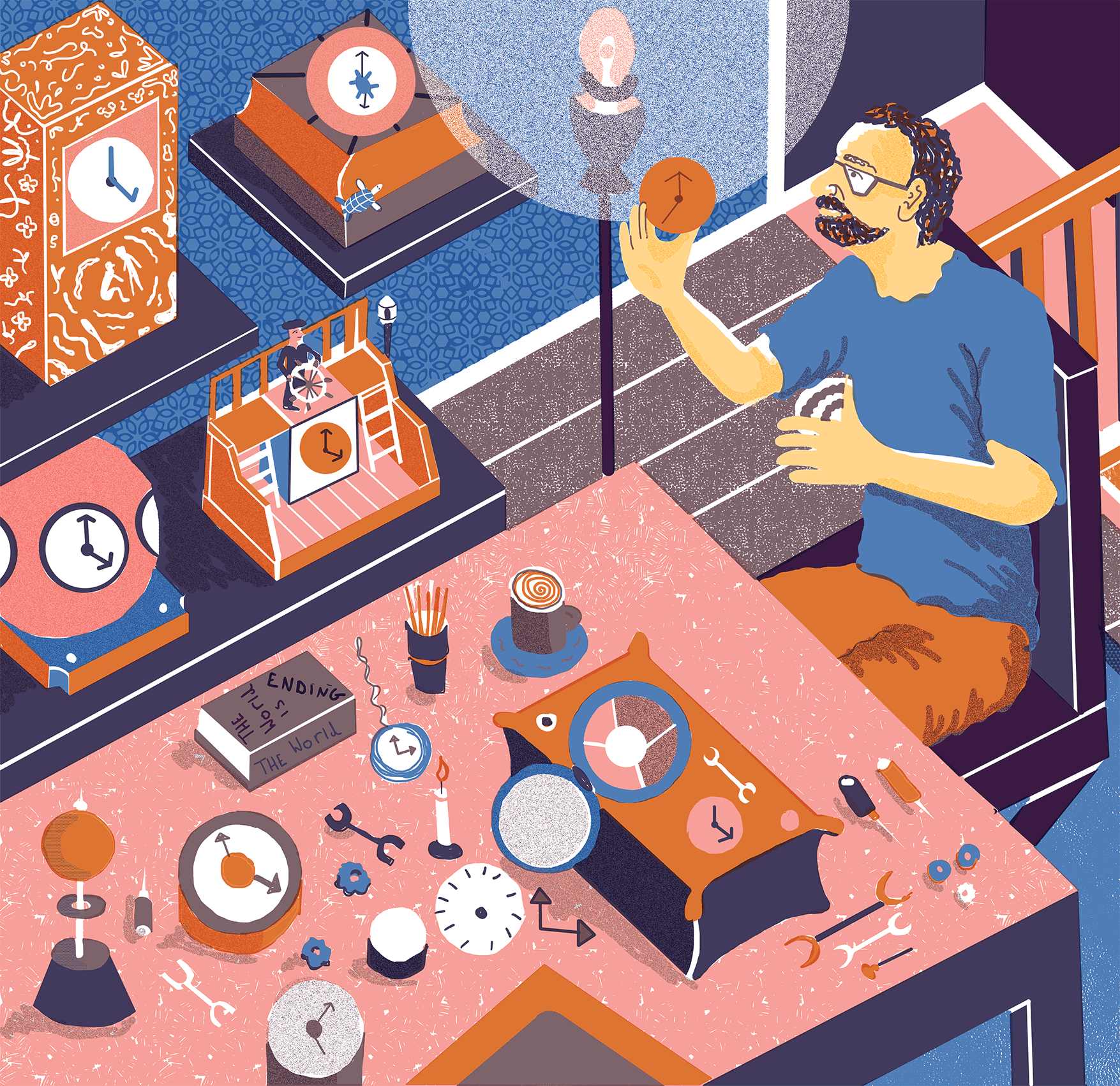 Your work has evolved remarkably and your style developed and grown since I first reviewed your minicomic Collector Cabinet a few years back (below). That's very apparent from the pages of Something City. What's the premise of the book and how does its multi-story layout work?
It's great that that comes across. I'm always trying to develop my work and take it to the next step. Something City examines a city and within the city there are different communities, different characters, connecting and interweaving. In terms of making the book it was a really good set-up. Having a topic as open as a city allowed me to explore lots of different avenues and themes I was interested in. One month I could work on a more quiet, human-based story and the next I could work on an outlandish story about a totally different life. It really kept everything moving.
This format taught me a lot about how to form an idea. Now I know I just need an angle to use: a boat, a city, a dog or anything and then let everything fall around that thing. I hoped that the book would in a way examine how we live. How people cross paths unintentionally or how as a collective we change things. So having multiple lives and people seems to work well. I could zoom in, zoom out, move around. Just as any tourist would.
You've lived something of a nomadic lifestyle over the last year or so. To what degree did that feed into the structure of the book with its convergence of different cultures and lifestyles?
I think without all the traveling around we did the book wouldn't have been the same. When we were driving around it got me thinking a lot about home and what it means to surround yourself with the same people. We were spending small pockets of time in different places, communities, villages. In Portugal the elderly men would sit out on their steps, drinking beer, staying cool. One man would sit across the road from the other. I liked thinking about what was going on inside their houses and how they knew each other.
Especially when we would spend a longer time in a campsite where people were living. It was like a condensed city. Loads of different identifies and cultures which would be apparent in small things such as stickers people decorated their vans with. Some people would shop at Iceland and some at the local market. I loved making the book on the road, sometimes it was impossible when it was 45 degrees in the van, at these times we would affectionately refer to the book as 'Something Shitty' – glad it didn't stick though. Sometimes it was so grounding to feel like I had something to do in places which I didn't really have any connections to.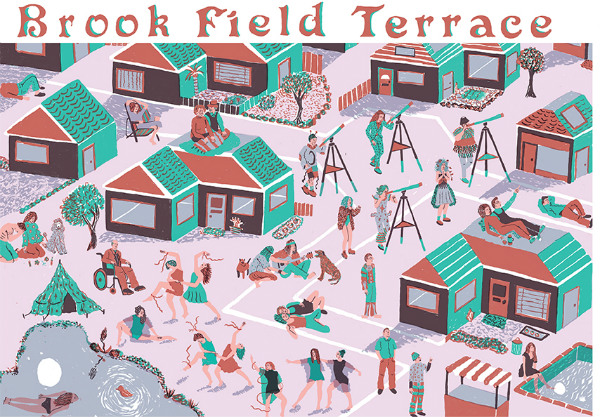 There's something of the psychogeographical about Something City in its ideas of not just how we shape our environment but how it also shapes us. Recurring motifs of personal space, freedom, confinement and self-expression abound. What were the main themes you were looking to explore in the book?
At the time I was reading a book about how we persecute each other by methods of shame. I find the way people are shamed through the internet, Twitter and public is such a strange modern contrast to how we used to shame people in more medieval times. It's a weird shift that we're experiencing. One person can voice their feelings about someone else; it doesn't make much difference but collectively people can destroy peoples lives through this kind of shaming.
In a way it's worse than spending a day in the stocks. I wanted my character Jo Walker to be an example of this. I wanted her story to pop up through book. To show how we look over the fence judging people without thinking about it. I hoped to explore themes that show everyone has their own life going on, no one really knows about it and often people on the outside don't really care, which is sometimes good and sometimes negative.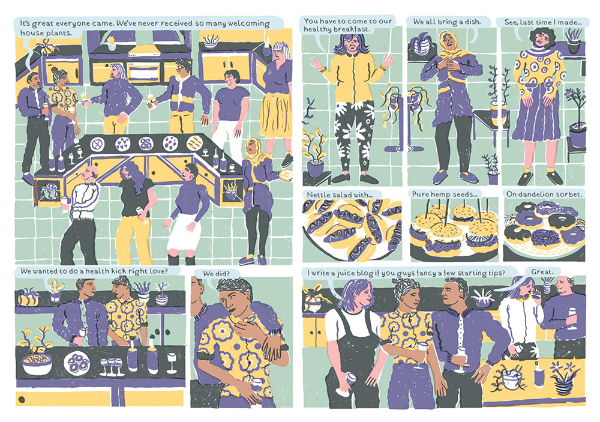 I know you work in different ways but I'm lucky enough to be the proud owner of some of your original art which was created with the same distinctive approach that I believe you also used on Something City. Could you tell us about your artistic process on the book?
First I started with a pencil drawing which would have all the lines etc. I'd code each area with the colour tone I was going to use. Then I'd take layers of acetate and use black ink to paint each layer. One layer of acetate would be the darkest colour and I'd work through to the lightest. By the end of the drawing I'd have all the layers I'd need and then I'd scan everything into Photoshop where I'd work out the colours and clean up. I made most of the pages at A2. I can be more expressive when drawing at a larger format.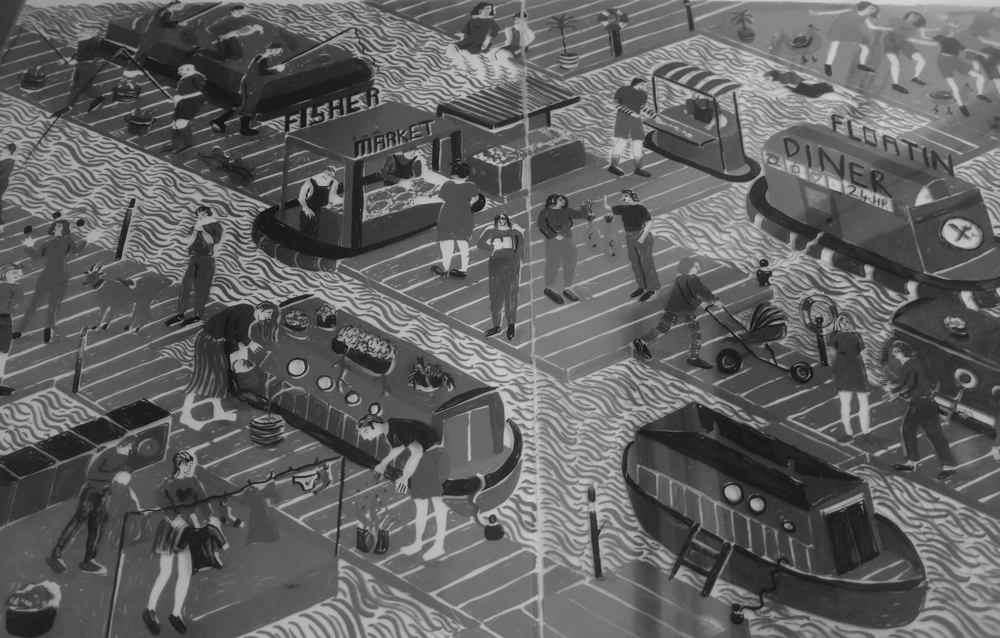 Ellice's creative process above… 
In our previous interview we spoke about how important your use of colour is in creating atmosphere and mood. How did you use it in Something City to further the themes of each segment?
Colour is always my favourite part. I used four different colour schemes and used them to keep the book changing. With the quieter stories I'd use a more twilight green and red palette and for the louder comics I'd choose louder colours.
The landscape format is a markedly different one. What were both the challenges and the advantages of working in that style in storytelling terms?
The landscape format made everything easier. The reason for the landscape format was because the beginning cityscapes needed the format. I could fit more in when the page was longer. But then I think it lent well to the stories. The stories are short glimpses into lives. I liked that they ran across this long format because when the stories were fast-paced it slowed them down a little. I was often wondering how it would work as a square. But, now I have the book, landscape was the right shout.
The book is full of careful interconnections between stories and characters but it feels like this is a concept that could run and run. Do you have any plans to return to the world of Something City further down the line?
I can imagine that I'll use the idea of Something City to continue in future work. The city worked as a tool to allow me to tell stories. I'll use that format again. Not necessarily a city but maybe something else which has this rolling effect. I like the continuing feeling of it. Maybe next time I'd like to make something that explores less people but goes a bit deeper into the lives.
You're the cover artist for the upcoming second Broken Frontier Small Press Yearbook (above). How did you interpret the book's theme of 'New Horizons' in your cover design?
This was the first time I'd been a cover artist. I felt the responsibility of trying to make a cover that left the interior of the book open. Till's parents had just been to Egypt and I love all thing things Egyptian. They had bought me back this wonky metal cat and a scarab and some hieroglyphic prints. Ancient artefacts in modern hands.
I liked the idea of taking something ancient and bringing our modern life into it. It felt very "new horizon". So I had modern day life exploring an ancient world. I wanted to show tourists weaving around a place that was not theirs. I feel like comics are very much like this. You pick them up, get transported into a place that has nothing to do with you and then you leave.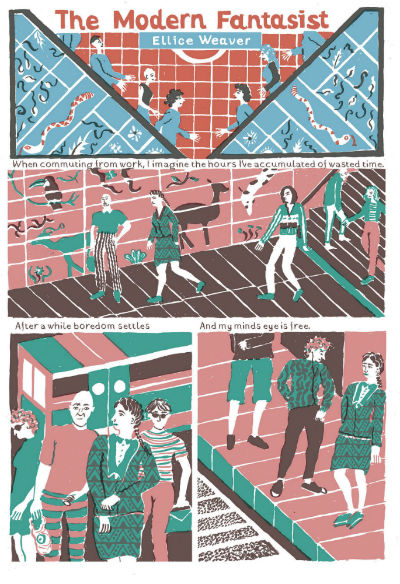 What's the premise of your own story 'The Modern Fantasist' in the Yearbook?
Again, the idea of modernity popped up. I was thinking about the day of a modern person: commute, go to work, get home, go to the gym. The different places our brain takes us throughout the day. How we use our brains to entertain us. The character in the comic would go through her mundane day but inside her brain she'd be in adventure mode.
And, finally, are there any upcoming projects you're working on that you can tell us about? What's next for Ellice Weaver?
Since Something City I've been working on developing my drawings a little further. I've had a nice time trying out new things and using a fresh eye to evaluate what I want to do. I've just started to play with an idea for a new project. I'm really enjoying the writing side of things. So far I've got a lot of spider diagrams, gmail notes and loose sheets. I'll see how that goes. I have a couple comics coming out in some books and a magazine and of course the story in Broken Frontier Small Press Yearbook. If you follow me on social media you'll probably see bits and pieces as they come out.
For more on Ellice Weaver's work check out her site here and follow her on Twitter here. You can buy Something City from Avery Hill Publishing online here. The Broken Frontier Small Press Yearbook is available to buy online here priced just £7.99.
For regular updates on all things small press follow Andy Oliver on Twitter here.
Ellice will be signing at the launch of the 2017 Broken Frontier Small Press Yearbook on Saturday July 8th at London's Gosh! Comics from 7pm to 9pm. More details on the Gosh site here or you can join the Facebook event group here.