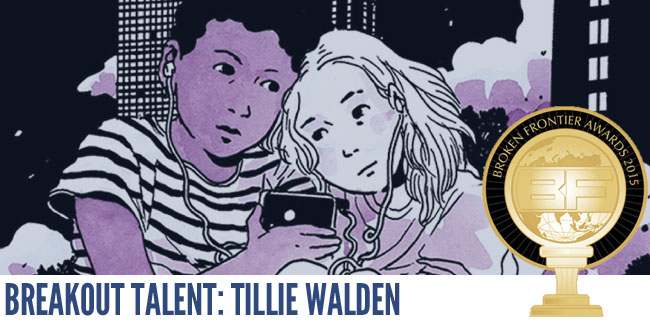 Of all our awards categories this year the one that garnered the most interest – to the tune of twice as many public votes as many of the others – was the Breakout Talent Award. That's perhaps unsurprising given that Broken Frontier is a site that prides itself on discovering new talent and introducing it to a wider audience. But there was added resonance this year as a number of the 2015 nominated artists either had their first exposure at BF or have been notably championed by us as creators to watch.
What was so intriguing in 2016's nominations was the diversity of approaches to the form represented on the shortlist. Jessica Martin's gorgeously retro period comics, for example, sat side by side with the vibrant super-heroic energy of Babs Tarr's work; while Andrew Maclean's eye-catching fantasy stylings were up against the bawdy slapstick wit of Danny Noble (herself one of our 'Six UK Small Press Creators to Watch in 2015'). Amazing creators one and all, and if you're unaware of their work to date then make it a priority to check out the links to their websites provided in this paragraph.
In an incredibly strong field, though, the phenomenon that is Tillie Walden was the nominee our readership and staff finally settled on in this closely fought contest. Walden burst onto the comics scene this year with her debut graphic novel The End of Summer (above) from acclaimed UK micropublisher (and fellow BF Awards nominee) Avery Hill Publishing, with a follow-up graphic novella I Love this Part being published in time for Thought Bubble.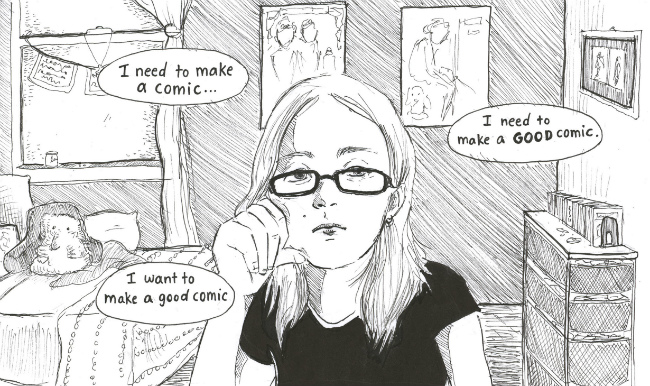 The End of Summer (reviewed here at Broken Frontier) was an ambitious yet captivating dark fantasy tracing the fortunes and tragedies of an eccentric well-to-do family as they settle down in their sprawling mansion environs to wait out the course of the coming three-year winter. A twisting tale of familial secrets and intrigue, with grotesque and fantastical elements thrown into its claustrophobic mix, it was one of the standout releases of 2015.
One of Walden's greatest strengths as an artist is her creative range, not just in terms of her ability to adapt herself to any genre – as evidenced by the comics available to read on her website – but also the wildly varied narrative approaches to the page she adopts. Her second offering I Love this Part (below) eschews The End of Summer's tight and dramatically taut layouts for a series of one-panel pages that allow her art to breathe and, as a result, bring an unforgettable emotional intensity to the book's tale of the blossoming relationship between two girls in small town America.
The assuredness and confidence of Walden's work is all the more remarkable for the fact that the artist is still in her teenage years. She's an astonishing prospect and one destined to be a major player in the medium in the years to come. Tillie Walden's intuitive understanding of the structure of the comics form marks her out as a singular voice and a very deserving winner in a group of extremely gifted creators in this year's Broken Frontier Breakout Talent category.
You can follow Tillie Walden on Twitter here and buy her books from the Avery Hill Publishing online store here.