Rachael Smith has become one of this column's core group of regularly featured creators since I first reviewed her short comic I Am Fire nearly four years ago here. Since then she's had three graphic novels published via Great Beast and Avery Hill Publishing, contributed to numerous anthologies, collaborated with Mike Medaglia on a comics adaptation of Kathy Hoopmann's Blue Bottle Mystery: An Asperger Adventure for Singing Dragon and become part of Titan's Doctor Who comics creative line-up.
Today, as our 'Small Press Spotlight on…' series of interviews return after a winter hiatus, I catch up with Rachael (below right, picture by Mauricio Molizane de Souza) for the first time since our 2015 chat to talk specifically about her webcomic Bess but also to chat about her autobio minicomic Wired Up Wrong, the birth of "the Smith-verse" and just what the future holds for this ever acclaimed artist…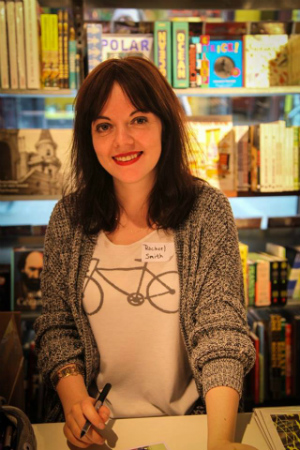 ANDY OLIVER: Since we last spoke you've produced another graphic novel, been award-nominated and become a regular part of Titan's DOCTOR WHO line-up. What have been the comics highlights of the last couple of years for you?
RACHAEL SMITH: Haha! Yeah it's been a wild ride! Working on the Doctor Who monthly strips has been amazing and career-wise has opened a lot of doors for me. Next month will mark three years since I started! Can you believe that? My editor at Titan, Andrew James, is a dream to work with and has let me do lots of variant covers for the series too (below right). I'm very lucky.
I got to do a Lumberjanes variant cover for BOOM! Studios too (below centre), which was a definite highlight as I love those books so much.
Otherwise my highlights are always getting to work on my own stories, which is incredibly important to me, and meeting fans. I have literally the cutest fans.
2016 saw the publication of Artificial Flowers from Avery Hill (below left) which played around with small links between a number of your previous projects. How much fun is it having your own "Smith-verse" now?
Well, I knew I always wanted to write a book that told the story of what Siobhan did after House Party (my first graphic novel), and I knew that I also wanted to give her a little brother to bounce off of. The more I thought about it the more it made sense to use Chris, a character from I Am Fire (one of my first comics) as the brother, as he's already pretty much the opposite from Siobhan – very stoic, taciturn, sombre. I think I'd like to keep all my stories in the same universe, it feels richer that way, like I'm always building on something.
Before we talk about Bess I'd like to chat a little about one of last year's standout small press books for me – your autobio comic Wired Up Wrong. Can you tell us about the origin of that project and the themes you explored in its pages?
I'd got back into diary comics thanks to my Patreon, and was really enjoying making something more personal. It was nice talking to some of my Patreon supporters about specific comics they felt like they related to and so that planted the seed of making a book specifically about my experiences with anxiety and depression and the weird idiosyncrasies and coping mechanisms I use to combat them. OK I've made it sound quite bleak but I think largely it's quite a warm and humorous book!
Wired Up Wrong was one of my 2016 'Ten UK Small Press Comics You Need to Own!' choices. What have the reactions been like from readers? Is there something cathartic in producing such personal work as Wired Up Wrong?
Oh my gosh the reaction has been amazing. I released Wired Up Wrong at Thought Bubble last November and a lot of people bought it on the Saturday, then came to find me again on the Sunday to tell me how relatable and helpful they found it. When I was making the book it was indeed quite a cathartic experience, but also a very difficult one, which I hadn't counted on. It's a very honest book and I guess I had a few freak-out moments where I felt like I was putting too much of myself out there. If I've helped just a handful of people feel less alone about mental illness it's been worth it though.
You recently returned to your webcomic project Bess with regular Thursday updates. What's the premise and the themes of the strip and can you tell us a little about your colourful cast of characters?
I'm so excited about Bess coming back! That's all thanks to my amazing Patreon supporters! We're not too far into the story yet, but the basic premise is that Lyndsey, the main character, is feeling a little lost in life. She's just come out of a relationship and has been bouncing around depressing call centre jobs. She's managed to land a new job at a local supermarket though which should be a lot nicer, so things are looking up. Little does she know, the supermarket in question has been taken over by Japanese monsters (Yokai) and her actual job will be to teach them how to adapt to this new, modern world. However, Lyndsey might have more to learn from the monsters that they do from her.
Why did you choose to tell this story as a webcomic?
I wanted the process to be a little more organic – I like the thought of going on tangents and being like, OK we'll just get to know this character a little more this week, and stuff like that, rather than limit myself to a page count from the get go. I was inspired a little by Super Mutant Magic Academy in that sense.
You've played with an element of magic realism in the past in The Rabbit but Bess more fully embraces a fantasy theme. How does Japanese mythology feed into the themes of Bess?
A lot of the old Japanese folklore tales that are the home to the Yokai, although fantastical, are often pretty sexist. I thought it might be interesting to revisit some of the stories but bringing them into this century. The Yokai in Bess actually think Lyndsey is the only living descendant of a legendary figure in Japanese folklore, time will tell whether that's true or not…
Are there plans to collect Bess in print at any point or do you see this as being an exclusively digital offering?
Argh people keep asking me this at conventions and I always feel well stupid answering but I honestly don't know! I guess it comes back to the whole thing of wanting it to be an organic process, so I don't really want to make any big decisions about it yet. There has been interest in publishers about collecting it eventually though so you never know!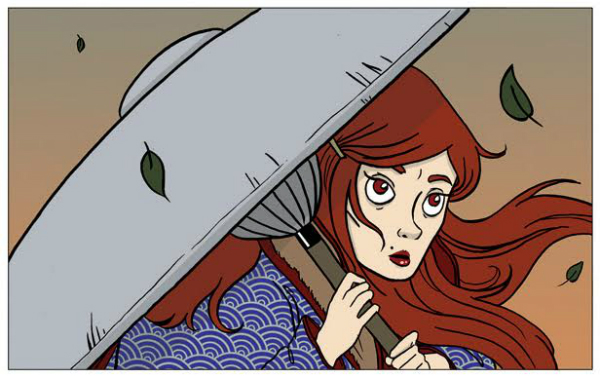 Your Patreon seems to be building an ever expanding number of patrons. How vital a development do you feel has Patreon become for artists in terms of not just financial support but audience-building over the last couple of years?
Well, I can only speak from my experience of it but Patreon has been such a help for me, both financially, and also in getting feedback from my supporters. Being freelance and being your own boss is brilliant, but the two main fears are getting a regular paycheck, and (sometimes) feeling a little bit lonely – Patreon improves both of these things by getting me a chunk of money once a month, and also bringing together a little community of like-minded people.
What do you offer your patrons in terms of exclusive content via Patreon?
My diary comic is Patreon-exclusive and updates three times a week, they also get to see the Bess pages a week before everyone else. There's also behind-the-scenes sneak peeks at what I'm working on. If you're supporting at a slightly higher tier you also get an exclusive postcard mailed out to you with a commission by me on the back. You can even tell me what you want me to draw!
Where can readers expect to see you this year? Which festivals and events will you be tabling at?
I'm at the Toronto Comic Arts Festival (TCAF) on the 13th and 14th May which I'm very excited about. I went last year and it was amazing, very similar feel to Thought Bubble in that I came away feeling so so inspired.
Other than TCAF I have:
MCM London Comic Con, 26th – 28th May
Glenrothes Kingdom Comic Con, in Edinburgh, 10th June
Lancaster Words Graphic Novel Panel, 2pm, King Street Waterstones, 8th July
Thought Bubble Festival, Leeds, 23rd – 24th September
And, finally, the standard interview wrap-up question. Are there any teasers you can give us for upcoming comics projects? What's next for Rachael Smith?
I've written a new book called Peck O' Trouble which is about a 16 year old over-achiever called Isabella who comes into contact with a malevolent witch. It's set in Oxford. I'm really excited about it; it's my most ambitious project yet. The script is done and I've just started on the pages, so it'll be a little while until I know a release date, but hopefully sometime in 2018!
For more on Rachael Smith's work visit her site here and follow her on Twitter here. 
Read Bess online here, sign up to Rachael's Patreon here and visit her online store here.
For regular updates on all things small press follow Andy Oliver on Twitter here.