It's almost Wednesday, and you know what that means: a fresh load of comics and graphic novels! With so many publications hitting your local comics store or digital storefront, the BF staff is here to lead you through the woods with our weekly staff picks. Satisfaction guaranteed.
Comic of the Week
Maleficium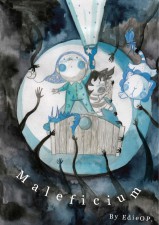 EdieOP is just one of a number of exciting new UK creative voices over the last few years to gain their first critical exposure in Broken Frontier's 'Small Pressganged' column. With a tagline of "the sunny side of sinister" her work combines deceptively innocent visuals with an often gleeful and mischievous malevolence. She was highlighted as an artist to watch out for in my annual 'Ten UK Small Press Comics You Need to Own' column for 2013 and shortly after was picked up by acclaimed British micropublisher Avery Hill Publishing.
Maleficium, launching at Thought Bubble this weekend, is her first full-length graphic novel. Handsomely presented in a gorgeous A4 format, it tells the story of aspiring boy wizard Huxley Leighton-Lomax, who lives with his dad and little sister Adelaide, as he battles the dark forces that live within the family home. If you have yet to discover the work of EdieOP then this all-ages offering is the perfect opportunity to be introduced to one of the most unique up-and-coming talents in British comics.
You can read a full-length interview with EdieOP at Broken Frontier here.
EdieOP (W/A) • Avery Hill Publishing, £11.99
– Andy Oliver
The Kitchen #1
Image Comics might have emerged as the 800-pound
gorilla in the creator-owned jungle, but Vertigo continues to rebut reports of its demise by putting out interesting new projects from both established and emerging creators.
Falling firmly into the latter camp is British writer Ollie Masters, who makes his debut for the imprint with this hard-bitten eight-parter. Set in the edgy environment of NYC in the late seventies, The Kitchen follows a group of mob wives as they try to pick up the reins of the business after their husbands are packed off to the Big House.
Given the ongoing debate about the treatment of women in comics – both on and off the page – it's refreshing that this is a very female-fronted series. As well as its protagonists, the book is illustrated by Ming Doyle (Mara), coloured by Jordie Bellaire and has covers by Becky Cloonan (Killjoys, Demo). It sounds like a combination that could generate a fresh look at a familiar genre.
Ollie Masters (W), Ming Doyle (A) • DC Comics/Vertigo, $2.99
– Tom Murphy
Drifter #1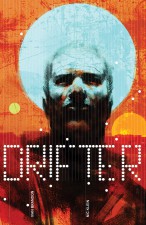 Trust us on this: the best-looking new Image ongoing to drop this side of the milky way is Drifter by the creative team that in 2009 brought you Viking, a.k.a. Ivan Brandon, Nic Klein and Tom Muller.
These three gents, handling words, art and design, respectively, have dialed up a sci-fi opus starring Abram Pollux, who crashes and subsequently gets stuck on Ouro, a strange planet where nothing is as it seems.
In our interview on the book, Brandon said it best when describing the series: "It is hopefully violent and surreal and human. You can expect nothing to be what it looks like. Beyond Nic making it all look pretty amazing."
Ivan Brandon (W), Nic Klein (A) • Image Comics, $3.50
– Frederik Hautain
Deep State #1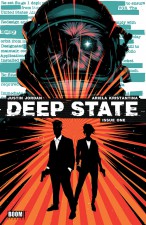 Imagine everything you thought you knew to be true was false – the moon landing, JFK's assassination, cattle mutilations – all of it. Imagine it was all just spin created by the government and the media to ensure the truth remained hidden and the myriad dirty little secrets safely locked away from a public not ready for or not smart enough to understand what really goes on behind the scenes of the world stage.
This is what John Harrow's job encompasses. He makes sure we only know what the powers that be want us to know. He makes sure the conspiracy theories remain theories – the bread and butter of internet crackpots and cult leaders who don't know how right they really are.
Smart, timely and stylish thanks to the creative synergy enjoyed by fan-favorite scribe Justin Jordan (Luthor Strode) and breakout artist Ariela Kristantina (Death of Wolverine), BOOM! Studios latest foray into the shadowy world of espionage will please fans of Planetary, The X-Files, and Fringe.
Justin Jordan (W), Ariela Kristantina (A) • BOOM! Studios, $3.99
– Jason Wilkins
Régis Loisel's Peter Pan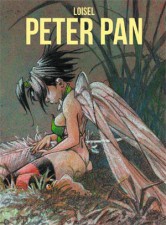 Last year, Soaring Penguin Press repackaged creator Régis Loisel's series of six European style Peter Pan albums into one collection, bringing this astonishing series to an English-speaking audience in its entirety for the first time. Part prequel and part re-imagining of J.M. Barrie's classic, Loisel's sprawling epic was originally published between 1990 and 2004 and tells the story of how the Boy Who Wouldn't Grow Up first came to the magical world of Neverland.
The book has now had a U.S. release, allowing an American audience the opportunity to immerse themselves in this extraordinary adult reinterpretation of the world of the timeless children's classic. Gorgeously and intricately illustrated, Loisel's work brings to the surface the darkness inherent within the original story and underlines the vulnerability and tragedy that is at the very heart of the story of Peter Pan.
Read the original Broken Frontier review of the book here.
Régis Loisel (W/A) • Soaring Penguin Press, $49.99
– Andy Oliver
Grindhouse: Drive In, Bleed Out #1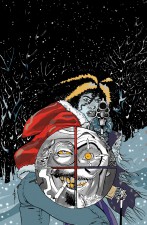 The second season of Alex de Campi's Grindhouse series hits from Dark Horse, expect everything that can be xploited to be exploited once again. Last year's volume of two-and-dones, Doors Open At Midnight, became a cult-favorite faster than Pulp Fiction's mayonnaise scene.
Stay away though if you value your sanity or if you're the kind of person who sticks to a really orderly rationale and demands his sequential readings be ketchup and nekkid free.
By all means, stay clear of this comic too if you're a 45-year-old still living in his momma's house – you wouldn't want her to find those greasy, dirty floppies tucked away under your mattress. Momma will sure whoop your sorry ass with a broom for spending three hundred and ninety-nine cents on 22 pages of such filth and gore.
Everybody else, have at it!
Alex de Campi Grindhouse interview
Alex de Campi (W), RM Guéra (A) • Dark Horse, $3.99
– Frederik Hautain
Mouse Guard: Baldwin the Brave and Other Tales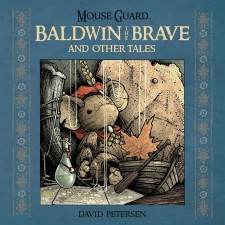 For the last several years, heading out to Free Comic Book Day on the first Saturday of May meant that I arrived at my local comics shop the moment it opened. Why? Because each time, David Petersen and Archaia offered a FCBD Mouse Guard comic that featured an original all-ages-friendly story.
New Mouse Guard stories are not to be missed. But if you are unfamiliar with Baldwin the Brave, that's okay. Archaia is releasing a hardcover 8" x 8" book that collects the four FCBD stories and adds a couple of new ones, too.
You needn't have read the previous Mouse Guard stories to appreciate this one, and I'd highly recommend giving it to the tweens and teens on your holiday shopping list. Petersen has a gift for storytelling. Here he presents his familiar heroes of the Guard as youngfurs listening to the tales of past heroes and learning the lessons of bravery, compassion, and honor that will one day characterize their own exploits. The two new stories are "Service to Seyan," which is set in the land where Mouse heroes go after death, and "Oh Day Away," a story about the insect faeries of the Mouse kingdoms.
David Petersen (W/A) • BOOM! Studios/Archaia Entertainment, $14.99
– Karen O'Brien
Resurrectionists #1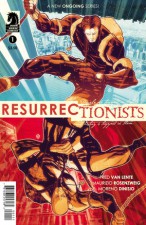 A new series from Conan the Avenger writer Fred Van Lente explores several modern mysteries – near death experiences and the idea of past lives. In the world of the Resurrectionists, a select group of people possess the power to not only remember their past lives, but to become them at will. One such person is architect-turned-thief Jericho Way, who after being framed and nearly dying discovers not only that he has the rare gift, but that he's caught the attention of two groups desperately seeking his services.
One is the elusive and likely very evil Sojourn corporation, their end game unknown. The other is an eclectic crew of modern-day tomb robbers who have spent the last 3000 years trying to pull off the same impossible job. And joining them might be Jericho's only way to get back control over his own future.
Fred Van Lente (W) Moreno Dinisio (A) • Dark Horse, $3.50
– Conori Bell-Bhuiyan

Shutter Vol. 1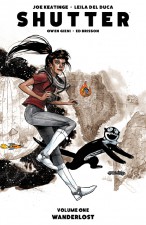 Wanderlust is the name of the first story arc that introduces us to Kate Kristopher and the strange, yet somewhat familiar world she lives in.
Coming from a long, family line of explores, Kate was born and raised as a globe-spanning adventurer by her father.But after his untimely death, Kate gives up the family business in what turns out to be only a short stint in the mundane before ghosts of the past come fluttering back into her life. Kate has no choice but to return to her old ways as she attempts to discover the true history of her family and uncover the dark secrets of some of its members that even she was not aware.
This trade paperback collects the first six issues of Shutter with Image's typical the low introductory price for volume ones. It also includes a brand new wraparound cover by Leila Del Duca and Owen Gieni.
Joe Keatinge (W), Leila Del Duca & Owen Gieni (A) • Image Comics, $9.99
– Tyler Chin-Tanner