Image Comics celebrated its 25th anniversary this past Wednesday with an event called "Image Day" that saw many of their creators head out to retailers across the globe to meet with fans and sign comics. (see the full event list here).
Since Portland is the new home to Image Comics, it only made sense that the city served as the epicenter for the event with 5 store signings that included 14 creators. I focused my efforts on two of the locations; Floating World Comics which hosted Joe Keatinge, Sloane Leong, Leila del Duca, Emi Lenox, Eric Stephenson, Brandon Graham, Farel Dalrymple; and Books with Pictures which hosted Kelly Sue Deconnick and Matt Fraction.
I asked them about how they started working with Image Comics, the projects they have planned for the future and what direction they thought Image was headed in next…
Floating World Comics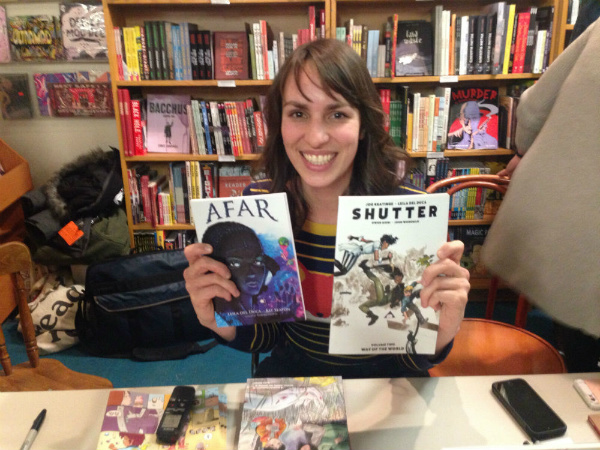 BROKEN FRONTIER: Leila (pictured above), you made your debut in comics just a few years ago with Shutter. Tell me about how you broke in with Image Comics?
Leila del Duca: I broke into Image through Joe Keatinge, who I met at New York Comic Con 2012. I was looking for work and he was the only writer who was interested in my artwork at the time. He was already established at Image, working on Glory and Hell Yeah!. So when we started working together, Joe had this really great idea for an adventure comic that I believe Eric Stephenson already approved and Joe just needed to find an artist for it. So after pestering Joe for months after meeting him, he was finally like, "This is the idea I have. Come up with a promo image." And so I got in that way.
Shutter wraps up in a couple of months with issue #30, what will you be working on after that?
Leila del Duca: Well I can't really talk about the ongoing I'm doing yet. Stayed tuned for that in March. But I have a graphic novel coming out on March 29th called Afar that I wrote and Kit (Seaton) drew. So I'm trying my hand at long form writing now.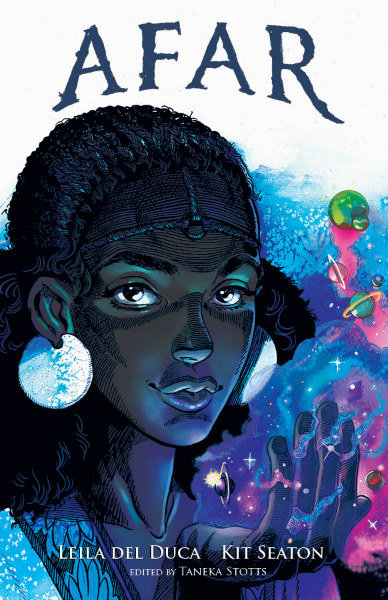 What's been the biggest difference in transitioning from drawing to writing?
Leila del Duca: The anxiety level. It's much higher for me when I write because I haven't done it as much. I'm really familiar with drawing now. With Shutter, I really learned what I'm capable of and what i want my stuff to look like. But with writing, I haven't reached those levels yet. I've had to just throw myself into this project and figure out story structure and outlining along the way. I learned how to do a lot of that stuff through writing Afar.
Joe, I want to ask you about this variant cover of Shutter #25 (below) you have here with you and how you're using it to raise money for the ACLU?
Joe Keatinge: Yes. Well, when it came to do Shutter #25 it occurred to me that it was going to coincide with the 25th anniversary of Image Comics. Leila was at a convention where she was on a panel with (Erik) Larsen and he just happened to mention that if any other Image creators wanted to use the (Savage) Dragon in their book, he was fine with it.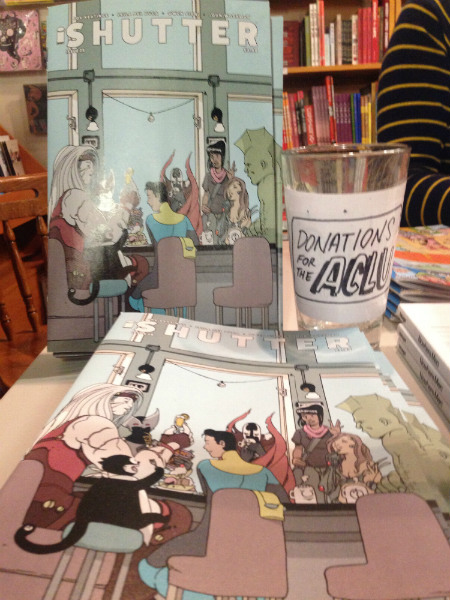 So that started me thinking about whether I could get all of the founders' characters. It took a while, but I got Glory, Savage Dragon, Witchblade, Spawn, and Shadowhawk for Shutter #25. It actually worked thematically with where the book was going and what I was trying to do with Kate, where she was at in her own life.
I knew they would all be having brunch and the person I have brunch with the most is Brandon Graham, so I thought he should draw a variant and he did.
Now since I have very few left, at this signing if people donate to ACLU they can have a copy. I was just thinking with Image representing what it does in terms of independents and freedom of speech, it makes a lot of sense to support the ACLU.
Brandon, when did you start working with Image?
Brandon Graham: When I had problems with the publishing of my book King City, I emailed Joe (Keatinge) just for advice and he contacted Eric Stephenson. He (Eric) put in a huge amount of work to help me get King City over to Image, which won me over to them and I moved all of my other project over from other publishers to Image after that and I haven't left since.
Island covers by Marian Churchland and Alchemical
And soon after that you started working on Prophet, the reboot of Liefeld's character. How did that come about?
Brandon Graham: We were in a bar one night; me, Joe Keatinge and Eric Stephenson. Joe was working on Glory at the time and I had no intention of doing anything but I was telling him that I think Prophet should be like a Conan in space and Eric was like, "Why don't you do that." And I was like, "I don't have time. I'm working on my next book." And then Joe suggested that I get my friend Simon Roy to do the artwork on it. And that was that… just real casual… and it was really worth it. I went into it unsure and now it's one of the things I'm happiest having done.
How about Island, your anthology series? What was the impetus for that?
Brandon Graham: I was realizing I had the freedom at Image to do whatever I wanted and thinking of what I was most excited to be involved in. Community is a really big part of comics for me. I like associating with people whose work I'm really excited about. It's a big part of my process to look at other people's work and react to it. So Island was a way to professionally pay it back.
Like, I hate how frustrating it can be to break into comics. I think the lifeblood of comics is new creators so it's really important to me to get different types of cartoonists that I wasn't seeing on the shelves out through Image. It's all been kind of an experiment. It's ending soon and it's something that I'm really happy to have attempted even if it wasn't the huge success that it may have been.
Sloane (pictured below), how did you start working at Image?
Sloane Leong: Through that guy (pointing to Brandon Graham). First I did a Prophet backstory and then I did a couple pages for Glory. Then they brought me onto From Under Mountains. Marian (Churchland) and Claire (Gibson) were looking for an artist. They already had the concept and some storyboarding and just needed an artist.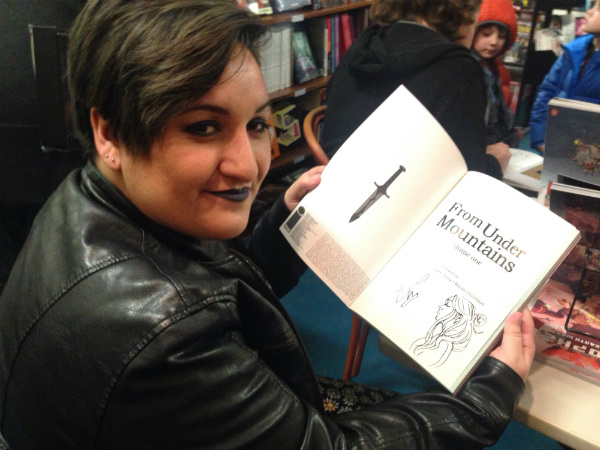 What other projects do you have planned for the future?
Sloane Leong: I can only talk about it vaguely. I have a new ongoing series coming out next March. And then I'm working on a girls basketball graphic novel. I can't say the publisher yet, but that will be out in 2019.
What audience age range is that for?
Sloane Leong: It's like a young adult book. It's going to be a little more gritty than the usual young adult stuff. My agent pitched it kind of like This One Summer, but I feel like this one is a little meaner.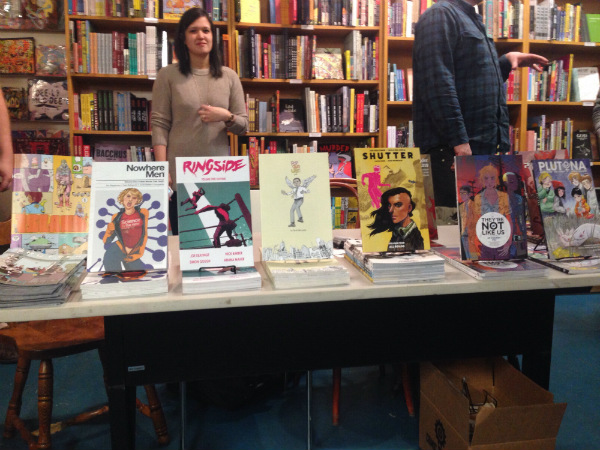 Hey, Emi (pictured above and below). What about you? What was your start at Image like?
Emi Lenox: It was the first year that I ever tabled at a convention. I made a minicomic for Emitown and I showed it to Eric Stephenson. I didn't want to, but my friend Joe (Keatinge) made me. He snatched out of my hands and shoved it into Eric's hands. And I was like, "What if he's not even interested and you're just shoving garbage into his hands." But I guess he was because I got an email from Eric saying, "Hey, you want that published?" and I was like, "Well, yeah!"
But then I found out many years later that it wasn't even because of that time that he published me. It was because Jamie S. Rich had told him about Emitown and said he should publish it.
Emi Lenox: And after that you did the miniseries Plutona. Tell me about the origin of that.
Well, my best friend from comics other than Joe is Jeff Lemire and we've always wanted to work together. He asked if I had any ideas for a comic so I told him the basic premise of Plutona, which is "kids finding a dead superhero in the woods", and then we built it from there.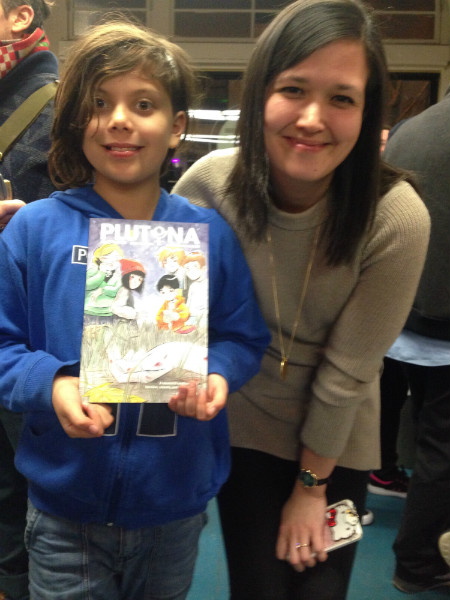 Anything else coming out soon?
Well, I do want to say that Tadaima, which I announced several years ago, will come out. Plutona was on the front burner and I struggled to get that out on time, but now Tadaima is all I'm working on this year. I'm not taking on any other work. But I missed the deadline for it to come out the end of 2017, so that means it won't come out till next year (early 2018). But I like to think that now it will give me more time to perfect it!
Books with Pictures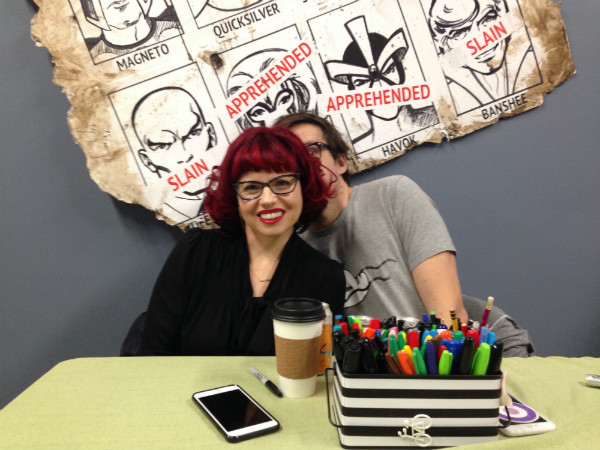 BROKEN FRONTIER: Hi Matt and Kelly Sue (above). How did you two start working at Image Comics?
Matt Fraction: I was invited in 2007 by Eric Stephenson who had read some short stories and a graphic novel that I'd written and asked if I was interested in pitching a series. And I absolutely was, and I was convinced that no one would ever ask again, so I did. And that was Casanova.
Kelly Sue DeConnick: Emma Rios and I had done Osborn together over at Marvel and I wanted to do something creator-owned so I asked Emma, which was kind of like asking someone to the prom. I was really nervous, like "Do you want to do something creator-owned with me?" And she said, "Yeah", so we came up with the idea for Pretty Deadly.
I had a formal meeting at a convention with Eric Stephenson and I had a little presentation on my iPad. I was crazy nervous but he was like, "Yeah, let's do it."
Then after Pretty Deadly had done better than expected, he wrote and asked "What's next?" That's when I pitched to him this new idea I had in an email that was only two lines long. He wrote back right away and my green light was, "I would very much like to publish something called Bitch Planet."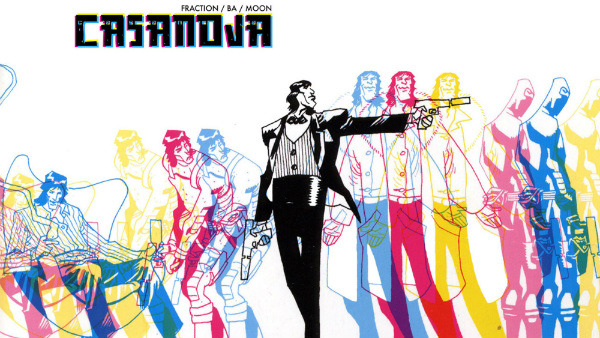 And why do you continue to work with Image for all your new projects?
Matt Fraction: It's the best deal in town.
Kelly Sue DeConnick: It is the best deal in town. It's all the pluses and minuses of complete artistic freedom.
Matt Fraction: And the pluses far outweigh the minuses. The line from your idea to publication is very short. There's no interference. No one else in comics would have published Sex Criminals. Period. It wouldn't have happened. Bitch Planet would never have happened. No one would have put that word on the cover.
Kelly Sue DeConnick: And we are making the books we want to make. If we fuck up, it's on us.
Matt Fraction: We can treat our partners like partners, like they deserve to be treated. All of these amazing artists that we work with, we can treat like collaborators, not employees. Not like interchangeable parts of a machine. We love the people we work with and we treat them like family.
Kelly Sue DeConnick: Really it's freedom and ownership. That's what it comes down to.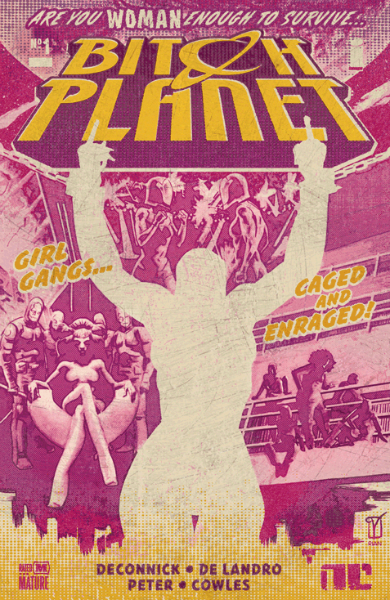 Image has accomplished so much in 25 years, where would you like to see them grow from here?
Kelly Sue DeConnick: I don't know. I like that Image Comics is impossible to define. I like that it is as many and varied as the many books that it puts out.
Matt Fraction: More diversity. Even more than what we have now. I think it would be great if in 10 years, Image looked back and was embarrassed by what they look like now.
More voices that are usually ignored in comics, more perspectives, more genres, more books that couldn't exist anywhere else.
More. I think that's the simple answer.
For more on Image Comics visit their site here and follow them on Twitter here. Follow our Image Day interviewees at Leila Del Duca, Kelly Sue DeConnick, Matt Fraction, Brandon Graham, Emi Lenox and Sloane Leong.