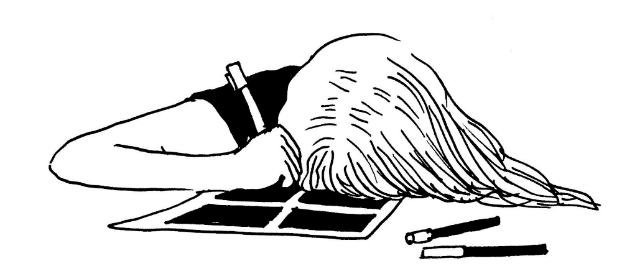 With Eisner nominations, Ignatz wins and, of course, that Broken Frontier Awards triumph in the our Breakout Talent category, it can hardly be said that Tillie Walden's comics output has gone unnoticed over the last year or so. It's a rare thing, indeed, to see a new creative voice achieve such a level of recognition in such a short period of time but Walden's maturity as both a comics storyteller and a practitioner of the form is astonishingly accomplished for someone of just twenty years of age.
Her three books from Avery Hill Publishing – The End of Summer, I Love this Part and A City Inside – have all gone on to notable critical acclaim and she has a major autobiographical work, Spinning, coming from First Second next year. With her new self-published project – the webcomic On a Sunbeam – debuting online this week on September 28th it seemed a perfect opportunity to catch up with Tillie. Join us as we chat about *that* remarkable debut year in comics, what readers can expect from her new foray into science fiction, and the particular vulnerabilities of autobio work…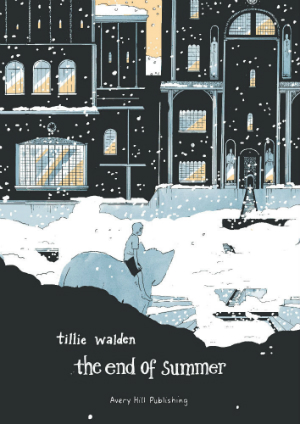 ANDY OLIVER: When last we spoke here at Broken Frontier your debut graphic novel The End of Summer had yet to be released. Since then you've had a number of projects published and multiple awards recognition. Looking back over the last memorable year what have been the particular highlights for you?
TILLIE WALDEN: Oh god, picking highlights seems almost impossible, it's been one of the craziest times of my life. But, ok, I'll try. Graduating from CCS (Center for Cartoon Studies) was a huge one. The awards were really nice but a little overwhelming. I mean, honestly, the real highlight for this year for me personally has just been being able to make so many different kinds of comics and watching myself grow and change. Sometimes I literally can't believe the amount of work I've done in just this year, and it's amazing that all this is even possible.
On the subject of The End of Summer, the new expanded version debuts at the Lakes International Comic Art Festival this year. What can readers expect to see in terms of extra material in the book?
Well the new edition has a prequel strip (below) that tells the story of how Lars met/got to know his very large cat Nemo. There's also some extra bits at the end about how I met the guys at Avery Hill Publishing and how this crazy book managed to get published. I do think though that the best part of the new edition is that it's much larger. Readers will be able to catch a lot more detail in this edition.
You're about to venture into the webcomic world with On a Sunbeam (see a preview here at BF), debuting this month. How would you describe its premise and cast of characters?
Ah god I hate descriptions. I normally make Ricky [Miller – Avery Hill co-publisher] write them for me. But ok here we go. On a Sunbeam is a webcomic that follows two stories at different times in a girl named Mia's life. The first story follows Mia as she travels around space with a crew that restores forgotten buildings. The crew is a rowdy, interseting bunch, and I won't go into too much detail cause I'll never shut up.
The second story follows Mia in her younger years while she attends a boarding school. The second story revolves around a single relationship, whereas the first story examines a group dynamic. But both stories, ultimately, are about Mia figuring out who she is and what the hell she wants to do with herself.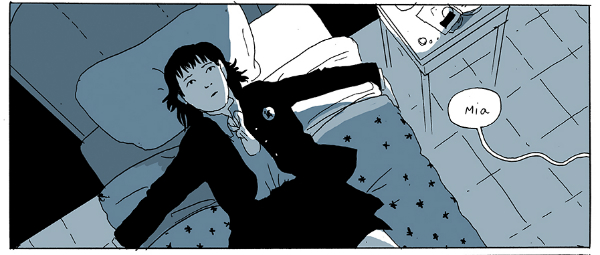 We've seen you tackle a broad storytelling base either in print or online but science fiction is something of a diversion for you. Without giving anything away there's some truly captivating sci-fi imagery and inventiveness in your approach to the genre in the preview I've been lucky enough to read. How long has On a Sunbeam been gestating in your ever fertile imagination?
Most of the work I do, I come up with the idea right before I draw it. What's interesting about OAS is I've really been thinking on it for almost a year before I started it. So I've had a lot of time to really let the environment and characters grow inside me. Also, yeah, sci-fi is way not my usual thing. But look, honestly I just wanted to draw lots of stars. Space is a great excuse to draw stars. And I feel like sci-fi gives me an excellent excuse to do whatever I want to when it comes to setting and logic.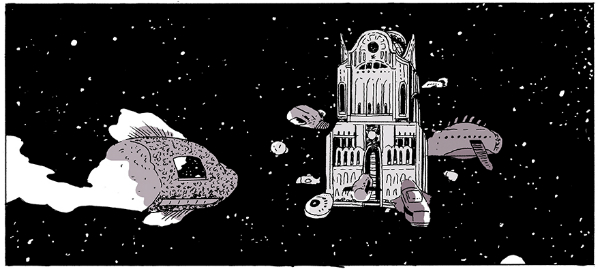 I'm not a huge sci-fi fan so I really don't know much about the genre and I've found that because of that all my ideas feel very fresh and bizarre. I purposely tried to design the world in a way that wasn't typical. I saw Star Wars for the first time about a year ago and thought it was really boring. And it seemed like such a waste to take a space setting and make it be full of dull machinery and dust. Also silly clothes. Oh god I'm gonna make people angry. But the point is, is that to me space is limitless. And it seems like the perfect place to fill with everything my imagination can come up with. I don't care that trees can't exist in space; my space world has tons of them. Also fish ships. That's a whole thing.
There are echoes of The End of Summer in On a Sunbeam in the sense of location being almost a character in itself. There's a fusion of the organic, the baroque and the clinical to the look of the strip's world that is refreshingly distinctive in sci-fi terms. Can you give us some insights into the design choices behind the environment the characters interact with?
I think in OAS, more then in TEOS, I am much more interested in the organic. I've slowly been leaving my phase of hard angles and become a lot more interested in the way things move naturally. But I also still love drawing extreme architecture, so those two ideas have sort of merged together to form On a Sunbeam.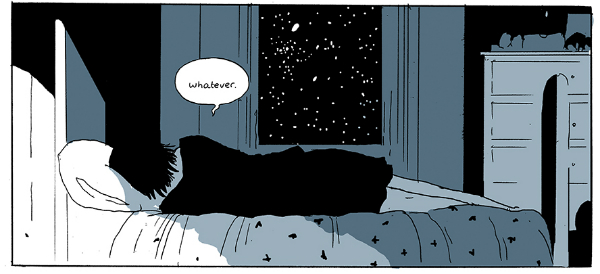 I really wanted the environment to reflect Mia. She's the most important person in this narrative so I wanted to shape the world around where she was at. And in the first chapter, for example, it feels like for Mia everything is moving and changing and growing. And so I tried to draw backgrounds and shapes that pulled at edges, that made her world move. In future chapters the setting will change somewhat, because, well, Mia will change.
Why did you choose to release On a Sunbeam as a webcomic? What was it about the project that especially lent itself to that form of delivery?
The first reason was simply so I could reach people. Anyone with internet and some sort of a device can read the comic. My Dad (who designed the site for me) and I made a point to make sure the site is readable on any platform, especially mobile. But I have wondered about why I chose OAS specifically for this, because I could've done a different story as a webcomic. And I honestly don't know the answer. Something about this comic just seemed to fit for this format, and it seemed to fit for serialization (and not all my stuff fits for that.) I just had a gut feeling that that's where this comic needed to be, and I always follow my gut.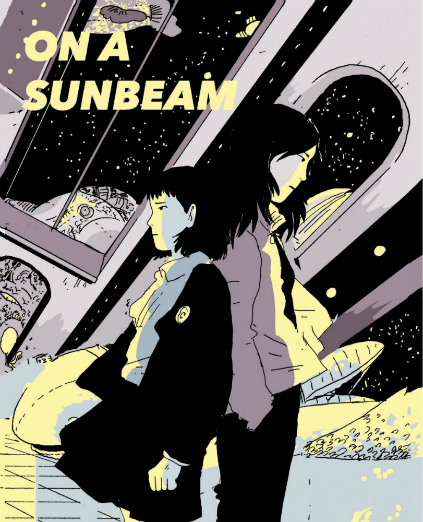 In terms of pacing and structuring a story what challenges have you encountered in writing for webcomic serialisation so far? How has it differed to your approach to writing for a standalone graphic novel?
Man, writing for a webcomic is HARD. Much harder, at least for me, than a standalone graphic novel. The biggest challenge for me is finding a way to make each chunk interesting. I know how everything connects and works in the long run, but the reader doesn't! So I've had to find a way to make each chapter in itself its own small story with a beginning, middle and end, because I want the reader to be satisfied and curious with every chapter. But this is a new challenge for me, so I'm definitely working hard to make this thing work.
One of the aspects of your comics that particularly appeals to me is that you're unafraid to make your readers work – to infer meaning for themselves, for example, from delicately crafted visual metaphor in I Love this Part and A City Inside, or to tie together strands of narrative into a whole in The End of Summer. In On a Sunbeam you're also playing with two linked storytelling segments. Are you consciously looking to foster a more direct connection between the reader and the page by inviting them to become a part of the interpretive process?
Definitely. There's a lot of little hints I'm leaving around for the readers to find if they want to search. I would love for readers to really engage with this story and to wonder about where it will lead, and to wonder about how the stories work together. Readers often tell me their interpretations of my work and I find most of the time they understand it better than I do. And I have a feeling that will be the case with this comic too. I know how the stories come together (I won't say though) but I'm sure the readers will find connections that I would've never seen.
We have an upcoming longer-form offering from you via First Second next year. Tell us about Spinning (above and below) and its subject matter…
Ahhh yes. That book. That very long, long book. Spinning is a graphic memoir recounting my time as a competitive figure and synchronized skater. It's my first long form, truly autobiographical work. Now this is a very hard book for me to describe. And it was a hard book to make. I think all I can really say right now is that it's very different from all the other work I've done, and it's probably the most emotionally charged work I've done. It follows me through a very difficult time in my life. But I think there will be a lot of interesting parts to it for non-ice skaters. In a way it's also sort of a tell-all about the ridiculous behind the scenes world of figure skating.
Autobiographical themes have been an intrinsic part of your work to date – whether obliquely in The End of Summer or more overtly in I Love this Part. How greater a sense of vulnerability is there about directly portraying yourself on the page in Spinning rather than using characters as avatars for aspects of your life?
The difference is huge. Using parts of myself in fictional work is child's play compared to the chaos of making truly autobiographical work. Spinning was so difficult to make that I can't see myself doing any more straight-up memoir for many years. I mean Spinning makes me nervous in a way unlike any of my other work. Because it's not just about selling a comic, that book is my story. It's really my life in there, and that makes me feel hugely vulnerable. But the upside is that Spinning has been by far the most rewarding comic I've ever made. Nothing has ever changed me like making that book did. It's an experience I'm proud to have had.
Earlier this year you were kind enough to allow us to run your Hourly Comic Day strips here at BF (samples above and below). Diary comics are the focus of your Patreon account. What kind of material can readers who become your patrons look forward to seeing there?
My dear Patrons. You know when I started my Patreon I was like "I'll just draw a page a day and that's that." And my god, was I wrong. I work my ass off for my Patrons. The material covers a hugely wide range, and the comics are usually at least 3 pages long each day. The content is sometimes about just the struggle of being a cartoonist, there are often dream comics, sometimes they're simply comics with me rambling about ideas.
Recently my Patreon has been doing a mini-serialized story, and every day I tell another little part of a story of a girl from my past. That's all I'll say. Want to find out more? Only $3 a month to get a sickeningly substantial comic from me EVERY DAY. I haven't missed a single day so far.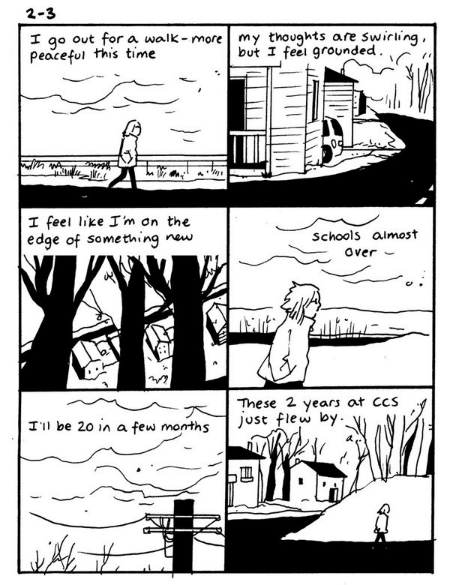 You'll be over for the Lakes International Comic Art Festival in October. Where can attendees see you there? What events will you be a part of?
The Lakes! Yes. I will be hanging out at the Avery Hill table most of the time, but I'll also be on a Women in Comics panel, and a spotlight sort of thing with Warren Bernard interviewing/talking to me. As far as exact times I have no clue, but I bet the Lakes website has all that info. Also it's in a super tiny town, I'll be there, you can find me!
And, finally, are there any other projects we haven't covered as yet that you're working on or have planned that you can talk to us about? What else does 2017 have in store for the prolific Tillie Walden?
Good lord I hope there aren't any other projects, I'm tired. Nah I'm just kidding, I have a few other quiet things going on but nothing I can talk about yet. For now, my readers have On a Sunbeam to enjoy, and next year Spinning will appear on October 3. Yes, that is the OFFICIAL publication date. But I will also say that starting from around December till July of next year I'm going to be doing some traveling. And I'll be logging my journeys and adventures in my Patreon. Yes, here I go with more promotion. So Patreon is the place to be if you want to see what I'm up to EVERY DAY.
To find out more about Tillie Walden's work visit her website here. You can also follow her on Twitter here. Buy her books from the Avery Hill Publishing online store here. On a Sunbeam debuts on September 28th here. 
For regular updates on all things small press follow Andy Oliver on Twitter here.
Tillie Walden is a guest at this year's Lakes International Comic Art Festival. More details about the festival here.