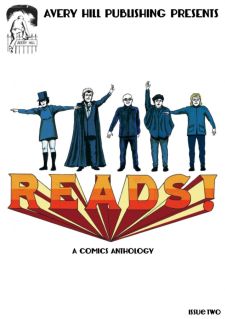 Reads, the anthology title published by Avery Hill, has something of an old school small press feel to it – in the two issues currently available there's a real sense of that SP community spirit to it; that sensation of creators coming together to produce a collection of tales representing all manner of genres, styles and diverse approaches to comics storytelling with an "anything goes here" kinda vibe. I'm reminded a little of Team Girl Comic in that respect, which is fitting as two of that book's contributors provide work within the second issue of Reads.
And what an eclectic little mix of characters, set-ups and situations we have here. Beginning in issue #1 there's Michael Gosden and David White's 'Bad Times Ahead' wherein office worker Shelby Matthews arrives at his job to find his best friend skewered to his desk by a large spear, and quickly finds his 9-to-5 life sliding into a Kafkaesque nightmare. As you do. Also of note, and a complete change of pace, is swashbuckling '60s dandy adventurer Hilary Harper taking on Charles Darwin's nemesis Professor Richard Owen as he brings the Crystal Palace dinosaur statues to supernatural life in 'Revenge of the Dinosaurs'.
Shifting gears again, Tim Bird provides a couple of slice-of-life stories about London life over the two issues which may be slight in construction but are most appealing in presentation. Wistful little snapshots of urban living that have already led me to bookmark Tim's webcomics for further investigation. The other strip to continue between issues is Ricky Miller's Metroland following the adventures of Electric Dreams, a band who discover a portal in a West End nightclub that leads to Metroland, a crossroads point allowing them to travel to different times and dimensions. This one's intriguing but it became clear to me in the second issue that the story had begun in publications other than Reads so, while I'm attracted to the premise, it's a little harder to get into when you feel you're as late to the party as I did when reading it.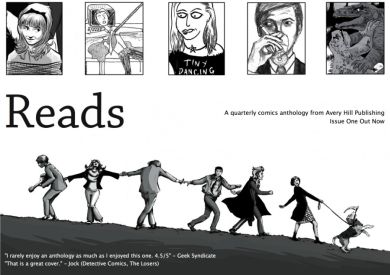 Reads #2 doesn't feel perhaps quite as substantial as the first issue, with the ongoing stories featuring shorter instalments than their debut episodes. However, there's still plenty of note on offer. Marjory Wallace's 'The House' is an engaging short about childlike perceptions of the world, while Claire J. C. Stewart's manga-influenced Cloudriders may be the briefest of intros to her series but has a dreamily soothing quality to it. There's also 'Wednesdays', a non-series one-shot from Brit small press stalwart Paul B. Rainey that puts a very distinctive skew on the father-son relationship.
If there's one drawback to the book's format it's that a quarterly anthology that presents only bite-sized chunks of its ongoing storylines is one that is always going to slightly frustrate both the casual and the committed reader alike. That's a very long gap between instalments of ongoing narratives that are only a handful of pages in length in the first place. And the unfortunate fact that one of #1's most enjoyable escapades – Hilary Harper by Miller and Horry – ends on a cliffhanger in that issue, and is pushed out of Reads #2 because of space considerations, only highlights the problem.

But I'm griping a little because ultimately there's something jolly agreeable about the tone and sensibilities of Reads. And if I've expressed disappointment at being spoonfed only small helpings of each of the ongoing stories then do remember that frustration at wanting to read more, and not being able to, is actually a rather healthy sign of a comic's appeal! In an ever burgeoning UK small press anthology marketplace Reads succeeds in maintaining an identity and character of its own – an unpredictable melting pot of creative techniques and subject matter that makes me eager to see what the Reads team has in store for us in issue #3.
For more on Reads check out the Avery Hill site here. You can order the anthology online here priced £2.50 an issue.