With Avery Hill's first ever Kickstarter approaching its final week we chat today with one of the featured creators, George Wylesol, whose book 2120 is one of the three projects on offer. Wylesol is, of course, no stranger to the AHP ranks with his previous books Ghosts, Etc. and the boundary-smashing Broken Frontier Award-nominated Internet Crusader getting very favourable reviews at BF. We spoke to George about 2120's emulation of "Point and Click" games and "Choose your Own Adventure" books, the logistics of putting the project together, and bringing readers more directly into the comics narrative.
You can back the Kickstarter here.
ANDY OLIVER: The first obvious question when talking about 2120 – were you a huge Choose Your Own Adventure and/or "Point and Click" adventure games enthusiast back in the day?
GEORGE WYLESOL: Yeah I think so, when I was really young. I remember playing DOS games like that in the early 90s. But it wasn't until a few years ago, when I was doing research for Internet Crusader, that I found a bunch of cool point-and-click games on Internet Archive. I figured they weren't much different than books, so I thought it'd be a cool format to experiment with.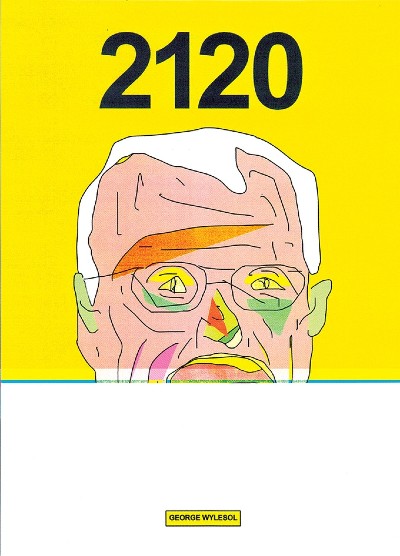 AO: How would you describe 2120 to an uninitiated reader to entice them into backing the current Avery Hill Kickstarter?
WYLESOL: 2120 is an interactive graphic novel told from the first person POV. It's formatted like a retro point-and-click video game. You're Wade Duffy, a middle-aged computer repairman. You're sent to fix a computer in a vacant, nondescript office building. When you get inside the door locks behind you, and you can't get out. Basically you have to explore this building and try to find your way out. It's huge on the inside with a lot of sprawling hallways and empty rooms. Gradually you uncover clues and figure out what the building is. You'll also "die" a lot in the book and have to keep restarting. There's not a real linear "story," but if you make it to the end, you can piece together what is going on.
It's challenging and you have to pay close attention. Some areas are "locked," requiring exploration to figure out how to advance. Some parts of the book are even optional; you don't even have to read the whole book to get to the end.
The tone of the book is definitely creepy / eerie / horror. Lots of liminal spaces, surreal moments, weird characters, etc. It gets philosophical and is deeper than it seems on the surface. For fans of House of Leaves, The Backrooms, Silent Hill 2, etc.
The Avery Hill Kickstarter video
AO: In one sense 2120 is a very different book to your previous Avery Hill offering Internet Crusader but in another it feels like a spiritual sequel in the way that both titles subvert the structure of the form. Is that sense of interrogating the medium and its supposed boundaries something that you're looking to explore in your comics practice?
WYLESOL: Yeah definitely. It's very different tonally than Internet Crusader. But making Internet Crusader was such a blast – I really liked not having to redraw the same characters and settings in every single panel.
Traditional comics have been a struggle for me to draw – I don't like drawing people and expressions. But I realized that a project can be a way of learning more about your interests. With Internet Crusader, I was really interested in 90s-era web design, so the book was a great deep-dive for me into that subject.
George's previous AHP book Internet Crusader, available to buy here
With 2120, I don't want to give anything away too early, but there's certain tech advances right now that I'm both interested and horrified by, so I used the book as a way to explore and learn more about those subjects.
I think there's so much room in comics for experimentation. I really like writing and drawing, so I'm just trying to combine them in experimental ways that are interesting for me to make without losing steam halfway through.
AO: Can you give us some insights on your artistic process? What mediums do you work in?
WYLESOL: I work digitally, doing drawings in Adobe Illustrator. Then I print the drawings on my laser printer and scan them into Photoshop, to get the more tactile texture.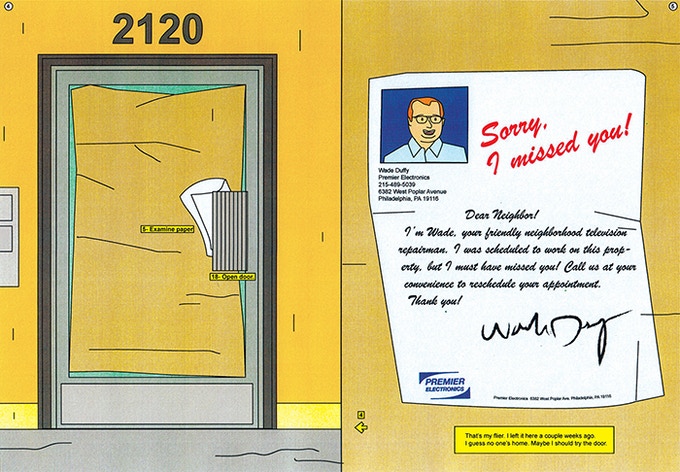 AO: It's such an integral part of your storytelling so can you tell us about how you use colour in your work to enhance mood and evoke certain emotional connections with your audience?
WYLESOL: Yeah, color is one of my favorite tools as an artist. I really like color used in unexpected ways – like the corporate pinks and yellows in 2120 that become pretty creepy when they're repeated in endless rooms and hallways. Using unexpected colors in a familiar setting is one of the best ways to surprise the reader with an emotional punch. Color can do a lot of the emotional heavy lifting in a piece, so I try to pay attention to how color informs emotion in the real world.
Most of my palettes are intuitive now, but I know color theory pretty well, and I teach both academic color theory and expressive color to my Sophomore students.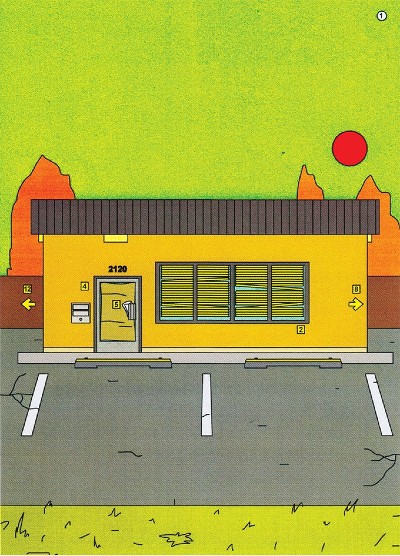 AO: Given the structure of 2120 how did you construct the narrative in practical terms so that you didn't lose sight of the complexities of the sequential storytelling?
WYLESOL: Haha, it was so hard. First, I wrote a script out in Microsoft Word, then I just dove in and started doing the art.
I did the whole first draft and sent it to the publisher. But I didn't really like what I had, and ended up scrapping a good 75% of it.
After that, I basically just felt my way through the story. I had a lot of different conceptual notes I wanted to hit, and had complicated Word Docs, phone notes, sketchbook brainstorming, and AI docs with a bunch of text blocks and arrows everywhere.
The more I wrote of the story, the clearer it became as I neared the end.
Then I went back and revised it four or five more times to make sure it all made sense. It was intense but I was glad I spent so much time refining it.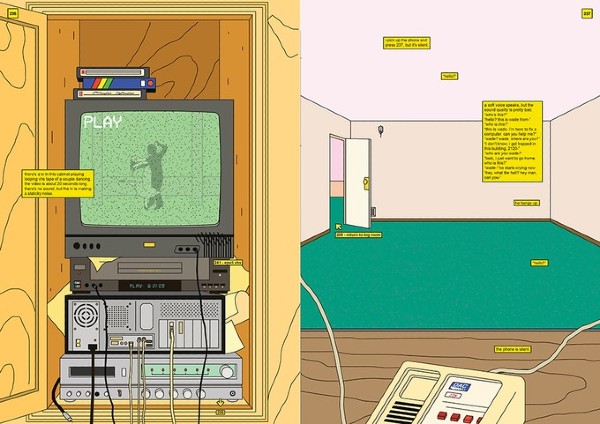 AO: One of the things that has really grabbed my attention about your Avery Hill books is how they're not so much character-based in terms of traditional protagonists to empathise with. Sometimes we don't see the characters or we're asked to inject ourselves into their experiences. Is that a conscious storytelling tool to ensure the reader's interaction with the page is a more intimate and personal one?
WYLESOL: Yeah, absolutely. When I write, I tend to use the first-person, so drawing characters acting out a scene is actually kind of unnatural for me. I'm not particularly interested in characters themselves, and I really don't like drawing people, so I had to figure out other ways to make visual stories.
After I did Ghosts, Etc. I figured there's no rules to making graphic novels, so I decided to experiment some more. I thought Internet Crusader worked really well in the unconventional format, and decided to push it further with 2120.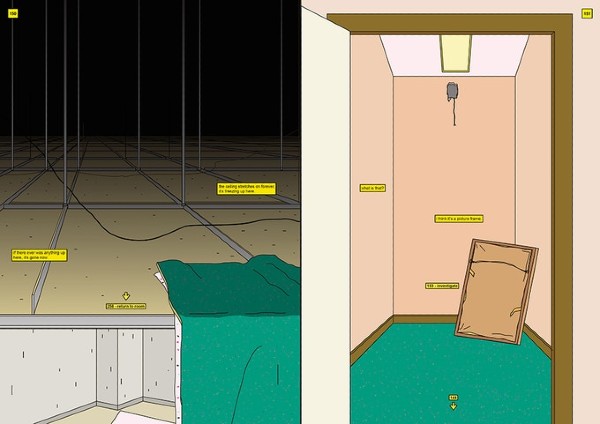 AO: And finally after 2120 have you any other comics projects on the horizon or will you be taking some time to recover after such a mammoth accomplishment?
WYLESOL: Haha, yeah I've been taking some time to mess around and experiment a little more. I think I have an idea for another book I wanna do next year, we'll see how it goes!