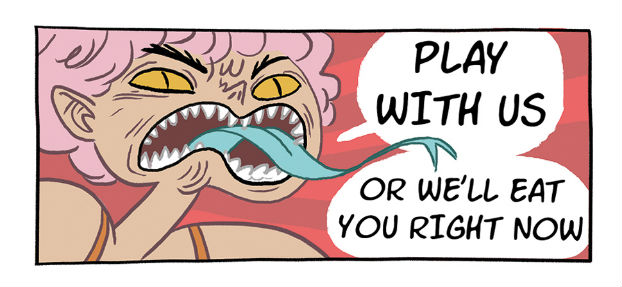 With a Jenn Woodall cover that evokes fond childhood memories of 'Choose Your Own Adventure' books and the excitement that the illusion of narrative control had on our younger selves, the latest Comic Book Slumber Party anthology Escape from Bitch Mountain follows the standard set by previous entries in the series by combining loose framing sequence with themed short stories.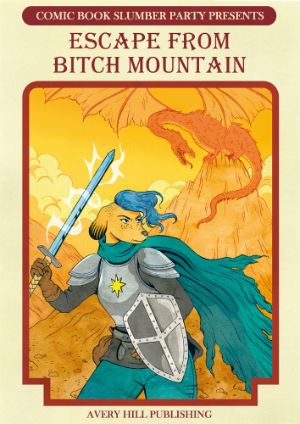 Past editions of the multiple award-nominated volumes, of course, have seen CBSP's anthropomorphic canine mascot character Greasy reinterpreting classic stories in Fairytales for Bad Bitches and providing an "alternative sex education" in Greasy's Guide to Nookie. Last year the collective's sci-fi edition Deep Space Canine marked their publication by Avery Hill Publishing for the first time; a partnership that continues this autumn with Escape from Bitch Mountain. This time the crew of creators that editor Hannah K. Chapman has put together drop Greasy in the middle of a fantasy-based world with a distinct Dungeons & Dragons vibe in one of the biggest collections of stories yet.
In a framing arc written by Chapman and Korinna Veropoulou (whose fluid and expressive cartooning work we have covered at BF in the last year with pieces on LDN 2050 and her UGH! zine) and illustrated by the latter, Greasy unsurprisingly wakes up hungover after a typical excessive "night before" to find herself trapped in the midst of a role-playing quest. While the framing sequence initially sits in the gamer's eye reality it slowly evolves into the realms of the delightfully meta with each contained but interlinked short being presented as a fantasy adventure in its own right.
Over the course of the 100-plus pages Greasy meets a whole host of fantastic and monstrous creatures as she attempts to escape the dungeon environs she's trapped within. CBSP books are usually more concerned with entertaining escapism than complex plot or intricately structured narrative and Escape from Bitch Mountain is no exception, giving us an anthology that once again acts as both a showcase for top indie creators and for a central character who, for the uninitiated, could probably be described as a far, far cooler version of Tank Girl but with an infinitely more kick-ass attitude.
Interior art by Korinna Veropoulou and Ahmara Smith
Of the artists involved Veropoulou is a revelation here with pages that feel effortlessly kinetic with their tight-panelled, action-packed layouts and the highly effective use of sound effects lettering to furthering the riotous tone of Greasy's exploits. The first of the creatures and combatants Greasy meets along the way are a pair of sorcerous wolves in a story by writer Amy Chase and artist Liana Buszka that is all the funnier for its fatalistic portentousness degenerating into crude profanity and slapstick. The swirling mysticism that permeates Buszka's pages is of particular note here.
Art by Barbawk (left) and Jenny Mure (right)
Other antagonists include a ghostly knight in a haunted suit of armour in a wordless tale by writer Atla Hrafney and artist Ahmara Smith that is light in plot but a lesson in effective "silent" storytelling (bar sound effects), perspective and panel-to-panel storytelling. Jenny Mure's tale of an inept young sphinx also stands out for its moments of witty anachronistic incongruity and comedic build-up and pacing.
Pages by April Szafranski and Lea Vera Toro & Liana Buszka
Two artists outside of the framing sequence especially jump out here. Barbawk's 'The Quizzard' makes clever use of smaller panels floating across larger images creating a sense of deeper involvement with events on the page as Greasy encounters the challenge of a magical question-mistress. Lea Vera Toro's art with Liana Buszka's rich and highly atmospheric colouring will be the standout for many though in 'Lazy River Ride' written by Lauren Burke. It's an eerie visual tour-de-force in an otherworldly subterranean locale as forces converge against our protagonist.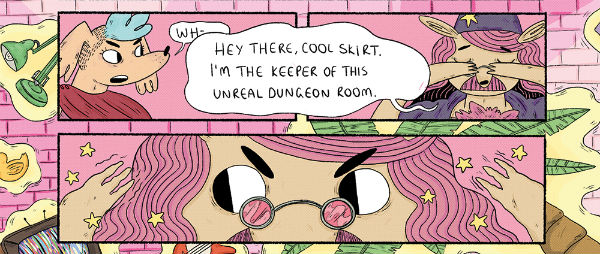 Art by Barbawk
Where Escape from Bitch Mountain falters a little is in the slightly repetitive nature of the challenges and riddles Greasy must solve to advance in her journey and there's always the logistical issues in these enterprises of juggling the framing sequence and the individual stories. CBSP anthologies, though, are always a welcome and raucous comfort read. This is no exception – a diverting escape from reality that delights in its uncompromising, frenetically paced sense of fun and in-yer-face posturing.
Comic Book Slumber Party's Escape from Bitch Mountain will be published by Avery Hill Publishing. You can follow CBSP on Twitter here.
For regular updates on all things small press follow Andy Oliver on Twitter here.