Kristensen's vibrant visual characterisation, immersive employment of colour and playful sense of pacing marks her out as a genuinely exciting new emerging talent to watch.
Those were my words earlier this year when commenting on Charlot Kristensen's work which were quoted by Avery Hill Publishing on their press release for her upcoming debut longer-form work What We Don't Talk About. Eagle-eyed BF readers will be aware that I have repeated them before on the site when I reviewed Kristensen's minicomic Curls back in February but I hope you can forgive their repetition here as they perfectly encapsulate so much of the appeal of Kristensen's craft.
What We Don't Talk About has been one of 2020's most eagerly anticipated releases for me since I got that advance peek at it at the beginning of the year. It's the story of interracial couple Farai and Adam who at the start of the book have been together for two years. Farai is about to meet Adam's parents for the first time during a weekend visit to his family home. But rather than being a celebratory visit the trip quickly becomes an oppressive experience for Farai who is subjected to a litany of microaggressions and outright racist jibes from Adam's parents Martha and Charles. As the weekend progresses, though, it's Adam's own reticence to confront and accept his silent complicity in this behaviour that will have the deepest ramifications…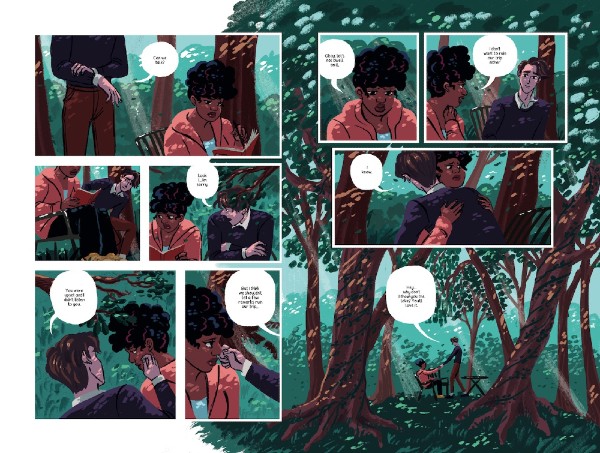 It's that contrast and comparison of the parents' overt bigotry with Adam's enabling omissions of action that make What We Don't Talk About so distinctive in its explorations. Charles and Martha's contemptible privilege and casual intolerance is infuriating but it's Adam's inability to defend his partner, to challenge his parents, or even to acknowledge their racism, that leaves the most lasting impression on the reader. From their horrified reaction to Farai's headwrap ("So you're not a Muslim?") to Martha's sneering surprise that her parents are so educated, Farai is constantly worn down by their dismissive and derogatory sniping. Adam remains a passive observer throughout though, deflecting and ignoring, and in one key sequence even uttering the unforgivable words "Why do you always have to make everything about racism!?" to Farai.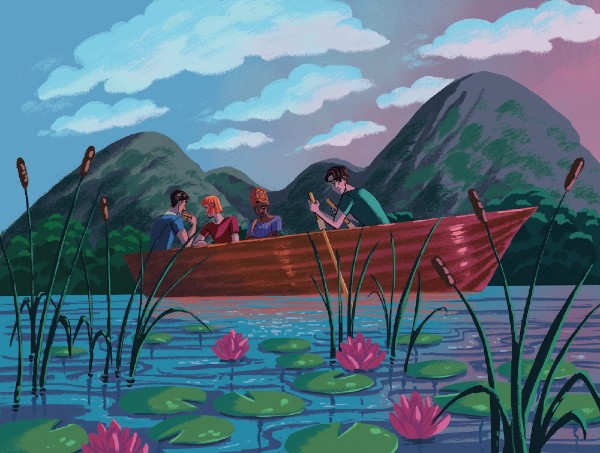 Kristensen's pure visual storytelling is as impressive as her uncompromising narrative. Her use of colour is, of course, self-evidently a major strength of her work, sometimes reflecting the mood and tone of a scene (as storm clouds gather in a tense stand-off between Farai and Martha for example) and sometimes ironically and strikingly contrasting it (the beauty of the surroundings, above, on an ill-fated and awkward boat trip the four embark on). She can say so much with a character's expression or in their body language in proximity to each other. Page structures and panel arrangements shift and change to suit the tone and atmosphere of the characters' interactions. Lettering, too, is a key storytelling tool here, adding a sense of anger and disbelief to heated arguments or an insidious coldness to Martha's put-downs.
What We Don't Talk About is one of the key UK indie releases of 2020. Avery Hill have described Kristensen as "a burgeoning talent devoted to representation and empowering women of colour." That was no hyperbole. This is undoubtedly a breakout book from a major new emerging voice that is relevant, thought-provoking and brimming with pure comics craft.
Charlot Kristensen (W/A) • Avery Hill Publishing, £11.99
Review by Andy Oliver