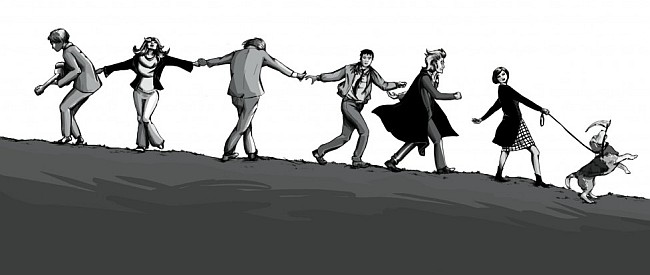 British micropublisher Avery Hill Publishing are no longer the new kids on the small press block. In 2013 their comics output expanded rapidly. Critically acclaimed books like Jazz Greenhill's The Festival, Tim Bird's Grey Area, Owen D. Pomery's The Megatherium Club, and Mike Medaglia's Seasons cemented their reputation as an outfit with an astute eye for up and coming talent. A rep that's set to grow with their exciting plans for 2014!
In the first instalment of a bumper two-part interview – one which sees the return of the Small Pressganged 'Small Press Spotlight on…' interview strand – I chat with team supreme Ricky Miller and Dave White about the early days of AHP, their arts output, anthology title Reads and how a set of lost holiday snaps from 1984 became a distinctively idiosyncratic Avery Hill release…
BROKEN FRONTIER: A little back story first. What is the "secret origin"of Avery Hill Publishing? Who makes up AHP and what are their roles within the team?
DAVE WHITE: We started AHP a couple of years ago with our friend Michael Gosden. We all went to school together, so have known each other for years, during which time we've shared various creative endeavours, often ill-fated – fortunately, publishing seems to be the one that's working out! Michael recently retired from the publishing game to pursue his joint interests in baking and floristry, so now it's just me and Ricky sharing the duties.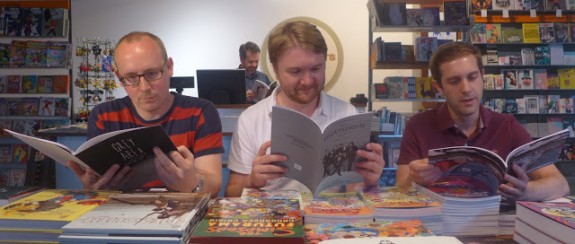 Dave White, Ricky Miller and former AHPer Michael Gosden at London's Gosh! Comics
Ricky heads up AHComics (our comics line), looks after all the company stuff like doing our annual returns, is in charge of sales and marketing, and runs our website, whilst I head up AHArts (broadly anything that doesn't fit into our comics line), and look after the finances, printing and distribution. Ricky edits Reads, our comics anthology, whilst I edit Tiny Dancing, our arts zine – we share all the other editorial duties between us, depending on the creator or project.
BF: Can you tell us a little about your early publishing output, the evolution of your artzine Tiny Dancing and its comics anthology stablemate Reads?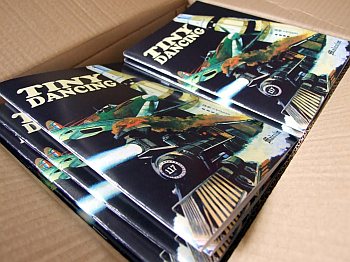 WHITE: The first issue of Tiny Dancing was knocked out on a photocopier at work on a Saturday when no-one else was in about four years ago. We'd been writing a music blog of the same name together for a few years, but the intangible nature of it had started to become frustrating, so I decided to change things up and make something that existed outside of the internet. The brief for the first issue, as it's remained, was to do whatever you wanted as long as it could be printed, which led to a fairly eclectic mix of work including a couple of comic strips, one of which was Ricky's first ever Metroland comics.
I continued putting Tiny Dancing out, upping the page count, distribution and print quality, and widening the number of contributors involved, but people seemed to have trouble getting their head around what it was – the comics seemingly clashing with the other work. Ricky came up with the idea of taking the comic strips out of Tiny Dancing and putting them in their own home, and thus Reads was born a couple of years ago, which also led to us starting AHP proper. Reads has recently finished its first volume of four issues, with the second volume starting very soon, and issue nine of Tiny Dancing should emerge later in the year following a bit of a hiatus.
BF: Where did the title Reads come from?
RICKY MILLER:  It's a reference to Dave Sim's Cerebus comic, wherein a particular form of books that combine words and pictures were referred to as 'Reads'.  Cerebus was probably the first non-mainstream comic I ever bought and I can still remember bringing an issue into school and showing it to Dave who promptly started collecting it as well.  It was my gateway to that generation of self-published comics that included the likes of Bone, A Distant Soil and Strangers in Paradise.
Sim's views on self-publishing and the importance of creator control/ownership which he outlined in essays in the back of the comics have stayed with me over the years as well and have been important touchstones in how I try to deal with the business side of things.  As well as the reference to Cerebus I think the word "Reads" is appropriate in relation to the type of material I try to get for the comic.  It's important to me that there should be good writing and proper stories in it.  Other people do slightly more arty or humour anthologies brilliantly already, so I saw our niche as trying to get strips that were telling good stories, or at least had something to say.  The only downside is that it's pretty hard to hit it in a search engine with just the title!
BF: The UK small press seems to have little problem supporting a number of excellent anthology books despite the fact that we are constantly told by the wider comics industry that they don't sell and there's no market for them. What have been the benefits and the pitfalls of producing an anthology for you?
MILLER:  The biggest benefits have been the creators that we've been introduced to through putting it together and also the ability to experiment with different types of paper and printing methods.  When we first started it was mainly a forum for us and our friends to try and make comics, but it soon evolved from that.  A big moment for me was when I managed to get a strip from Paul Rainey as his There's No Time Like the Present series was the reason why I wanted to go into publishing in the first place.  Also really important were people like Tim Bird and MJ Wallace who have been an example to us in the quality and timeliness of their work and have been almost entirely responsible for the fact we managed to keep putting issues out of a good quality.
Sample pages from past strips by Tim Bird, Ricky Miller & Steven Horry, and Owen D. Pomery from Avery Hill's Reads anthology
I'm not sure the pitfalls are particularly different for an anthology than for anything else we put out.  We've had a few printer issues, which were mainly through inexperience on our part and have been really important learning experiences. From a sales point of view, it's not done vast amounts and part of that was probably due to the fact that stories continued from one issue to the next.  Lateness was a problem and also the quality of art on mine and Michael's strips might have hurt us in the beginning!
I think the most important lesson we've taken away from it is only approach creators you trust and who you know can hit a deadline.  Reads Vol.2 1-4 will be coming out over the next year and really they're going to be a massive leap forward in terms of format and production. Lessons learned!
BF: Metroland is a long-running comics feature from AHP that is shortly to be relaunched in a major way. Fill us in on its premise and run to date…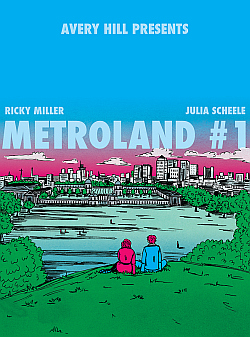 MILLER:  Metroland is a story I've had in my mind for about 8 years, from back when I used to spend massive amounts of time in or watching my friends' bands, or DJing at little indie club nights.  It's about a woman called Jessica Hill who arrives in the life of an up-and-coming indie band called Electric Dreams and changes everything.  It turns out she has the ability to travel through time, so she and her band-mate Ricky Stardust decide to go and fix a lot of things to do with music that they believe have gone wrong in the past. In the midst of all of this Electric Dreams are falling apart, there's a killer on the loose and the end of the world may or may not be about to happen…
When I started doing it as a 4-pager in Tiny Dancing and then continued it in Reads, I knew I couldn't do the whole story in that format, so my aim was to just do a series of short character studies and enigmatic little scenes that were set in the universe I had in my head. I remember telling Dave and Michael on one of our podcasts when they were ribbing me about nothing ever happening in it that "it's not a plot, it's a situation."  Rightly they laughed in my face about that, but even now, in a longer format, it's still how I see it to a certain extent.
There is a plot of course, but it plays out over a long period of time and like tectonic plates that are drifting apart, you might not see it moving…In the meantime it's about the relationships between the characters, it's about London and mainly it's about music.  All the characters are people who live breathe, love, fight and die for and because of music.
BF: Why did you decide to reboot Metroland so dramatically and what can we expect from the new series?
MILLER: I guess by dramatically you mean killing off the main character and showing the end of the world..?  Well I wanted it to have a proper ending in Reads, and it certainly had that.  Also I wanted that run to operate as a little alternative reality to what could happen in the new series.  There's no need to go back and read it as the new one is self-contained, but if you do then it's there to show the stakes of the story and what has happened to these characters in a parallel universe.  It was always the plan to one day put Metroland in its own comic and now was the right time.
Pre-coloured Metroland pages by Julia Scheele
I knew I wasn't capable of drawing it myself and to pull it off I needed a great cartoonist, but also someone who understood that London indie music scene and who, most importantly, had taste and sensibilities that I could trust and bounce off of.  Julia Scheele, who I knew vaguely through her 69 Love Songs project and Twitter became the obvious choice, although it took me a while to get there.
Initially I asked her to do just the first issue, but when I saw her character designs and a couple of pages I immediately asked her to do the whole first 5-issue miniseries.  It was just too perfect, she'd nailed it straight away.  As well as the main story there are related back-up strips that will be drawn by the likes of Jazz Greenhill, Becky Strickson and Owen Pomery amongst others.
BF: You have a genuinely eclectic output that has included not just comics but also more zine-styled publications as part of your arts coverage. How did some of those wonderfully niche projects come about – especially my personal favourite Mitchell Collection?
WHITE: We both love comics and have done for as long as we can remember (ask Ricky about his Transformers UK fanzine next time you see him…), but the intent of AHP has always been to be a home for any project that interests us, including our own work on occasion. In heading up AHArts, I want to make available work that may otherwise stay hidden, or isolated, and that the world should have the opportunity to see.
From the AHArts range – Mitchell Collection, Fronts #1 featuring the vibrant woodcuts of Polish artist Roman Klonek (see video below), and Tim Bird's Infrastructure
Mitchell Collection, for instance, came about from finding a photo album on a stall at a junk market, containing photos of one man's holiday in Europe in 1984. Mixed in with the standard holiday snaps were covertly taken photos of men in uniform from the various countries he visited, policemen, soldiers, firemen and so on. That started to create a narrative in my mind, and from there it felt like it would be a tragedy if no-one else ever saw these photos, or got the opportunity to form their own narrative around them. So I collected some of them and published them as a limited edition zine.
Quite a few of our AHArts projects come about by chance – finding something, or seeking to capture a unique moment or narrative that would otherwise be lost forever.
Join us tomorrow in the second part of this interview when Ricky and David chat about AHP creators Jazz Greenhill, Owen D. Pomery, Tim Bird and Mike Medaglia, and also talk about their future publishing plans…
For more on Avery Hill Publishing check out their site here and don't forget to visit their online store here.