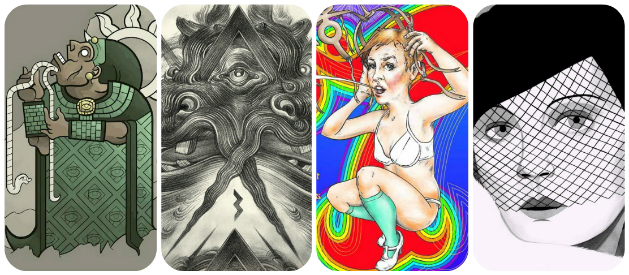 SMALL PRESS DAY IS COMING!
Saturday July 9th sees the first Small Press Day in the UK and Ireland – an event that seeks to spotlight the exciting new voices in self-publishing and celebrate the philosophy of the small press scene. Across both countries shop signings, workshops and associated events will be taking place. You can find out all about it and what's on in your local area at the official Small Press Day site here. 
This week, as part of our SPD coverage, we're pointing you in the direction of some of the most interesting uses of the form by UK-based small press creators working in a number of different fields of comics practice. Today we continue with ten top examples of collaborative anthologies covered here at Broken Frontier over the years that have brought creators together, whether by theme or ethos.
If you like what you see then you can investigate further with the online store links included… 
Dirty Rotten Comics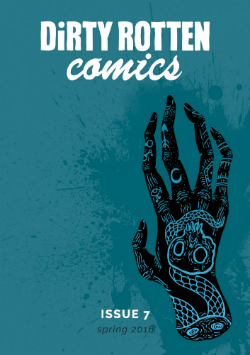 It's the short strip collection offering that sits complete newbies on the scene side-by-side with established stars like Julian Hanshaw, David Ziggy Greene and British Comic Award-winner Tim Bird. It's the Throwaway Press flagship title that has featured work from many of our Broken Frontier 'Small Press Creators to Watch' including Kim Clements (below right), Rozi Hathaway, Emily Rose Lambert, Jey Levang (below centre), Jess Milton and Danny Noble (below left). And it's the inclusive anthology that has revitalised an already healthy sense of community and collaboration on the UK self-publishing scene. In short, it's Dirty Rotten Comics and it's one of the most important creative platforms to have emerged on the British small press circuit in years.
Small Pressganged review here
Small Pressganged soundbite: With a growing online profile and a vital and established role on the UK small press scene, Dirty Rotten Comics is not so much simply an anthology now as a community enterprise, playing its part in pushing the grassroots scene ever forwards. 
Buy copies online here priced £4.00
The Dirty Rotten Comics crew will be signing at Gosh! Comics on Small Press Day. Full details here.
Off Life
This street press anthology has been a vital tool over the last few years in taking comics and creators to new audiences. With its dual free model of print distribution and online availability it seeks to champion the form by proactively getting comics in the hands (or on the screens) of a non-traditional audience. Off Life has also played a huge part in promoting newer creative voices like Brigid Deacon, Ellice Weaver and Matthew Dooley alongside longer standing names like Jack Teagle, Kristyna Baczynski (below), Jamie Coe and Jean Jullien.
Small Pressganged review here
Small Pressganged soundbite: If this "Golden Age" of small press comics is to have a tangible, lasting legacy then it needs champions to take that work out to wider audiences. The Off Life team continue to play a vital, unique and relevant role in spreading that message.
Visit the Off Life store here and read back issues online here

The Comix Reader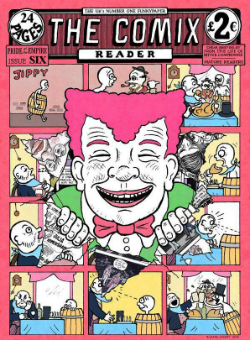 This newspaper-style anthology of mostly single-page strips was designed to evoke an underground comix vibe. Over the course of its six issues to date it's certainly achieved that aim and, as a result, was nominated for the Prix de la BD alternative 2015 at Angoulême. Having featured such notable names as Lord Hurk, Gareth Brookes, Mike Medaglia, Alex Potts, Bernadette Bentley and Tobias Tak (below) its alt credentials are undeniable and it remains one of the most boundary-pushing group efforts in UK indie comics over the last several years.
Small Pressganged review here
Small Pressganged soundbite: I'll give you the two quid back myself if you don't find at least something herein that makes you feel it was a worthwhile purchase…
You can buy The Comix Reader from Comicsy here and the most recent issue at London's Gosh! Comics.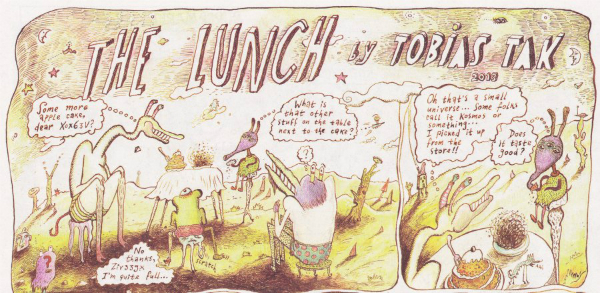 Tempo Lush Tales of the Tanoox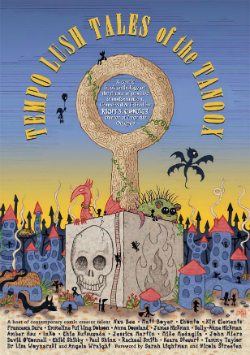 Richy K. Chandler's remarkable group project uses a mysteriously appearing symbol known only as the Tanoox (that has the power to effect positive change) as a framing device for stories by creators as diverse in approach as Francesca Dare, Keara Stewart, James Hickman, Amber Hsu (below), David O'Connell, Lisa Woynarski and Mike Medaglia. With themes as wide-ranging as ecological concerns, the National Health Service, depression and the supernatural, it's an inspiring compilation that reminds us that we can all make a difference to our own lives and the lives of those around us.
Small Pressganged review here
Small Pressganged soundbite: What Chandler has achieved here is a comics collection whose very existence promotes and advances the ideals it stands for. This isn't merely a comic about positive change as storytelling material; it's one that encourages us to think about making a difference ourselves.
Buy copies online here priced £7.00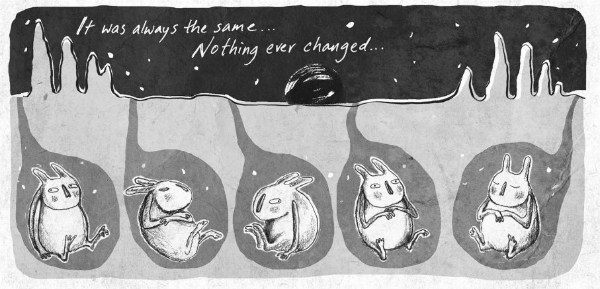 Reads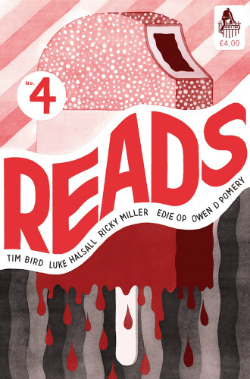 I've described Reads before as something of a showcase for the Avery Hill Publishing repertory company. This second volume of one of the earliest AHP publications has a slicker feel to its presentation but the same spirit of eclecticism remains. Wonderfully creepy short tales by EdieOP (below left) rub shoulders with Miller and Bird's biography of film director Alfred Hitchcock (below centre), while Owen Pomery's drunken historical slapstick in The Megatherium Club is placed in the same pages as Halsall and Bird's pastiche of the dawn of Silver Age comics (below right). A great entry point to the AHP range, all wrapped up in stunning Eleni Kalorkoti covers.
Small Pressganged review here
Small Pressganged soundbite: An essential platform for a healthy representation of the creative voices that make up the AHP stable, and a true testament to the continuing evolution of this important micropublishing presence on the UK scene.
Buy copies online here.
Avery Hill's EdieOP and Owen D. Pomery will be signing at London's Forbidden Planet on Small Press Day (details here) while the larger AHP team will be at Gosh! Comics later in day (more here).
Tiny Pencil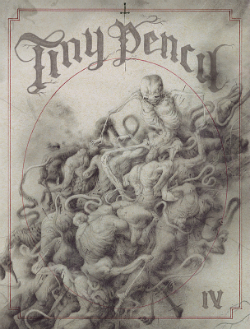 Edited by Amber Hsu, this artszine publication is a love letter to graphite art and mixes pencilled illustrations and comic strips. While there's been one all-ages issue to date, its contents have usually veered more to darker material with issues having subtitles like 'The Beast Issue' and 'Death & Resurrection'.
Comics artists to have taken part in the anthology to date have included Alys Jones, Isabel Greenberg, Gareth Brookes, S.J. Harris, Alexis Deacon (below), Gary Northfield, Luke Pearson, Jack Teagle and Donya Todd, with 2016 BF 'Six Small Press Creators to Watch' star Kim Clements appearing in the upcoming issue #5.
Small Pressganged review here
Small Pressganged soundbite: Tiny Pencil has come to occupy a unique position on the small press scene, straddling the aligned worlds of comics, zines and fine art with confidence and poise.
Buy copies online here priced £11.00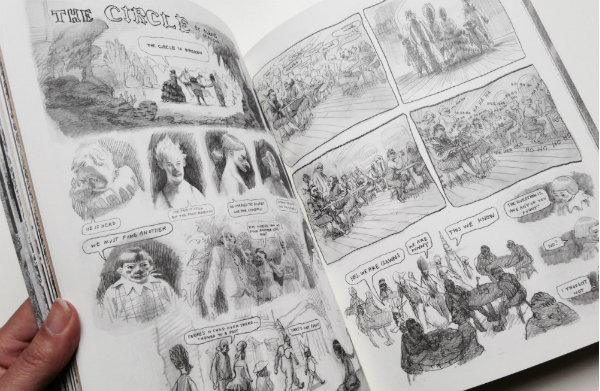 Greasy's Guide to Nookie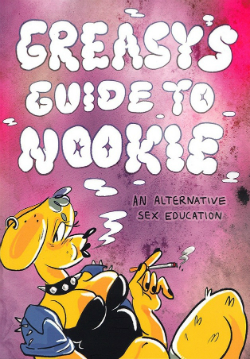 The Comic Book Slumber Party crew had a fantastic 2015 with their Fairytales for Bad Bitches anthology being nominated in the British Comic Awards. This follow-up edition once again follows their mascot character Greasy in a framing sequence wherein she takes control over the classroom to give an "alternative sex education". Edited by Hannah K. Chapman this irreverent collection of short stories by women creators like Lottie Pencheon (below left), Sarah Broadhurst, Julia Scheele, Donya Todd, Eleni Kalorkoti (below centre) and Jess Milton (below right) has a bite all of its own.
Small Pressganged review here
Small Pressganged soundbite: Comic Book Slumber Party's role in showcasing international women creators, and providing a platform for newer creative voices, has been invaluable over the last few years and proved just how effective creative collectives can be in bringing deserving talent to an expanded audience.
Buy copies online here priced £12.00
Save Our Souls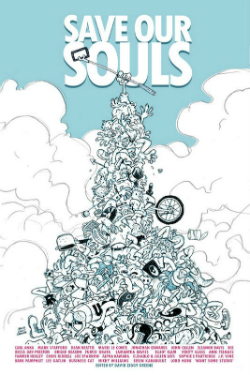 Private Eye cartoonist David Ziggy Greene's brainchild aims to combine comic strips and journalism to create a unique topical anthology with a crossover appeal; one that explores the inter-relationship between sequential art, illustration and writing. Its first issue included Fumio Obata on the 2011 Japanese tsunami, Mark Stafford's skewering of motivational memes (below), Greene himself on the "Calais Jungle" and Alpha Kamara's firsthand account of the Ebola crisis (illustrated by Jonathan Edwards). A second issue has just been released.
Small Pressganged review here
Small Pressganged soundbite: There's no denying the incredible promise of this publication in underscoring the validity of graphic journalism as a communicative tool. With its capability to reach new non-traditional audiences for its comics content Save Our Souls has the potential to become something very special indeed.
Buy copies online here priced £7.00.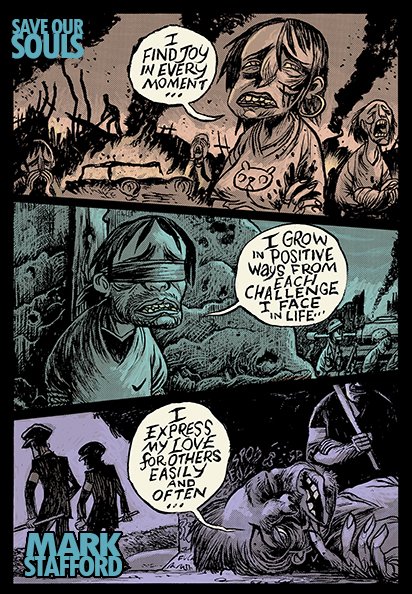 The Save Our Souls crew will be signing at Gosh! Comics on Small Press Day. Full details here.
Team Girl Comic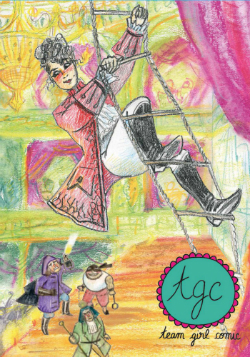 The all-women collective anthology Team Girl Comic has just reached its twelfth issue; a significant achievement in itself for a small press group book. Like Dirty Rotten Comics, the publication has always had something of an inclusive policy and as a result some of the material within its pages may feel slightly less polished as a result. But that's a major part of its appeal.
TGC reminds us of the democracy of comics as a form – that relatively new talent can still create good comics with something relevant to communicate or say. Undoubtedly one of the most vital and important anthologies of the last few years in the UK.
Small Pressganged review here
Small Pressganged soundbite: Without a doubt, [Team Girl Comic] is the quintessential embodiment of the UK small press zeitgeist of the last few years.
Buy copies online here.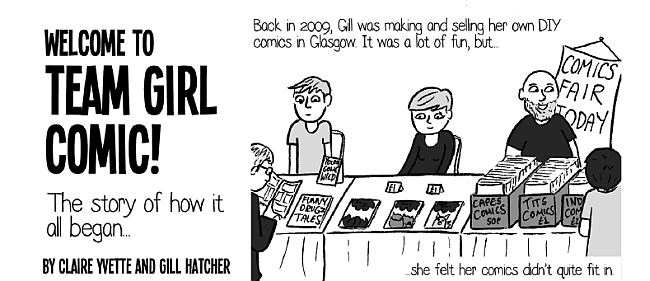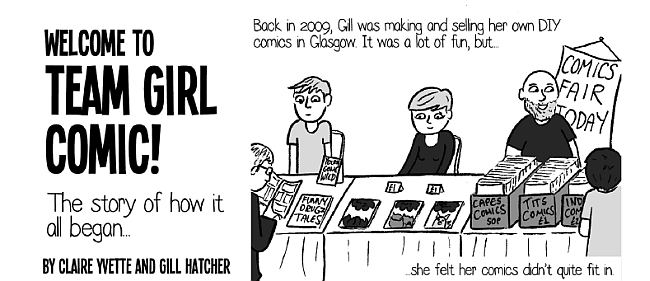 Gill Hatcher will be signing at Waterstones Argyle on Small Press Day. Full details here.
A Bit of Undigested Potato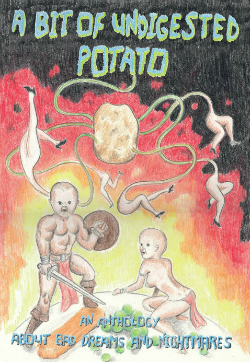 What editor Keara Stewart achieved with this "bad dreams and nightmares" zine/comic in bringing together creators from all layers of UK publishing was astonishing. Renowned graphic novelists and comic artists Karrie Fransman (below left), Andy Poyiadgi, Matilda Tristram, Mike Medaglia, Rachael Ball (below centre) and Gareth Brookes (cover right) contributed, as did established and rising stars of the small press world like Danny Noble, Rozi Hathaway, Alex Potts, EdieOP and Robert Wells.
And there were also a number of entirely new names at the time like Ruth Collingwood, Mary Blomley and Kim Clements (below right) who has gone on to become a Broken Frontier "Creator to Watch". A haunting collection of stories of the nightmare world and a true community effort.
Small Pressganged review here
Small Pressganged soundbite: What Keara Stewart has put together here is a phenomenal accomplishment. It doesn't just bring together artists of multiple disciplines but also provides us with a snapshot of the diversity of the UK DIY and indie comics scenes in 2015.
Buy copies online here priced £5.00
For more on Small Press Day visit the official site here and follow SPD on Twitter here. 
For regular updates on all things small press follow Andy Oliver on Twitter here.