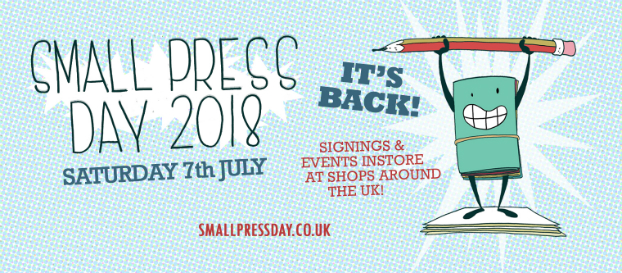 From Portsmouth to Dundee, from Dublin to to Newcastle, and taking in Brirmingham, Brighton, Glasgow, Leeds, London and so many other locations as well, Small Press Day is back this Saturday July 7th for its third annual celebration of all things self and micropublishing.
The day has its origin in one simple tweet a couple of years ago suggesting a dedicated day of self-publishing celebration that would bring small press creators into comics shops to sign their work and promote their practice to customers. It was an idea that quickly took on a life of its own and has proved to be a huge success across the UK and Ireland each year since 2016.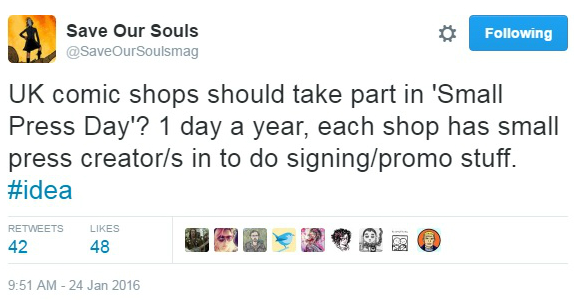 There's another bumper day planned this Saturday (you can find details of your nearest event on the Small Press Day site and there's a lot of them!) with shops and organisers once again throwing themselves into the spirit of the day. As part of the Small Press Day team (alongside founder David Ziggy Greene and the Alternative Press's Amneet Johal) I'm looking forward not just to the events I attend but also on following what's going on up and down the country on social media.
In that regard the Small Press Day team have a quick request – to give us the best opportunity to get Small Press Day trending on Twitter on the day please use the simple hashtag #SmallPressDay in your tweets. Let's see if we can bring small press comics to as wide a social media audience as possible!
If you're looking for the Broken Frontier crew on SPD we'll be in central London walking between London's Gosh! Comics and Orbital Comics. BF has two events at Gosh! on the day. We have the Broken Frontier workshop at 2pm where no less than nine of our 'Six Small Press Creators to Watch' from the last two or three years will be in attendance including recent ELCAF x WeTransfer Award winner Jayde Perkin, Cat Sims, Anja Uhren, Josh Hicks, Olivia Sullivan, Peony Gent, Shanti Rai, Matthew Pettitt and (all the way from Norway for the day!) Jey Levang who wowed readers with their artwork this year on Lazaretto from BOOM! Studios.
And, in the evening we're launching our 2018 Broken Frontier Small Press Yearbook with signing artists including Robert Wells, Jenny Robins, Anja Uhren, Alice Urbino, Alex Potts, Peony Gent, Josh Hicks, Kate-mia White, Olivia Sullivan and EdieOP. That one's a joint launch with Avery Hill Publishing who are debuting Seekan Hui's A Projection. The book is also available for pre-order here.
Included here are just a handful of posters from events happening on the day to whet your appetites. Don't forget that we also have the Small Press Day Instagram account. If you'd like photos from your event to feature there then please send them to me on the day at andyoliver@brokenfrontier.com or if you tag me into your photos on Twitter (@AndyWPOliver) I'll assume they're okay to use with a credit. It's going to be another amazing day celebrating our burgeoning and vibrant small press comics world – we can't wait to see folk reporting back from their Small Press Day 2018 events on Saturday!
– Andy Oliver, Broken Frontier Editor-in-Chief, July 2nd, 2018
For regular updates on all things small press and Broken Frontier follow Andy Oliver on Twitter here.