It was Small Press Day in the UK and Ireland last Saturday and across both countries shops, creators and readers spent the day celebrating an area of comics practice that prides itself on its democracy, accessibility and inclusivity. Today at Broken Frontier we look back on the first of what will hopefully be many Small Press Days to come with some thoughts from the Small Press Day organising team – David Ziggy Greene, Amneet Johal and myself, BF Editor-in-Chief Andy Oliver.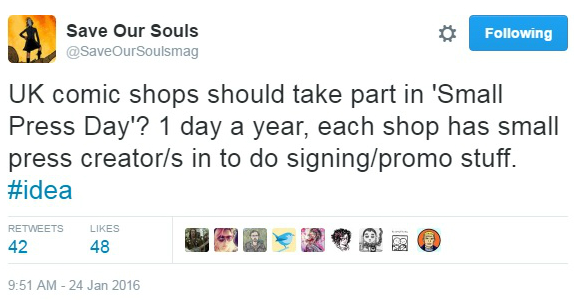 Sometimes one simple speculative tweet can take on a life of its own…
Back in January of this year Private Eye cartoonist and Save Our Souls editor David Ziggy Greene pondered the viability of a national Small Press Day on social media. He proposed an event similar to many of the other dedicated days on the comics calendar but one that would be devoted entirely to the grassroots comics scene. Little did he know then what he was about to set in motion.
Within a very short period of time the idea had been seized on by both the movers and shakers of the small press world and eager enthusiasts keen to see this become a reality. A date was set for July 9th, 2016. Shops volunteered or were approached, activists were engaged, and a rapidly growing Twitter account speedily built up a committed base of followers.
Small Press Day was no longer a throwaway thought casually cast out to the masses on Twitter. It had, to all intents and purposes, become a mini-movement.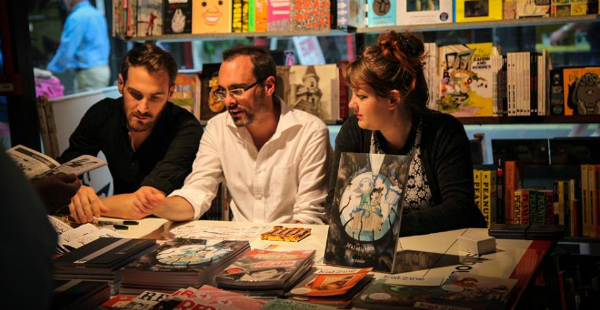 Avery Hill's Owen D. Pomery, Gareth Brookes and EdieOP at Gosh! Comics
Broken Frontier, of course, is a site with a long involvement in championing small press publishing and, as such, Small Press Day's mission statement was perfectly aligned with our own. Over the last few months I've had the privilege of being part of the Small Press Day team alongside the aforementioned David Ziggy Greene and the Alternative Press's Amneet Johal who toiled away tirelessly in the background to oversee and co-ordinate last Saturday's festivities. Small Press Day was an initiative that would evolve and take on a life of its own as hard-working hubs of small press proponents began planning for the big day. By last Saturday we had over 25 events on the calendar!
David Gedge and Terry De Castro of The Wedding Present were signing the band's autobio comic Tales of the Wedding Present at Dave's Comics in Brighton and gave this bonus performance of 'My Favourite Dress'!
From Dorset to Dundee, Dublin to Newcastle, and all the space in between, the opportunity was grasped to promote self-publishing to both new and established audiences. While in-store signings were a staple of the day, programming was rich and varied.
To give just a handful of examples… In Glasgow Forbidden Planet held a small press fair at the Centre for Contemporary Arts; there was a Drink and Draw in Leicester after their Forbidden Planet signings; at London's Orbital Matt Boyce held one of a number of comics-making workshops that sprung up on SPD; and Leam Comic Con launched their Small Press Factor competition.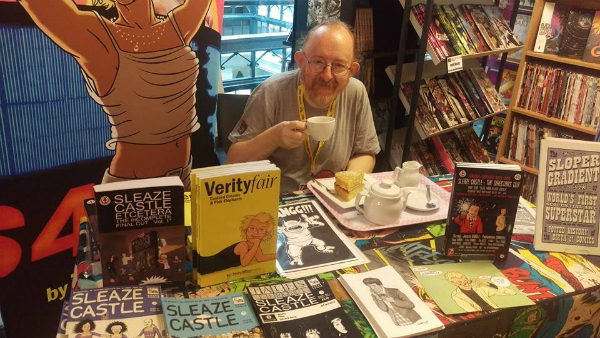 Terry Wiley of Verity Fair fame signing at Destination Venus in Harrogate
For Small Press Day guiding light David Ziggy Greene Saturday was a very encouraging start to what will hopefully go on to become an annual fixture. Bringing new readers into the self-publishing world was a particular boon in his eyes: "It was rewarding seeing and hearing about people buying small press they probably would never have thought about before. Most rewarding, though, was hearing how excited some creators were to be doing their first events, and also having such a great response and enthusiasm from so many shops and venues."
David was also very optimistic about an expansion of the ethos next year. "Hopefully more shops and venues will see all the positives that came out of this first one, take part next year and Small Press Day will grow."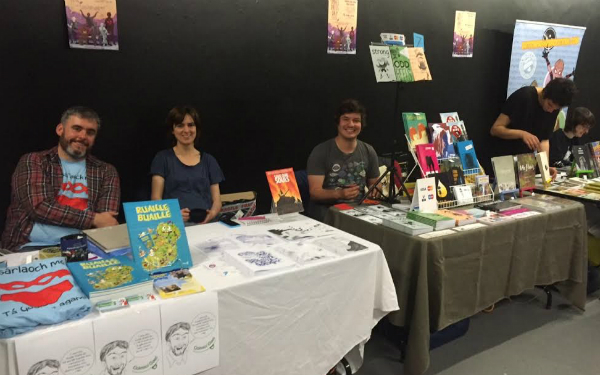 The Stray Lines Collective at the Forbidden Planet Dublin Small Press Day 
So what did Small Press Day mean as a concept to co-organiser Amneet Johal? "For me it was proving that by working collaboratively – and collectively focusing on what we can do locally – we can strengthen the small press scene, create a real sense of community, while increasing the reach of our self-published works. It's about taking ownership, being progressive, and adding to the small press economy by tapping into the local retail market so creators aren't solely reliant on zine/comics fairs and events to introduce their publications to an audience."
Amneet also spoke about the most rewarding aspect of the day: "I think it was seeing the sheer excitement and enthusiasm for the small press from across the country over Twitter. I'm in awe that there were 25 events across the country on the same day championing the same thing… it was really beautiful!"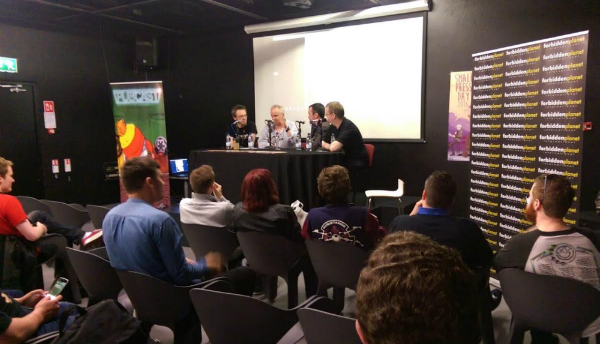 Panel events were also part of the day in Dublin
And as for the future of SPD? "I would love to see more events in more cities in the U.K and Ireland – really tapping into local creative communities – championing the diversity the small press has to offer in terms of comics, zines, perzines, and so on."
My own Small Press Day was spent travelling the London trail and visiting all five participating shops. That began with the Raygun East Beast Wagon signing with Owen Michael Johnson before a trip across to Kings Cross and the 'Festival of the Perzine' at Housmans radical bookstore. From there I made the trip to central London to enjoy the Avery Hill signing at Forbidden Planet and two brilliantly curated and packed signing programmes from Steven Walsh at Gosh! Comics and Camila Barboza at Orbital. The latter also included a Broken Frontier signing for our Small Press Yearbook (below) with 'Six to Watch' artists Emma Raby, Jey Levang (all the way from Norway!), Rozi Hathaway and myself.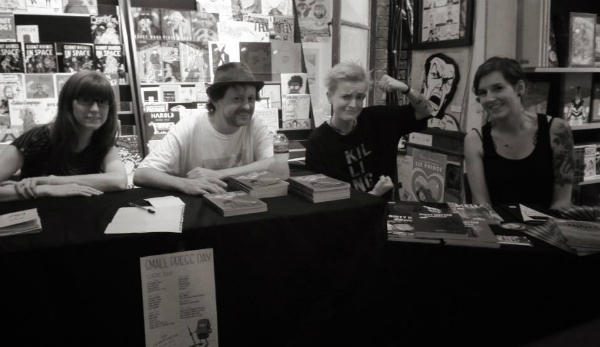 Broken Frontier at Orbital Comics – Emma Raby, Andy Oliver, Jey Levang and Rozi Hathaway
What excited me on my travels was the genuine sense of solidarity that made Small Press Day such a successful showcase of micro and self-publishing, and DIY Culture. There was a palpable feeling of purpose and a celebratory zeal that was uplifting in the extreme. Indeed, collaboration not competition was very much the order of the day; encapsulated so perfectly by the special joint SPD comic put together by the Gosh and Orbital teams from their respective sprawling guest lists.
Saturday July 9th was a point in time when the comics community undoubtedly pulled together to create something very special. Just check out the #smallpressday hashtag on Twitter for the merest flavour. Thanks are due to every shop and organisation that put on events, the creators who gave up their time, all those activists who promoted the philosophy of the day, and each and every punter who turned up to support this remarkably well-received venture.
Small Press Day 2017 may be 360-odd days away but you can be assured that the SPD team are already looking at ways to make the next SPD bigger, better and bolder. We'll see you all then…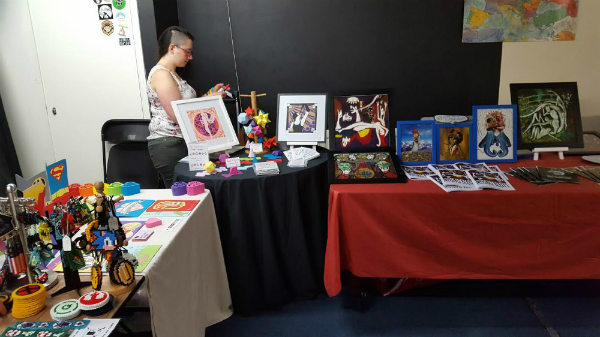 Above and below – Setting up in Newcastle for the Paper Jam Comics Collective (in association with Travelling Man Newcastle and The Canny Comic Con) day. 2016 Broken Frontier 'Small Press Creator to Watch' Emily Rose Lambert was tabling.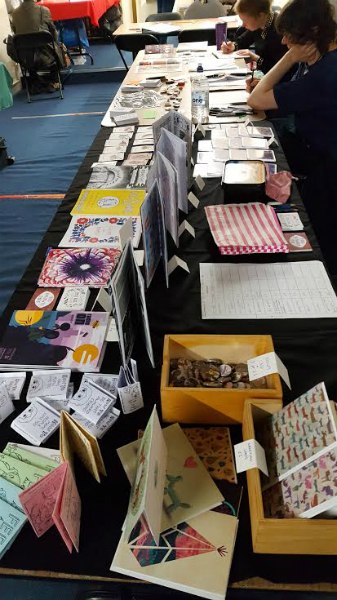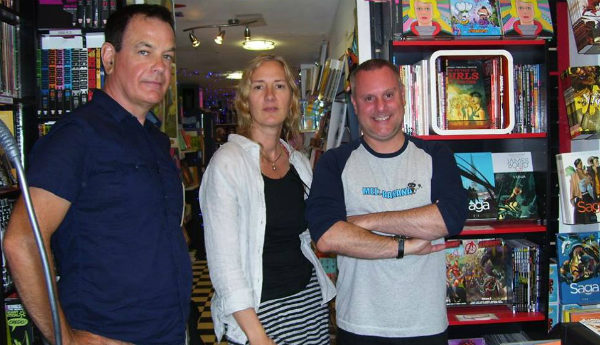 Above and below – David Gedge, Terry de Castro and artist Lee Thacker at Dave's Comics in Brighton with their Tales from the Wedding Present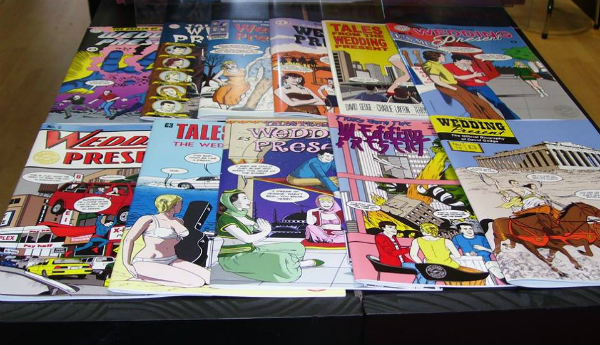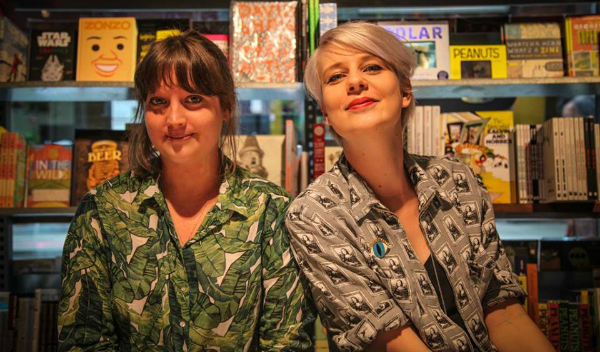 Above and below – Sarah Broadhurst and Julia Scheele of One Beat Zines at London's Gosh!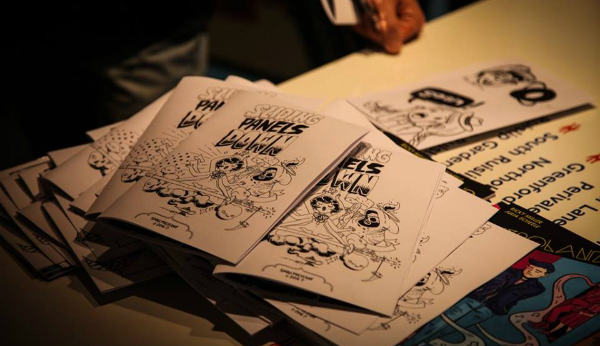 The collaborative Orbital/Gosh comic was given away free at the end of the day
With huge thanks to all those shops, artists and attendees who provided photos for this piece.
For more on Small Press Day visit the official site here and follow SPD on Twitter here. 
For regular updates on all things small press follow Andy Oliver on Twitter here.