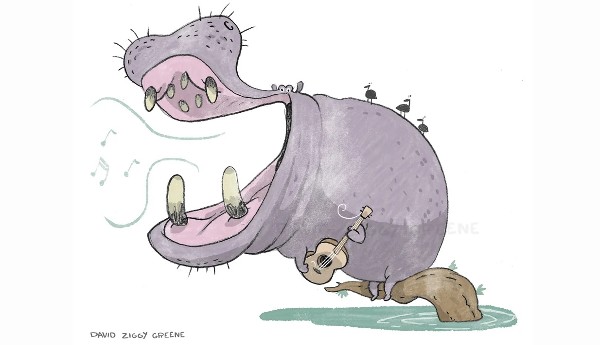 There are lots of reasons why now is a most opportune moment to be chatting with cartoonist David Ziggy Greene. The former long-time Private Eye artist was the founder of Small Press Day which is gearing up for a its 2022 return. He's also just had his new book Walkies released by kids comics specialists Bog Eyed Books. And he's currently in the middle of a crowdfunding campaign for his new venture Jam Bookshop. We chatted this week about championing the small press, political cartooning, and community-focussed stores…
ANDY OLIVER: Given that we've colleagues for a number of years on the Small Press Day organising team, and that the build-up for SPD 2022 is beginning, can you look back to 2016 and what inspired you to found that event? What were its guiding aims and targets?
DAVID ZIGGY GREENE: Two of the great things in life are music and comics. I've always loved the concept of Record Store Day and it was around that time in 2016 when I kept seeing promotional stuff for RSD and had a thought that comic shops needed something similar. Free Comic book Day is great for big publishers, but I thought what could be better is the idea to tap into the next wave of comic creators too. That way the shops get help while giving a boost to creators that need a hand. So, as is the way we do things theses days, I blurted out the idea in a tweet. And within hours there were shops saying they'd take part in such a thing. Hey presto, I'd accidently tripped over a good idea!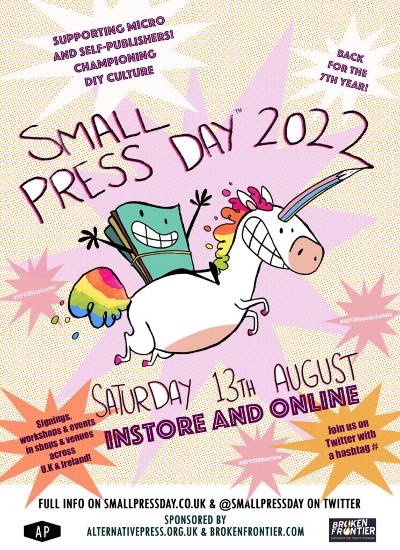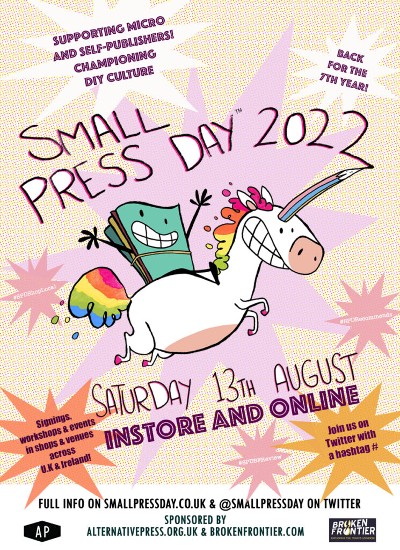 AO: As the years have progressed how have you seen SPD evolve? And what have been some of the most memorable moments for you?
GREENE: Over the years it's become easier for people to get the concept. When new concepts are pitched to the public, it's harder without experience to show what you are talking about. But after the first couple of years, it seemed that everyone got the vibe and mission and more creators and shops wanted to get involved. I couldn't say what year what happened, but the memorable things are always when you get the feedback about how connections were made between a shop and new readers and creators. Someone's small event like getting their first comic on a shop shelf is actually huge in the scheme of things and makes you feel like it's all worth the effort.
Small Press Day events from years past
AO: Your Private Eye series Scene & Heard (also collected in two self-published volumes) is perhaps the work many will most know you from. How did that strip come about and can you give us some background on how you researched it?
GREENE: Back in around 2008, I was making my own silly comic books for a couple of years. Just short stories. To get my foot in the door of learning how to draw properly. I decided to promote my work in France and through a twist of fate, I was asked to draw some reportage as a UK correspondent for Charlie Hebdo newspaper. So the logical step was to ask Private Eye magazine, which I loved, if they wanted me to draw reports too. Ian Hislop, the editor, really liked the idea and decided to give me a go and I continued to do so in almost every issue for the next 9 years. So there was never any research into how to do it or any preparation into something that I had planned to do. It all started from a phone call request from France and I just kept doing it.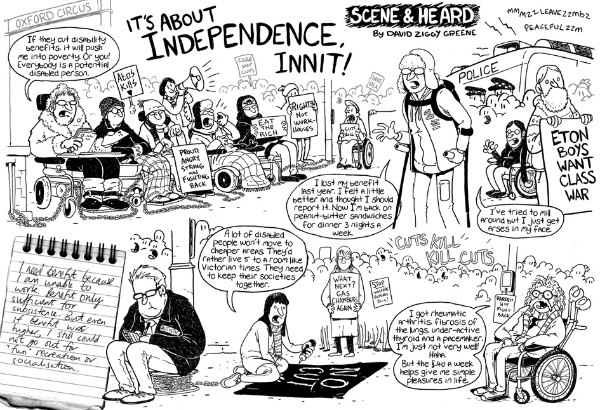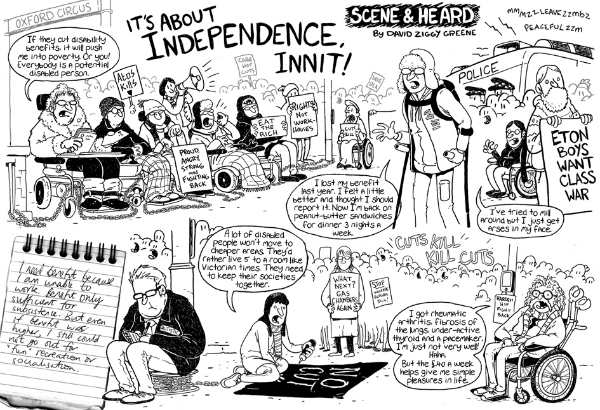 AO: Scene & Heard stands out for me for its very distinctive perspective as a social record of attitudes in the time you were producing it. What were some of the strangest situations you found yourself in when gathering information for each strip?
GREENE: Oh boy…..It was basically an endless stream of strange situations. It meant constantly throwing yourself into worlds you knew nothing about with people you had never met before. So many times, I've jumped into strangers' cars in strange cities and been driven around to report on things, that I've lost count. I spent 3 days in the Calais migrant 'jungle' camp and then arrived back in London and within hours was standing in the middle of the Conkers Championships. I've been threatened by activist and football hooligans. I've stood in Parliament hearing juicy gossip. I sat in a pub in Edinburgh at 4 am for the independence vote result, stood on the coast of Kent watching protestors try to stop ships of live animal exports, I stood at Stonehenge being shown lesser known burial mounds, I spent time in an ecovillage buried in the woods where you'd get surprise hugs from new age hippy-hipsters jumping out of the bushes. I've been in a few police kettles in riots. I've had conversations with strangers about their abortions or loss of loved ones and many other serious topics too.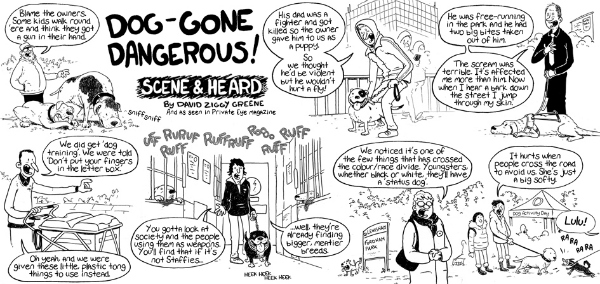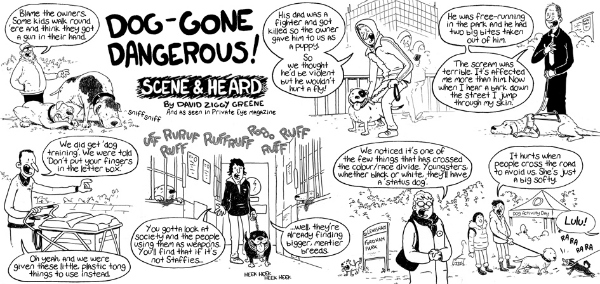 AO: Your cartooning has a very elastic, animated energy to it. Who and what have been your influences and inspirations over the years?
GREENE: There were influences when I was a kid. Uderzo (Asterix) may be the biggest. Jack Davis (Mad magazine) was another. A bunch of superhero comic artists caught my eye too, like Art Adams and later on Greg Capullo (Spawn and Batman). The biggest influence in later years was Otomo (Akira) and Jamie Hewlett (Gorillaz). But I became paranoid about copying people, so I tend to find that if I adore someone's art, that is the sign to make the effort to draw different from them. I think it can be great to pick up interesting technical tips from people you like but don't draw like them. Do the opposite. It's hugely important to consume and surround yourself with stuff that inspires you to learn but don't think you will achieve what they achieved just by copying them. You'll achieve truer things by being more unique.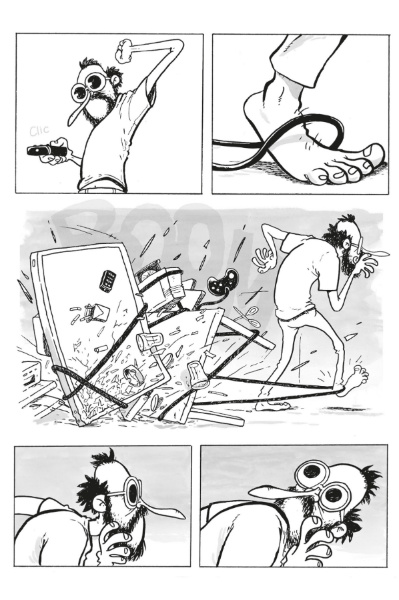 AO: Can you tell us about your artistic process? What kind of media do you work in?
GREENE: Pen and paper are the best. It's hard to commit to digital drawing because it looks too clean. So I'm still a pencil, pens and paper person. I do scan work and finish it in photoshop with colours and print preparation, but my life is a relentless mountain of paper drawings. I wouldn't say I have a creative process anymore. I don't own sketchbooks and don't casually sketch or draw. This is very much because for the 10 years of my drawing life, 99% of my work was done for fast, tight publication deadlines to make my living. There was less room to learn drawing casually. I did my development on the job. So now it's difficult for my brain to say "Hey, let's just sit and draw without a deadline." If my career had gone differently, then I might be an illustrator that fills sketchbooks full of amazing sketches and posts them online. I'm very jealous of those people.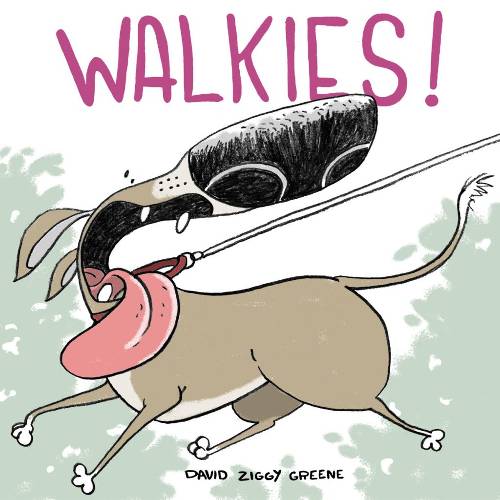 AO: Your latest project is something very different for the wonderful Bog Eyed Books. What is Walkies! about and who is the book's target audience? And how much of a change of pace has this project been?
GREENE: So, when I stepped back from the rolling schedule of reporting, I had some time during the pandemic. Whenever I drew a dog in a report, readers went crazy. After a while it was like people were waiting for the sight of one of my dog drawings in a Private Eye report. So I continued to sketch dogs to post online. And people really, really liked them. Now, anyone that's walked a dog knows the absolute pleasure a dog gets from walking so I wondered if I should do a story about that. I felt the story would be good presented for kids but adults would relate too. Making the book was a cathartic act. I don't have kids so I had to buy a load of kids books to grasp what the style is like. It was so different from what I had done before.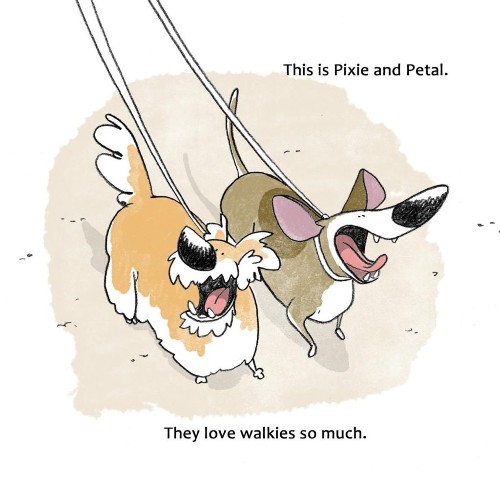 But saying that, the project I'm wrapping up now is something different again on a bigger scale. It's a teen book adaptation of the best selling book The Boy Who Followed His Father into Auschwitz for Puffin Books. It's a true story novel that I've illustrated quite heavily. It's pretty epic and has been crazy work to show the horrors of the holocaust for a teen audience. But it looks like the writer, Jeremy Dronfield, and I have done a pretty good job. That will be out early 2023.
AO: Your big news is that you're currently crowdfunding looking for backing for a new kind of bookstore. What is the ethos of Jam bookshop and what will mark it out as different from other shops?
GREENE: As with most projects I do, it's a little different from the usual. As a book lover, sometimes I don't understand why I have to go to a comic shop to buy the obscure, lesser-know comics or graphic novels I want and then go to a 'proper' bookshop to buy the classic novel I want. Sure big branches of Waterstones have a decent graphic novel section these days but it lacks the discovery. You roughly know you will find the usual work on their shelves. So I've decided to ease up my drawing work and open a shop that I would want to visit. A place where I want to go because the vibe is about creativity. And run by someone who cares about the future of drawing, writing and publishing.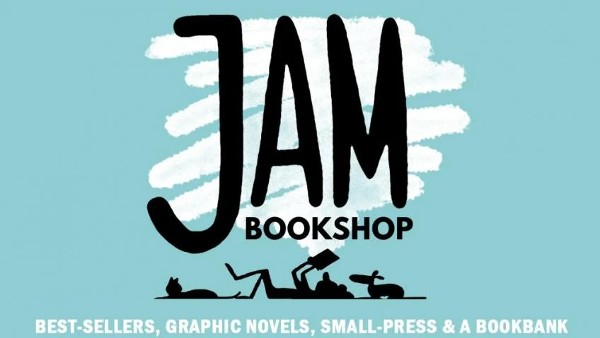 In the same way I admired Record Store Day and what it does for music, I'd like to have that record store coolness and vibe for books. Most of my career, I've aim to expand the audience of illustration to more people that might not seek it out. I took great pride for that in my drawing work in Time Out London magazine for a few years. I had great feedback from readers who didn't normally see illustration that way. I'd like to do that with a shop. Really expand the minds of visitors.
AO: You have a number of plans for community activities and socially conscious initiatives for Jam. What can we expect to see in that regard?
GREENE: Inspired by the libraries set up for homeless people, that I got to know well while reporting, I know the value of books even to people that can't afford them. So many people would love books but just can't get them. Big Green Bookshop does a great system where you can buy a book for a stranger. As I'm starting out and need to establish the business before trying to change the entire world, I thought maybe a bookbank might be worth a try. In the way people food shop and leave something in a food donation box at the supermarket, maybe people buying books might buy one to donate into the box. And the box can be there for someone wanting to take one.
Also, I'd love to hold events and signing with a whole range of writers and artists. A shop can't just be a place to sell books anymore, it must be a cultural hub too. I'd love a little gallery space too if I can land the right location.
Holding a Small Press Day event in the shop would be very cool too.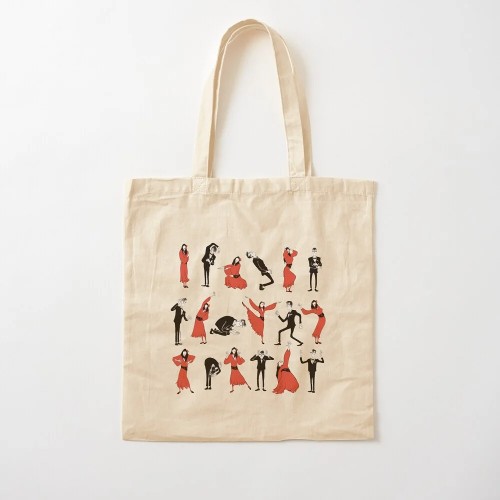 AO: And, finally, for those interested in backing it what are some of the rewards they can expect from the crowdfunder?
GREENE: It's important to me that this isn't just a charity event. I always like to give people something in return so I've come up with a bunch stuff I think is cool. There's the chance to grab a limited edition print that I'll be drawing just for supporters. I've combined two of my all-time popular art prints of Kate Bush and David Byrne to make a super cool retro tote bag and t-shirt. There are options to pre-order a book from the shop and get merchandise with the shop logo. The big reward is where I'm doing a super rare drawing workshop. I'll ask attendees before hand what it is they'd like to learn or get some tips about. Then I'll structure a 3-hour session around what everyone asks so they can get the most out of it. Should be really interesting.
I hope it kind of typifies what I'd do with the shop. I know it will be really cool, really unique and helps other people be creative in some way.
Back the Jam Bookshop crowdfunder here
Buy Walkies! online here and visit David Ziggy Greene's online store here