SMALL PRESS DAY IS COMING!
After months of eager anticipation the UK and Ireland's inaugural celebration of self-publishing, micropublishing and DIY Culture is nearly upon us. Over the next few days we'll be ramping up our already ever intensive small press coverage here at Broken Frontier with a series of articles designed to introduce new enthusiasts to the wealth of brilliant grassroots work out there and to remind those old hands of that oft-mentioned Golden Age of UK small press that we're living through.
We'll also be breaking down events on the day region by region to give you handy bite-sized guides to the multitude of events scheduled on July 9th. Today we begin with London where the extended Broken Frontier family will be making an appearance or two of their own…
Orbital Comics
Posters by Sean Azzopardi and Cliodhna Ztoical
Like many shops on the big day, Orbital Comics has a packed programme with an impressive list of creators throughout the afternoon. We're starting with the Leicester Square store, though, because that's where the Broken Frontier crew will be signing between 5pm and 6pm.
From across two generations of our BF 'Six Small Press Creators to Watch' initiatives you can meet Rozi Hathaway, Emma Raby, Kim Clements and – coming all the way from Norway – Jey Levang. We'll also have the Broken Frontier Small Press Yearbook on hand for you to get signed and sketched in. If you're a fan of our championed creators or maybe a fellow artist wanting to find out about what being a Broken Frontier 'Six to Watch' creator entails then pop along and say hello on the day.
Here's the line-up with some links to BF coverage:
12pm-1pm: Alessandra Criseo (Memento Bento) Cristian Ortiz (Golden Campaign), John Riordan & Dan Cox (Hitsville UK)
1pm-2pm: Sean Azzopardi (Tracks), Cliodhna Ztoical (Sorry I Can't Take Your Call at the Moment but I'm Off Saving the World), Jenika Ioffreda (Midnight Tea), Sammy Borras (Giant Rhinos in Space), Sina Sparrow (Art Fag)
2pm-3pm: Hamish Steele (Deadendia), Paul Shinn (March of the Penguins), Claude TC (Journey into Stupid), Craig Conlan (Ghost Cat), Adam-James Foulkes & Lynne Triplett/Brambletyne (Far from Faith)
3pm-4pm: Andy Poyadgi (Veripathy), Matt Boyce (Everything), Robin Barnard (Star Jaws), Verity Glass (ORB), Dan White (Cindy and Biscuit)
4pm-5pm: Matt Gibbs & Chris Wildgoose of Improper Books (Porcelain), Matt Fitch & Chris Baker from Dead Canary Comics (Reddin)
5pm-6pm: Andy Oliver (editor Broken Frontier Small Press Yearbook) with many of Broken Frontier's Six Creators to Watch from this and last year including Rozi Hathaway (Njálla), Emma Raby (The Dead Moon), Kim Clements (Rabbit Thoughts) and Jey Levang (HeLL(P)).
There's also a comics workshop with Matt Boyce and Orbital and Gosh! Comics will be collaborating on a special group effort comic with work from their featured artists available at the end of the day!
Full details on Orbital's Small Press Day here.
Gosh! Comics
 Our friends at Gosh! Comics also have hourly signing sessions but themed around different micropublishers, anthologies and collectives. Meet the teams and creators behind some of your favourite group efforts between midday and 7pm in the heart of Soho on July 9th .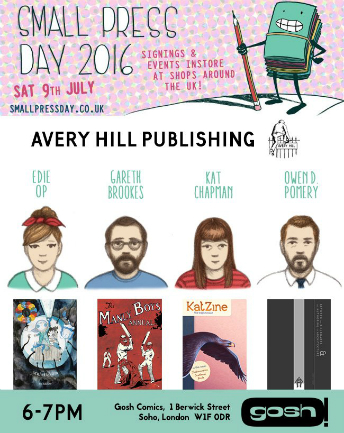 Here's the line-up with more links to BF coverage:
12pm-1pm: Decadence Comics and Backwards Burd
1pm-2pm: Save Our Souls
2pm-3pm: Dirty Rotten Comics
3pm-4pm: Fancy Butcher Press
4pm-5pm: One Beat Zines
6pm-7pm: Avery Hill Publishing
Full details on Gosh's Small Press Day here.
Forbidden Planet  Megastore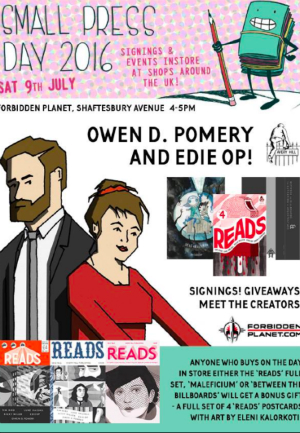 EdieOP (Maleficium) and and Owen D. Pomery (Between the Billboards & The Authoring of Architecture) will be signing copies of their graphic novels from 4pm-5pm at a special Avery Hill Publishing event. Both comics have been included in my annual list of 'Ten UK Small Press Comics You Need to Own!' here at Broken Frontier in 2013 and in 2014 respectively. Maleficium was also nominated for a British Comic Award last year. Both artists are also contributor's to AHP's excellent anthology Reads which you can also pick up on the day. A bonus set of Eleni Kalorkoti postcards come with purchases.
Full details on Forbidden Planet's Small Press Day here.
Housmans Bookshop
Radical bookstore Housmans will be hosting the Festival of the Perzine which they describe as "a celebration of personal writing zines". Zine writers can sell their perzines to the shop between 10am and  12pm with the zine festival running between midday and 6pm. DIY culture enthusiasts can discover more about the day here.
Raygun East
Beast Wagon is another British Comic Awards-nominated publication and East London's Raygun East has a signing between 12pm and 2pm with writer Owen Michael Johnson. There's also an opportunity to get hold of an exclusive Raygun Comics Print by Owen (with a small purchase).
Full details on Raygun East's Small Press Day here.
For more on Small Press Day visit the official site here and you can also follow the Twitter account here.
For regular updates on all things small press follow Andy Oliver on Twitter here.