Small Press Day 2022 has come and gone but, as is custom at BF, we like to post a small online scrapbook of some of the events on the day in the week after. We put a little shout-out for photos on social media earlier this week and the following stores responded but it would be nice to record other events at galleries, community centres, and workshops for posterity too. Please do get in touch if that applies to you and we can add in extra images. Also any help with listing creators below would be great! We've had to do some detective work so let us know if we have anyone's name wrong or where we have missing artist lists. (A little gentle reminder inserted here about the importance of filling in the Small Press Day event submission form on the SPD site if you didn't so that we always have full details to hand).
Thank you to all the stores and event organisers for working so hard on this! On behalf of the Small Press Day team it really was so, so appreciated. Our return to in-person events for the first time since 2019 looks to have been very successful, and worked well in conjunction with the online fun on Twitter and the Gosh and Broken Frontier Small Press Day Drink and Draw in the evening. Apart from some unavoidable train issues (and the unwelcome but failed attempts to hijack the online part of the day by the UK faction of a notorious comics hate movement) it was wonderful to not just be back but to be back in the "real world" this year.
Small Press Day 2022 was dedicated to the memory of Steve Walsh. Thanks for everything, Steve. We miss you.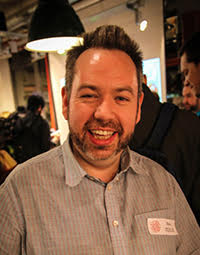 Scotland
Forbidden Planet Glasgow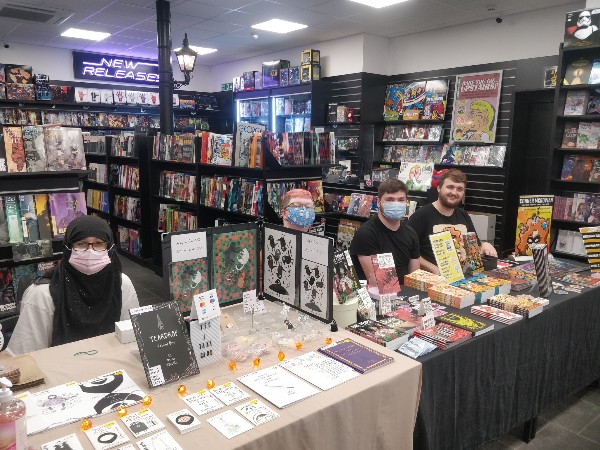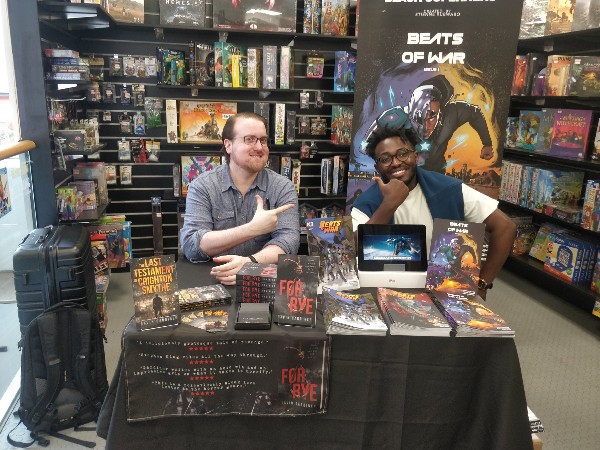 Forbidden Planet Glasgow had six creators tabling including Ny Ali, Letty Wilson, Conner McGowan and Connor Tierney (top image), as well as Gavin Gardiner and Etienne Kubwabo (bottom pic).
Ireland
Forbidden Planet Dublin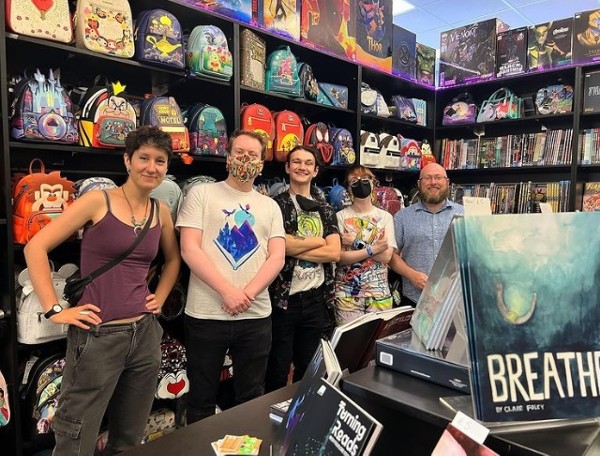 Forbidden Planet Dublin had announced creators Leeann Hamilton, Paul Carroll, Clare Foley, Hugh Madden and Barry O'Sullivan who were selling comics and art in-store.
England -North West
CoCo ComicCon, Lancaster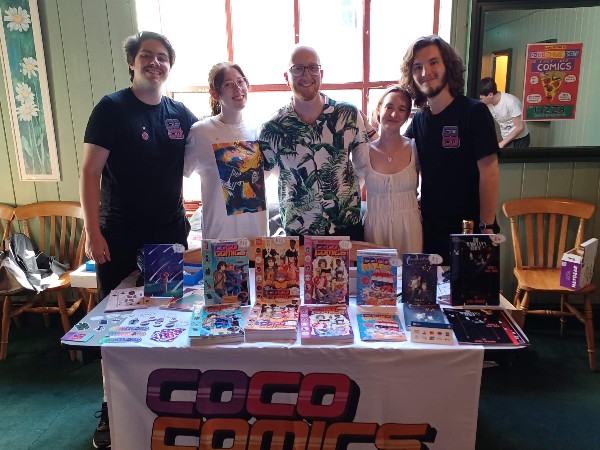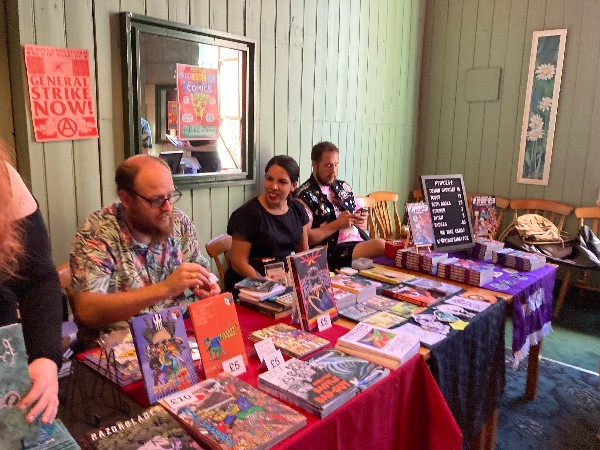 We've had some amazing feedback about the first CoCo ComicCon, above a pizza shop in Lancaster. Scheduled to appear were Matt & Zeke Simmons, CoCo Comics, AB Chambers, Connor Tierney, Erika Price, Feff Silvers, Holland Simpson, James Lawrence, Mat Greaves, Marc Jackson, Nick Gonzo, Nona Gallery, Steve Gregson and Tom Ward.
England – Yorkshire
Travelling Man Leeds
Travelling Man Leeds held their own mini fair of 10 exhibitors, with the collage above giving an idea of the scope of the day!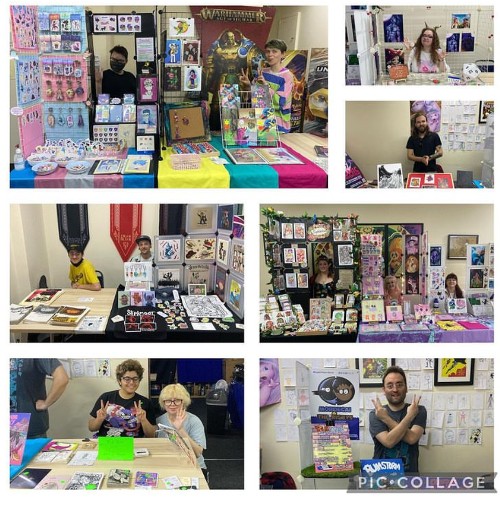 Travelling Man York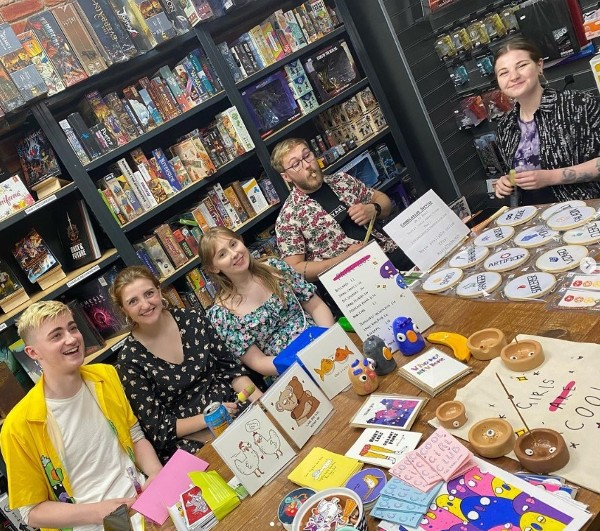 Travelling Man had events at all four stores including York with Loadéz, Elisha Oakley and Rosie Makes Things.
England – Midlands
Forbidden Planet International Leicester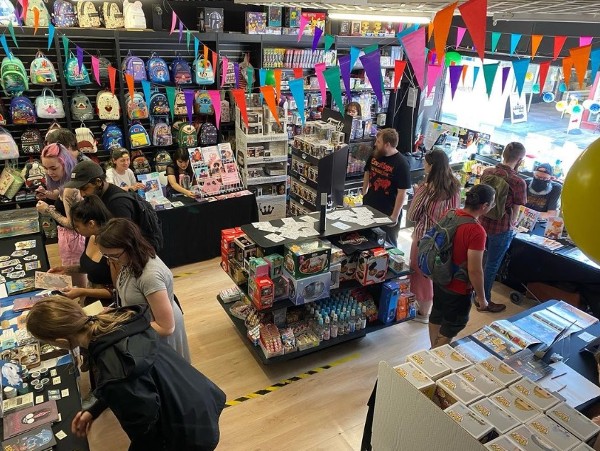 With a mini-con in the day, and a drink and draw in the evening, FPI Leicester played host to Jess Taylor, Karl Richardson, David Millgate, Mitz, Zu Dom, Jenny Mure, Gibson Grey, Rachael Smith, Morgan Gleave and Sky Dragon Arts.
Forbidden Planet Wolverhampton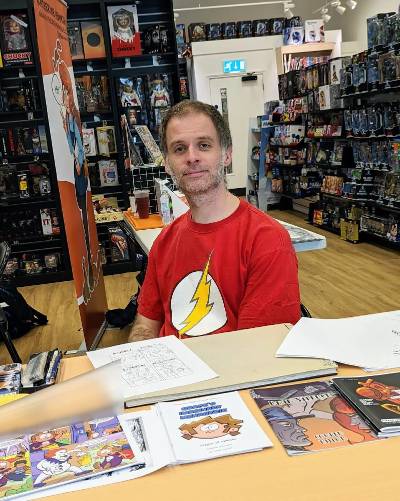 And in Wolverhampton, Forbidden Planet had Ryan Taylor (above), Stu Perrins, Jatinder Ghataora, Katherine Hemmings (above), Kyle Wright, and Tony McGee all on board, with Ryan providing comics workshops during the day.
England – London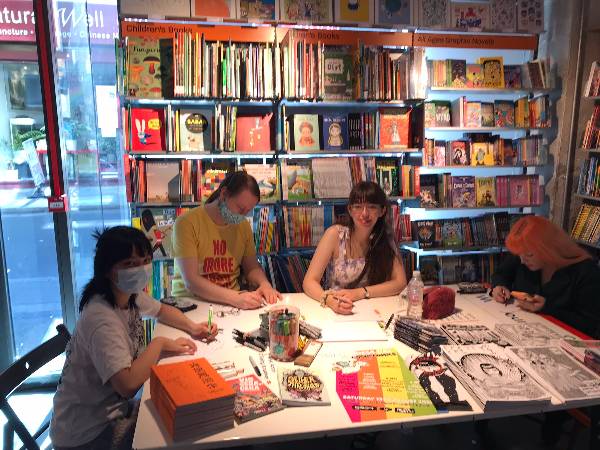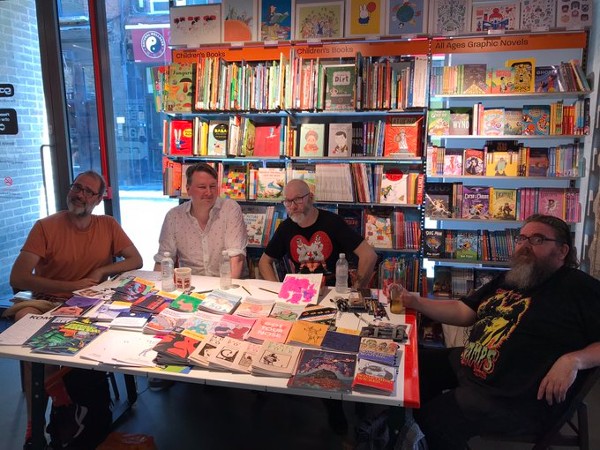 At Gosh! Comics there was a tiptop line-up of Kayla Lui, Beatrice Mossman, Lily Blakely, J. Webster Sharp, Lando, Gareth Brookes, Shane Melisse,, Claude TC, Mike Kennedy, Molly Stocks, Patrick Wray, Sean Azzopardi, Douglas Noble, Fraser Geesin and Mark Stafford across four workshop sessions.