After months of build-up, Small Press Day is back this Saturday July 13th in venues across the UK and Ireland as shops, activists and organisers come together to celebrate all things self and micropublished in comics. As all regular Broken Frontier readers are aware the small press and grassroots scene lies at the very heart of what we do at Broken Frontier in our ongoing mission to champion and promote new and deserving emerging talent. So this is a day that's very special to us and one that I co-organise with Small Press Day founder David Ziggy Greene and the Alternative Press's Amneet Johal every year.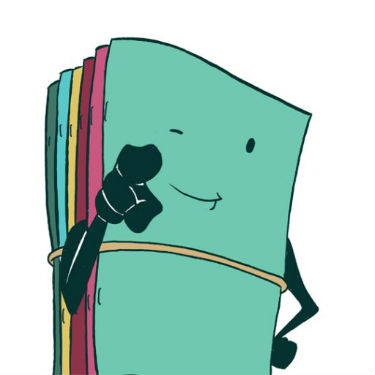 But while we look after the publicity it's the shops, activists and event teams who do the real work, arranging individual Small Press Days, getting the creators involved, and planning programming. Each and every year it's an absolute joy to see readers and artists coming together across five countries to immerse themselves in our astonishingly vibrant self-publishing scene. So, firstly, a huge thank you from David, Amneet and I for all your incredible hard work in making Small Press Day such a huge success time and time again.
Small Press Day signings and workshops at Orbital Comics in years past
With that in mind I asked a few of this year's participants about what Small Press Day means to them. First up was Will Humberstone who is overseeing SPD at Orbital Comics this year with a hugely impressive line-up of self-publishers. "This year, we have 18 creators joining us throughout the day in three separate slots. These are: Andy W. Clift, Peony Gent, Joe Jinks, Valentina Sannais, Claude TC, Dan White, Amy Browne, Ellie Egleton, Jasmine Parker, J Edward Scott, Joe Stone, Knifeson Yu, Niki Bañados, Rebecca K Jones, Lando, Shane Melisse, Peter Morey and Sajan Rai. They will be selling their comics, signing comics and drawing comics! You can check out links to all their work on our website. We asked them all to pick 5 songs to keep them company on the day, so have a listen to the resulting playlists too!" (Links here)
The Broken Frontier panel at Orbital on Small Press Day in 2016 (left) and Will Humberstone of Orbital and Steve Walsh of Gosh collating a previous joint SPD comic offering from the shops (right)
Will continued with a beautiful summation of the atmosphere of the event and the broader scene it represents "Small Press Day is not just a celebration of self-published comics, but also of the amazing people that make them and support them. Amongst this collection of wonderfully talented and diverse content, is also a warming community that is friendly and constantly encouraging each other. One of our favourite things to do on the day is collaborating with our friends at Gosh Comics, where all of our creators will create a comic together! To us, this not only emphasises the community spirit of small press, but also of the fun and accessibility of DIY culture. This year, we are bringing live updates of this comic in the making through the wonderful Broken Frontier!"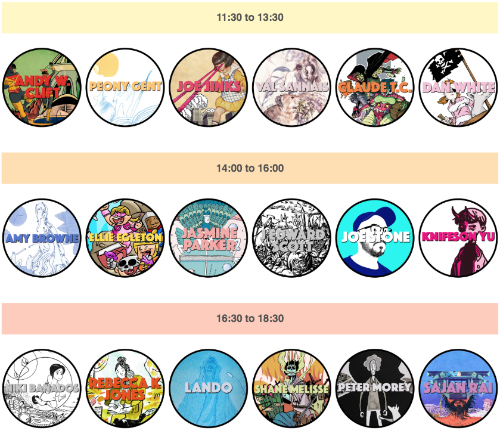 This year's Orbital line-up
Owen from Manchester's Forbidden Planet had similar sentiments "Small Press Day is a great excuse for us to showcase and mingle with some lovely local creators. It's always great to be able to offer a platform for new or local artists. At our Geek Nights we've had so many great experiences with local talent, be they artists, writers, cosplayers, game developers, Chiptune artists or fans. This will be our first in-store event and we hope that it comes with same feeling of fun and community." On the day you can see Volcano Comics showcasing their superhero comic, Mancunian and Mr. Picto will be selling "his comics, prints and portals of tentacles!"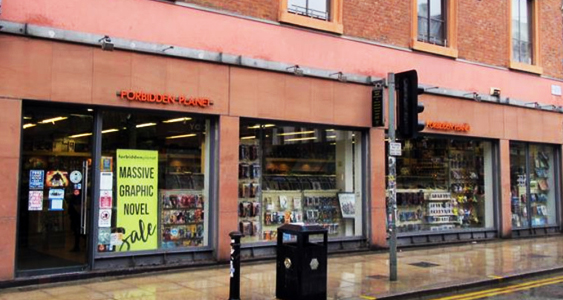 Creator Hayley Wells (who I spoke with at the Chelmsford Ignite arts group a few weeks back on small press) is organising some very practical and creative events at Chelmsford's Dark Side Comics for Small Press Day this year: "Our Small Press Day event focuses mainly on creating – we're running a zine-making workshop and we will be inviting visitors to contribute to our huge collaborative comic. All our small press comics and zines will be sold on a communal table, allowing everyone to have an equal amount of space, regardless of their experience. Some of the makers we have on board include: Hayley Wells, Dan Clough, Jo Berry, Lily Blakely, Melissa Sinclair, Rebecca Padgham, A Disorderd Mind zines, Plastic Brain Press and Lumpy Unicorn Pet Shop. Lots of local creatives are making and selling their first ever zines for this event! Dark Side Comics hosts creative workshops, a monthly Craft Coven, board game events, D&D, signings and more! Keep an eye on their Facebook, Twitter and Instagram for more details."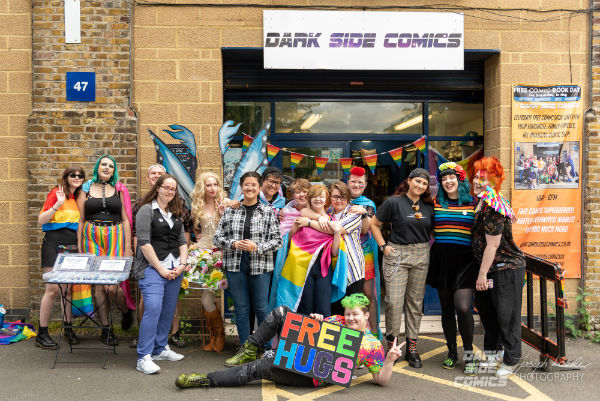 Dark Side Comics celebrating Pride this year
Hayley feels the importance of the day is that "Small Press Day is a great way to introduce the local community to indie publishing and comics in general. We hope to show people that publishing your own work can be inclusive, empowering and fun, and hopefully those selling their work will make a little bit of money too!"
In Bath there's no comic shop event but there is the BAM Fair representing a whole host of local artists some of whom – like our 2018 'Six to Watch' creator Jayde Perkin and BF columnist Nick Prolix – are very familiar to BF readers. For BAM co-founder Raechel Leigh Carter the day has a much wider resonance "The main importance for BAM! is that Small Press Day is what we're about all year round. In Bath we do not have a comic shop that supports small press publications, so we started our own group (BAM! Bath's Comic, Art and Zine Fair) so we could get together, support each other and have somewhere where independent artists could promote and sell their works and network with other creatives. In doing so, people attending the events we put on get to see and buy work they would not generally see in the shops. As for Small Press Day, it provides the general public with the opportunity to get a better understanding of what Small Press is, what it means and how rich and varied the work is that's out there. It's also nice to have a day to celebrate being part of the "small press" gang and to realise that we might be making small press books and zines, but actually the small press world is a lot bigger than you realise."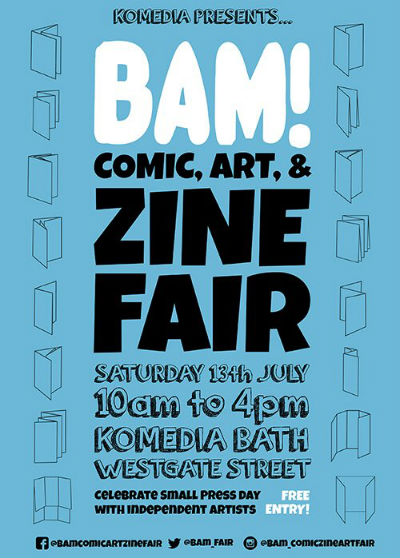 BAM has a cracking line-up of talent, as Raechel underlines "We have more than 30 independent, small press creators attending BAM! Bath's Comic, Art and Zine Fair. Of those a number are promoting new books, including: Kat Himmel's Rad Femmes, Simon L Read's Chin, Lise Richardson's Maybe I'm Dreadful, Nick Prolix's Slang Pictorial #4, Sian Jefferson's Overlord, John Tucker's huge one page comic Cydo, Russell Mark Olson's Black Iris, and first timer Lily Sockmonkey's 12 Badly Drawn Pictures of Kurt Russell and Badly Drawn Streets of Fire, plus more."
Mega City Comics in Camden join the Small Press Day fun this year. Vittorio from the store ran us through their line-up: "This year we have four creators that will not only be in-store signing and talking about their work, but will also offer custom sketches for anyone that appreciates their work! The creators are: Barry Flynn with his visceral, no-limits psychedelic satire; Jenika Ioffreda with her teen/young adults romantic drama stories coated by gothic tones; Shane Melisse with his colorful, splattery nerd -based characters and narratives; and Jack Kirtley with his irreverent take on modern society.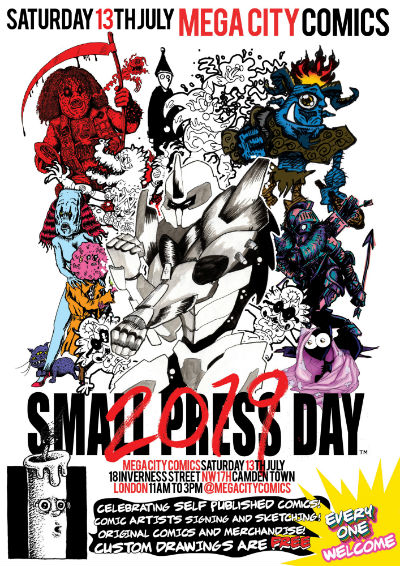 "They all have very different styles and artistic aim and we are confident they will bring diversity in their creativity and something for everyone. Plenty of other small press creators will have their comics displayed in store in order to bring forward as much underground material as possible."
Mega City Comics are giving the small press scene a significant push in a number of ways "Our store is based in Camden Town and has been for the past 31 years, keeping the artistic tone of the local area alive and as less gentrified as possible. We aim at giving small press creators not just a place where to sell their comics, but a much deserved display for their work in our store. Our small press shelf has custom made sign for each comic, allowing our customers to have a much better overview of new titles they might be interested in trying. We know how difficult it is to stand out in a comic book store nowadays and we provide a platform for them to do so.
"In addition to our physical space in store, our small press creators have their own web page on our official website where they can display even more information about their work and themselves, with pictures and a link that allows our customers to also buy them online. We believe our small press department is unlike any other, and as herald of the artistic heritage of Camden Town we intend to keep the standard high."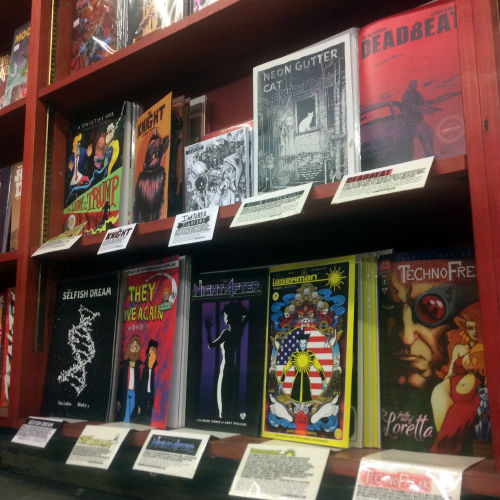 The committed and supportive grassroots community of the Canny Comic Con are putting on a Summer Comics Jam and Beer Garden Party at Tyne Bank Brewery: "Confirmed creators include: Barry Fox, Britt Coxon, Don'tdarede Press, Elisa Edmondson, En, Lauren Matthews aka Sayomi, Moodypidge, Pabbie, Paul Thomspn, Spookdoodles, This Means Waugh, Trongate Publishing and the Paper Jam Comics Collective (who are launching their eighteenth anthology You Need A Holiday …And That). Everyone will have a bunch of excellent work. Plus we'll have collaborative drawing games (including two amazing COMICS ROBOT GO creations from Paul Thompson that will draw randomised panel layouts then provide a randomised theme challenge), plus Greek street food and DJs in the evening."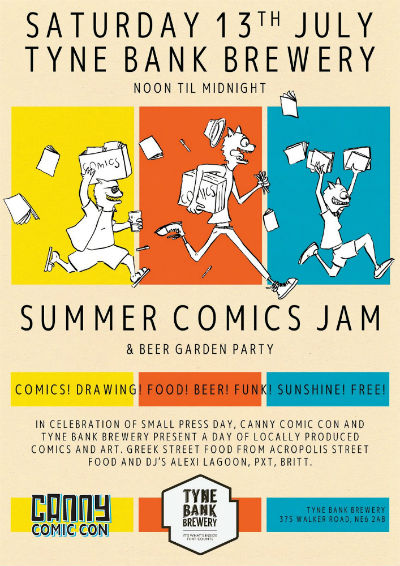 Alex from the Paper Jam Comics Collective summarises the wider sense of excitement about the day:  "I think the nice thing about Small Press Day is the knowledge that events are happening simultaneously all around the UK and Ireland. It's good to see what else is going on and have a sense that there's other folk all over the place putting their endeavours into making comics. We've participated each year because, well, it's a great excuse to hold an event – with that added bonus of feeling part of something bigger."
That's just a handful of the diverse events, signings, workshops, talks and fairs on offer at Small Press Day. Broken Frontier will be at Gosh! Comics from 4pm to 5pm with a BF workshop featuring Olivia Sualdea, Lucy Sullivan, Molley May and Holly St Clair. I will also be doing a revolving circuit of the three participating London stores (Mega City, Gosh and Orbital) and, in the spirit of the day, will be available to any small pressers wanting advice or feedback on their work. A full list of events can be found here at the Small Press Day site and keep watching the SPD Twitter and Instagram for updates on the day.
Have an amazing Small Press Day 2019 everyone! We look forward to catching up with all your events on Saturday.
Feature by Andy Oliver