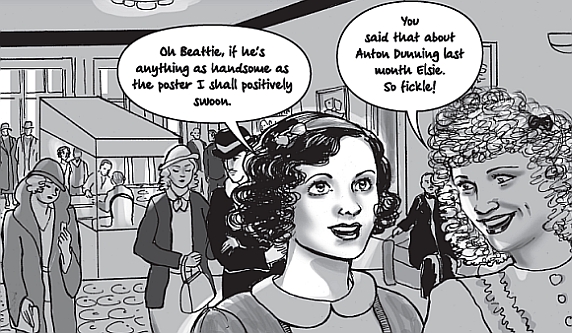 There's always something incredibly rewarding about seeing a creator whose work we were the very first to cover at Broken Frontier going on to much wider and well deserved recognition. When I first met her in 2013 Jessica Martin was an unknown quantity at the start of a comics journey that would encompass two critically acclaimed minicomics, contributions to a number of anthologies, and a shortlisting on the prestigious Myriad First Graphic Novel Competition. I also selected her comics It Girl and Vivacity in both my 2013 and 2014 'Ten UK Small Press Comics You Need to Own!' round-ups.
Here we are, two years later, and Martin's first graphic novel – Elsie Harris Picture Palace – is due to be published by Miwk Publishing. Martin's work often hearkens back to a classic era of cinematic history, and her two self-published comics have spotlighted the lives of silent screen star Clara Bow and film legend Vivien Leigh. Elsie follows a similar theme with its rags to riches "tale of young Londoner Elsie who embarks on a journey taking her from Elstree to Hollywood in the 1930s."
This Saturday August 29th sees an exhibition of Martin's work open at London's Orbital Comics with a launch that includes a short guided tour by Jessica herself and a questions and answers session. It begins at 7pm and the exhibition will run until early October. This seems an appropriate time, then, to look back at some of the Jessica Martin coverage in 'Small Pressganged' to date for those wanting to brush up on all things Elsie-related before Saturday's event!
Review: It Girl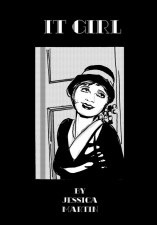 Setting out to tell the story of any cinematic star's life, let alone one as eventful as Clara Bow's, in just twelve pages would be a daunting task for even the most seasoned artist. To attempt to do so in your first foray into published work is an ambitious undertaking indeed. The great strength of It Girl is in its ability to appeal to both those readers cognisant, and those unfamiliar, with its central character's history. What is captured so perfectly here is that very essence of Clara; the vulnerability, the insecurities, and that childlike bemusement she projected. A memorable tribute to one of cinema's forgotten stars, It Girl is both a vivid recreation of a decades gone era of cinema and a welcome introduction to the stylish and elegant art of Jessica Martin.
Read my full review here…
Review: Vivacity
Vivacity follows the life of Vivien Leigh – Gone with the Wind's Scarlett O'Hara – an actress with an upbringing that was in many ways the polar opposite of her previous subject Clara Bow, and yet both performers forged careers that broke Hollywood conventions on their journeys to becoming major stars. Where this comic truly shines is in that gorgeous retro artwork that so effectively evokes an era of Hollywood splendour, the like of which we will never see again. In Vivacity Martin's fully pencilled art gives a dreamy vintage air to the proceedings; her delicate use of light and shadow bringing period life to a story that positively exudes wistful nostalgia. There's something fundamentally old school about her approach but it's that very same factor that ensures her material has true crossover appeal.
Read my full review here…
Interview: Small Press Spotlight on… Jessica Martin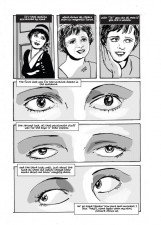 "Self-publishing demystifies the whole publishing machine because effectively you get to role play at being a publishing house. You commission, edit, get the print run, market and distribute. The most magic ingredient is 'you'. I physically distributed my first run of It Girl by going into comic shops and book stores, meeting and chatting with the booksellers and that is so much more potent than sending your creation into the ether and crossing your fingers that the gods of comics are smiling down on you. I also created an online shop as well and I still haven't exhausted possible outlets for my It Girl comic. No major publisher is going to give more care and attention to your comic than you."
Read my full interview with Jessica Martin here…
Review: To Arms!
Amongst other anthology offerings, Jessica also contributed a story to the alternative First World War book To Arms! that was edited by Matt Duncan and Karim Iskander Flint. In her own words: "To Arms! came out of my presenting at Gosh Comics Process evening. Karim Iskander Flint, one of the editors was there and thought the It Girl style would suit their canon of indie contributions. I had to come up with the story as well and I knew immediately that I wanted to do a story about a soldier girl. I assumed there must have been some girl that dressed up like 'Sweet Polly Oliver' of the English folk song fame (Google it!). As it turned out there was only this one British woman… Dorothy Lawrence and her history had been buried by the authorities of the time because it was considered highly embarrassing that a woman had 'slipped through the net' to get to the Front. Simon Jones, the historian has rediscovered her story and is I believe campaigning to have her commemorated in some way at the Imperial War Museum. I found her own memoir Sapper Dorothy Lawrence on Amazon and have adapted it into a seven-page story called 'Tommy in Bloomers'."
Read the full review here…
For more on the Orbital exhibition visit their site here. You can find out more about Jessica Martin on her site here, buy her comics on her online store here and follow her on Twitter here.
For regular updates on all things small press follow Andy Oliver on Twitter here.