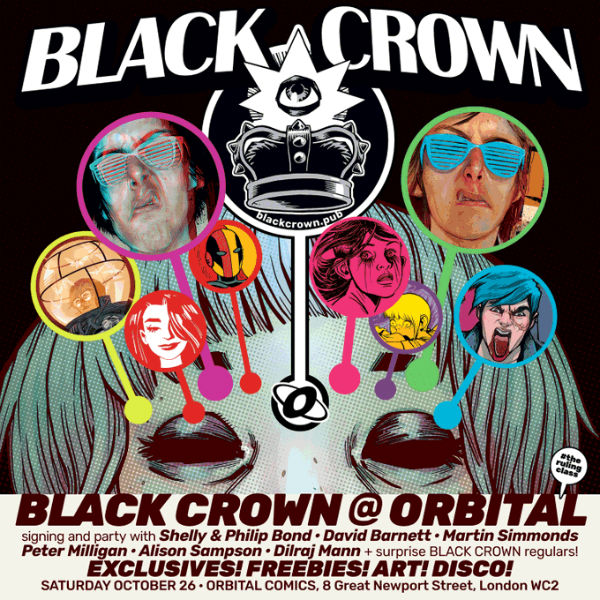 Fresh off their recent crowdfunding success for Hey, Amateur!, comes the news that the Black Crown crew will be hosted by London's Orbital Comics for a huge signing and party event on October 26th. Defying easy genre definitions, this ever reliable serial comics line of often dark-edged drama was first published via IDW in 2017, and has been a regular fixture in our weekly Staff Picks at Broken Frontier over the last couple of years.
We've reviewed a number of their titles in that time including Kid Lobotomy ("an insubordinate graphic manifesto for the Black Crown imprint"), House Amok ("a creepy, detached thriller with an unpredictable forward momentum"), Euthanauts ("disquieting and disconcerting yet hypnotic and compelling") and Lodger ("[an] unrelentingly grim and fatalistic thriller"). Their more quirky Hey, Amateur! anthology really caught our attention not just for its stellar range of established names but also for putting them side by side with the next generation of comics stars; a promotion of new talent that is obviously dear to our hearts here at BF Towers.
You can find out more about the event on Orbital's site here but it includes Black Crown mastermind Shelly Bond, Peter Milligan, David Barnett, Martin Simmonds, Philip Bond, Dilraj Mann, Broken Frontier Anthology contributor Alison Sampson, BF self-publishing fave Sarah Gordon, and Robin Furth. The evening also launches a Philip Bond Retrospective Exhibition in the shop's gallery space. If there's one thing we know as well as our comics at BF it's our comics socials, and this one's going to rock! See you all in October.