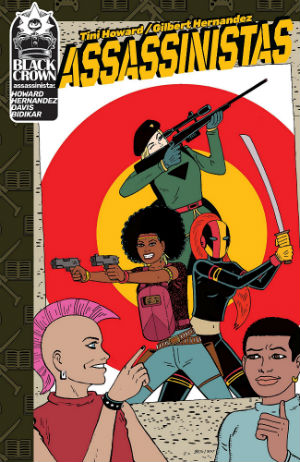 The recent news that IDW Publishing and Shelly Bond's entertainingly eclectic Black Crown imprint were parting ways was one met with understandable sadness from fans of genuinely indie serial comics fare. After all, Black Crown was putting out some of the most off-centre books out there with titles that defied easy genre definition. Whatever the future plans for the label, in the short term at least we're going to miss our regular helping of delightfully disconcerting weirdness from their direction.
With the big Black Crown Party at London's Orbital Comics this coming weekend, though, we're more in the mood for celebrating the books Black Crown have put out over the last couple of years. Tini Howard and Gilbert Hernandez's Assassinistas (collected in a trade paperback edition) sums up the cross-genre vibe that has been such a pull of their output to date. With a peculiar mix of crime drama, darkly comedic farce and family saga, its bleak wit and unexpected poignancy perfectly complement each other.
Years ago Octavia, Charlotte and Rosalyn – Red October, Scarlet and "Blood" Diamond – were at the top of their profession as the most sought after assassins on the circuit. As the years went by the women drifted apart. Charlotte is now married with a young child and expecting another, Octavia is involved in a kidnapping insurance scam and Rosalyn mysteriously disappeared some years back. When Charlotte's son is abducted Octavia is forced back into the game and, with the aid of her son Dominic and his boyfriend Taylor, embarks on a rescue mission. But the shadow of the Assassintas' past is about to impact on their present in the most unexpected way…
Tini Howard's quirky take on the hit-person world and the elegant yet idiosyncratic clarity of Gilbert Hernandez's art are a perfect match in a story that strangely feels simultaneously both retro and contemporary. Jumping timeframes throughout, the trio's lives, aspirations and dreams are compared and contrasted, as the people they were and the people they have become are highlighted in constant juxtaposition. It's a fast-paced, take-no-prisoners crime thriller but the world of the assassin is esentially an allegorical narrative framework for more universal themes exploring splintered relationships, the complexities of friendship, and the inevitable disintegration of the ties that bind as life pushes us in different directions.
Hernandez's crisp linework and engaging characterisation perfectly showcases how his quietly sophisticated visual storytelling is wrapped up in the most accessible layouts. Rob Davis's striking colouring emphasises the retro side of the book's identity while Aditya Bidikar's lettering choices guide our eyes around the characters' interactions with an intuitive flourish. Assassinistas is about family and how our pasts shape us, yet it's also about letting go and embracing the future. It's witty, it's eccentric and it's actually rather touching… these are characters we feel instantly invested in and a return to their world would be a very welcome one indeed.
Tini Howard (W), Gilbert Hernandez (A), Rob Davis (C), Aditya Bidikar (L) • Black Crown/IDW Publishing, $19.99
Review by Andy Oliver
Meet the Black Crown crew this Saturday October 26th at London's Orbital Comics. Full details here.