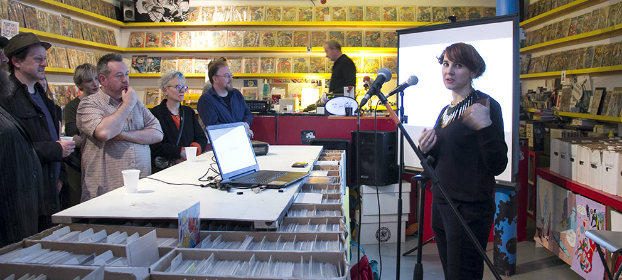 The gallery space in London's Eisner Award-winning Orbital Comics has hosted a number of must-see exhibitions over the last few years. Some of them have been topical and covered more recognisable, iconic characters like the recent 'Beyond 2000 AD' 40th anniversary tie-in while others have celebrated the exciting rise of the UK indie scene as with their 2015 Avery Hill Publishing show, 'Lords of Infinity' or Jessica Martin's 'Elsie' event. Still more have been designed as thought-provoking and intended to stimulate debate like Rian Hughes and Jason Atomic's riposte to Lichtenstein in the 'Image Duplicator' exhibition.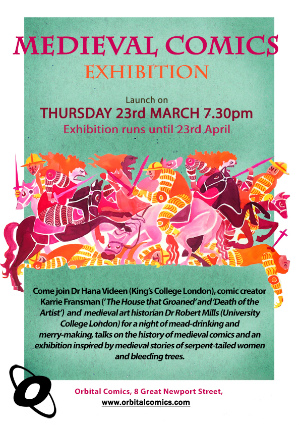 In short, Orbital have always resisted the easy temptation to line up one populist collection of art after another and, instead, have embraced the eclectic, the challenging and the boundary-pushing as a central part of their gallery curation.
Running until April 23rd, the current 'Medieval Comics' show is a signal example of that philosophy and opened at the tail end of March with a launch night that included talks from artist Karrie Fransman (Death of the Artist, The House that Groaned), Dr. Hana Videen of King's College London, medieval art historian Dr. Robert Mills of UCL and a healthy glass or two of mead for those attending!
We are, admittedly, big boosters of Karrie Fransman's work here at Broken Frontier and, therefore, of any project she's involved in. There's a reason for that and it goes something like this… Karrie Fransman is never content to just celebrate the unique things we all know comics can do but also insists on asking where we can take them next, how we can exploit those possibilities further and why we aren't pushing that potential in radical and exciting new directions. She's also a creator who asks us to question and open up our definitions of the medium and her passion for the form is infectious. You can read an extensive BF interview with Karrie here.
Led by Hana Videen, the Medieval Comics project saw Medievalists from King's College London provide Fransman with a number of literary and visual "prompts" from the era and asked her to interpret them and provide her own re-imaginings in pieces reflecting the style of the era. As elaborated on via the 'Medieval Comics' website: "Both medieval literature/art and modern comic books question what it means to be human, sharing a fascination with superheroes (the super-human), robotics and artificial intelligence (the non-human), and fantasy (human-like creatures that are familiar and yet uncomfortably 'other')."
Examples of Karrie's work-in-progress from 'Satan's Messenger and His Helm of Invisibility' and her depiction of the Amazons
Apart from Fransman's original artwork, the project also included workshops for younger people which were funded by the Cultural Institute at King's and took place in the British Library.
The results are a fascinating synthesis of historical re-creation and playfulness with the structure of the comics page. Fransman's version of 'Satan's Messenger and His Helm of Invisibility' for example – from an Old English poem and telling of a demonic emissary sent from the netherworld to manifest as the serpent in the Garden of Eden – is essentially a one-panel comics narrative and manages to encapsulate the vital sequentiality of the form in a single image.
The story of Melusine in progress and as it appears in the exhibition
In 'The Lump of Flesh' – retelling 'The King of Tars', a Middle English 14th century romance about the unfortunate offspring of a marriage of political convenience – characters reach across and interact with their fellow players in other panels. Fransman's take on the Arthurian legend of 'The Green Knight' fully embraces a pseudo-manuscript style while her version of the story of the half-snake Melusine who conceals her true nature from her husband comes closer to offering a traditional panel-to-panel comics format.
The exhibition is full of such colourful imagery all inventively re-invented by Fransman from bleeding trees, to Amazon warriors through to kick-ass abbesses whose authority lives on from beyond. It's one of the most intriguing uses of Orbital's gallery space to date and a reminder that sequential art has been with us for centuries whether that be in obvious examples like the Bayeux Tapestry or lesser known historical artefacts from manuscripts to stained glass windows.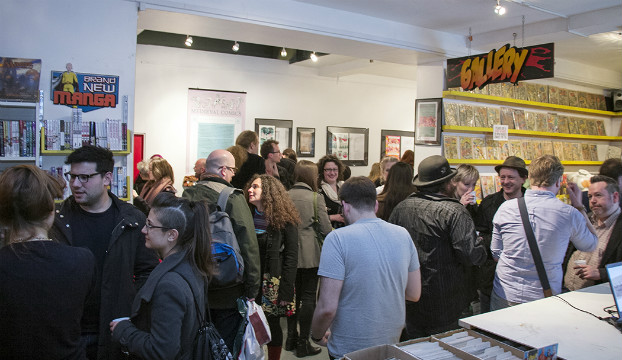 A packed Orbital on the launch night (above) and Karrie Fransman talking about the project (top banner image). Photos courtesy of Camila Barboza of Orbital.
Each completed piece is also presented in a secondary work-in-progress incarnation giving insights into Fransman's creative process, and accompanying text explains their historical context. There's still plenty of time to visit the exhibition which runs until April 23rd at Orbital in Great Newport Street. The Medieval Comics site also has an absolute wealth of information including a list of medieval-themed comics resources.
You can find out more about 'Medieval Comics' on the website here and follow the project on Twitter here. For more on Karrie Fransman's work visit her website here. You can also follow her on Twitter here. And, finally, you can find out all about Orbital Comics and their fantastic events via their website here and on Twitter here.