It's almost Wednesday, and you know what that means: a fresh load of comics and graphic novels! With so many publications hitting your local comics store or digital storefront, the BF staff is here to lead you through the woods with our weekly staff picks. Satisfaction guaranteed.
Comic of the Week
Death of the Artist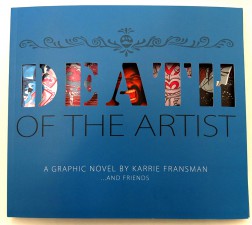 Even if you've only ever read one Karrie Fransman offering then it will already be self-evident to you that this is one creator whose intuitive grasp of the mechanics of the comic page is quite remarkable to behold. From her debut graphic novel The House that Groaned, to contributions to anthology projects like HOAX Psychosis Blues, through to Broken Frontier Award-winning Refugee Week one-shot Over Under Sideways Down, new Fransman projects are always eagerly and readily consumed by the discerning and perceptive comics connoisseur.
Her latest graphic novel, Death of the Artist, is undoubtedly her most meta work to date. It traces events surrounding Fransman and four old university friends' retreat to a remote Peak District cottage where they reflect on the titular theme of the book. Each produces a comics narrative in an alternative medium – watercolour, digital art, photography, collage and illustration – resulting in five very different but intrinsically linked perspectives on both life's transitory nature and the creative process itself.
A celebration of the unique potential of the form, Death of the Artist looks set to be Karrie Fransman's most widely discussed work to date. Look for a review here at Broken Frontier in the very near future.
Karrie Fransman and friends (W/A) • Jonathan Cape, £14.99
– Andy Oliver
Southern Cross #1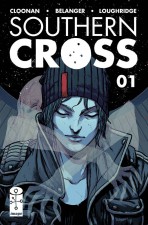 Fan-favorite artist Becky Cloonan (Gotham Academy) puts her writer's cap on for Image Comics' latest sci-fi thriller! Teamed up with Andy Belanger (Kill Shakespeare), Cloonan presents the quest of one Alex Braith, who travels to the Jovian lunar satellite Titan, in a desperate attempt to unravel the mystery of her sister's death on the refinery moon.
A troubled young woman, seemingly adrift in the galaxy, Alex embarks on her journey aboard the titular Southern Cross, a tanker/shuttle operated by the very company responsible for her sister's untimely death. As the old saying goes however, "getting there is half the battle". Between mysterious crew members, belligerent deck mates, and too-friendly roommates, Alex quickly discovers surviving the five-day trip with her sanity intact might just be her greatest challenge.
With a smart, tight script turned in by Cloonan and stellar, breathtaking visuals courtesy of Belanger, Southern Cross is a beautifully crafted exercise in cross-genre storytelling, incorporating elements of mystery, sci-fi, and suspense into one gratifying space chiller.
Becky Cloonan (W), Andy Belanger (A) • Image Comics, $3.99
– Jason Wilkins
Howard The Duck #1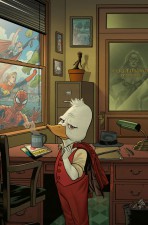 Move over, Rocket Raccoon… The number one cutey animal with a loud mouth has returned!
After stealing the show in the Guardians of the Galaxy post-credits scene, everyone knew it was only a matter of time before Howard The Duck made his return to the printed page – Marvel's cinematic and publishing universes are converging ever more, aren't they.
Now, ol' Howard is in for some funny duck tales of his own courtesy of Sex Criminals' Chip Zdarsky – now competing with Dan Slott for the title of Funniest Hombre at the House of Ideas – and Joe Quinones – the artist who should just go ahead and rebrand himself Joe Q just to steal Joe Quesada's thunder. Together, they're hell-bent on re-establishing Steve Gerber's legendary anthropomorphic creation as the most bad-ass private investigator this side of X-Factor investigations.
Get in on this wild ride, or Howard will have you by the balls faster than you can say LMFAO!
Chip Zdarsky (W), Joe Quinones (A) Marvel Comics, $3.99
– Frederik Hautain
Copperhead Vol 1: A New Sheriff In Town TP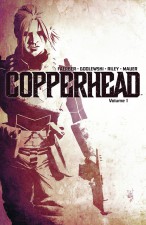 This sci-fi/western was a surprise hit for Image Comics this year, but it's easy to see how it built up such a fan base with its relatable characters and familiar situations despite being set on a far off planet featuring a variety of alien races.
Clara Bronson is a single mother who uproots herself and her son to move to Copperhead, a grimy mining town at the edge of a backwater planet, in order to fill the recently vacated role of sheriff. Her authority is met with a lot of resistance, what with her being a foreigner attempting to enforce local law. Tensions mount between the "natives" and a group of "hillbilly" settlers as Clara investigates a massacre all while trying to fit in and keep her son safe.
Jay Faerber (W), Scott Godlewski (A) • Image Comics, $9.99
– Tyler Chin-Tanner

Gronk: A Monster's Story Vol. 1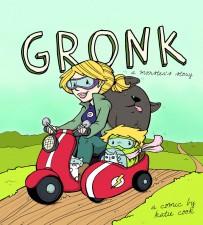 Katie Cook and Action Lab Entertainment are teaming up to bring a reprint of her first volume of Gronk to a local comic shop near you. Cook's popular webcomic has delighted fans of all-ages comics with the misadventures of the adorable Gronk, a monster who is better at being a wonderful friend than a monster. Volume 1 includes the first year's worth of Gronk's adventures as she leaves the monster world and goes to live with her new family.
Cook is a popular figure in the Artist Alley section at comics conventions, and I'm very glad to see this volume being made available to the wider comics audience. There are plans to release volumes 2 and 3 as well, which is a good thing. Because once you give volume 1 to every kid you know, they will be begging for the next two volumes.
Katie Cook (W/A) • Action Lab Entertainment, $9.99
– Karen O'Brien
The Completely Unfabulous Social Life of Ethan Green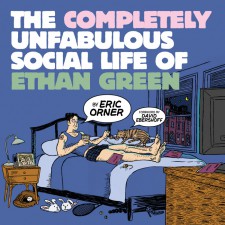 In 300 episodes between 1990 and 2005, The Mostly Unfabulous Social Life of Ethan Green, Eric Orner's insightful and humorous dispatches from the trenches of everyday gay life, appeared in 100 papers across the US, Canada and the UK.
Now, Zan Christensen's Northwest Press is publishing the first deluxe collection of the whole saga, complete with bonus strips and behind-the-scenes insights into the creation and impact of the series. Within the book's 228 pages, we follow Ethan from young adulthood to the early gleamings of middle age, and we see Orner's work grow in graphic sophistication while never losing its honest, funny and occasionally surreal edge.
In his introduction, NYT-bestselling author David Ebershoff highlights the comparisons drawn between Eric Orner and Alison Bechdel, and writes that "Orner first drew Ethan Green for other gay men, and in doing so ended up creating something universal". Once again, Northwest Press is living up to its motto that "Comics are for everyone".
Eric Orner (W/A) • Northwest Press, $24.99 (pb), $9.99 (digital)
– Tom Murphy
Mouse Guard: Legends of the Guard Volume 3 #1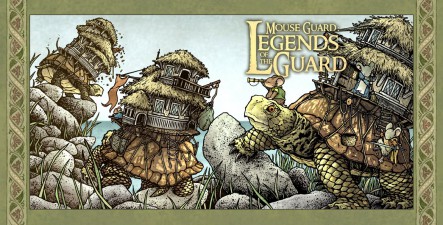 Don't let the mouthful of a title put you off if you're not up-to-date on David Petersen's ongoing anthropomorphic saga, which follows the struggles of the noble Mouse Guard against a variety of threats (because really, when you're a mouse, there's a lot for the world to throw at you). This is simply the latest issue of the title's anthology spinoff series, where Petersen's handpicked set of creators is given free rein to play in the Mouse Guard's world.
The new volume kicks off with a fascinating trio of creators with unique perspectives (interwoven with linking scenes by Petersen). Skottie Young is no stranger to all-ages fairy-tale stories, and here offers up a father-and-son learning experience that's sure to please. Relative newcomer Hannah Christenson writes and paints the history of a mouse armor maker. Finally, Mark Buckingham (known for more adult fantasy storytelling in the pages of Fables) is turning in his own take on the denizens of this delightful world.
Longtime fans may find a new perspective on what's come before, and new readers can revel in the fact that there's plenty more of this world to enjoy.
David Petersen/Skottie Young/Mark Buckingham/Hannah Christenson (W/A) • BOOM! Studios/Archaia, $3.99
– Paul Mirek
Action Comics #40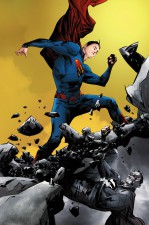 Here's everything you need to know about Action Comics #40:
Superman vs. Bizarro
Variant cover by Jae Lee
Movie poster variant cover by Joe Quinones
The marketing copy for this issue might be the best they've ever written: "Bizarro make Superman sane! Happy to see each other! No fighting ever!"
Greg Pak (W), Aaron Kuder (A) • DC Comics, $3.99
– Karen O'Brien