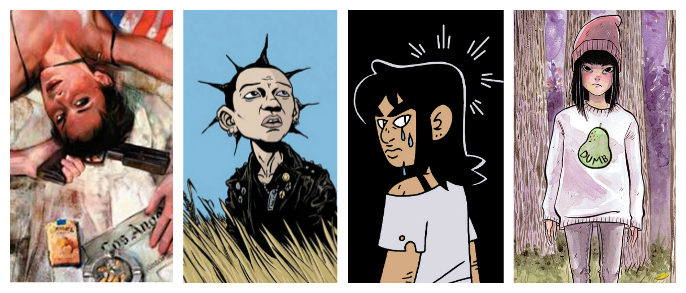 It's nearly Wednesday, and you know what that means: a fresh load of comics and graphic novels! With so many publications hitting your local comics store or digital storefront, the BF staff is here to lead you through the woods with our weekly staff picks. Satisfaction guaranteed!
Comic of the Week
The Rabbit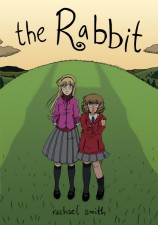 British Comic Awards-nominee Rachael Smith is one of the UK comics scene's hottest rising stars at the moment. Her background in self-publishing with comics like The Way We Write and I Am Fire led to her first full-length graphic novel House Party being published by Great Beast last year to great critical acclaim. It was also one of my Broken Frontier  'Ten UK Small Press Comics You Need to Own!' for 2014.
Smith is the latest major UK small press talent to be picked up by the ever astute Avery Hill Publishing. The Rabbit tells the story of two runaway sisters – 14-year-old Eleanor and 9-year-old Kathy – who discover a baby rabbit in the woods and decide to take it with them on their travels. But as their newfound floppy-eared chum "Craig" begins to grow at an alarming rate, his presence in their lives takes a frighteningly sinister turn.
Pick up The Rabbit this week and discover exactly why I'm quoted as describing it as "A deliciously dark, endearingly whimsical and tenderly observed tale of childhood rites of passage" on the book's back cover…
Rachael Smith (W/A), Avery Hill Publishing • £10.99
– Andy Oliver
Plutona #1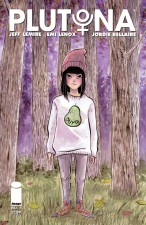 Bringing his singular talent for making the ordinary extraordinary, critically acclaimed creator Jeff Lemire (Descender, Hawkeye) explores the superhero archetype from the perspective of a handful of adolescents still trying to figure out who they are, never mind where they fit into a world where "capespotting" is a favourite pastime.
Teaming up with Emi Lenox (Emitown, Tadaima) and award-winning color artist Jordie Bellaire, Lemire uses the concept of the superhero to explore classic themes of friendship and good versus evil. Populated by a wonderfully diverse, fully realized crew of suburban teens that wouldn't be out of place in any neighbourhood in North America, Plutona's engaging ensemble cast is its greatest strength, drawing the reader into the improbable world of Metro City with disturbing ease.
The first issue also features a back-up vignette, written and drawn by Lemire, filling in the titular heroine's backstory in a style reminiscent of old-school funny books – with all of the thought bubbles intact.
As ever with Lemire, first impressions, while usually favourable, often miss the mark regarding the true scope of his storytelling goals. Plutona is less another in a long line of alternative superhero books promising a new angle on an old idea, and more a timely rumination on the nature of true friendship and what it means to be good in a material age, where all of our best "friends" and "followers" are online.
Jeff Lemire (W), Emi Lenox, Jeff Lemire (A) • Image Comics, $2.99.
– Jason Wilkins
Dharma Punks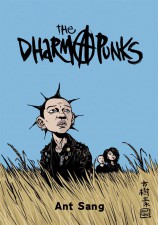 Hot on the heels of the stunning Moose (Max de Radiguès), the latest international re-release from Canada's Conundrum Press is Dharma Punks, by award-winning New Zealand artist, designer and illustrator Ant Sant: "a hip metaphysical exploration of life, love, friendship, punk rock, blowing things up… and the art of meditation".
Set over one long night in Auckland in 1994, Dharma Punks follows a group of anarchist punks planning to sabotage the opening of a multinational fast-food restaurant by blowing it sky-high come opening day. Chopstick has been given the task of planting the bomb, but chance encounters and events from his past conspire against him, forcing him to deal with more than just the mission at hand. As the story unfolds, it becomes clear that there's much more at stake than was first realised.
Ant Sang has a lovely brushy style that's reminiscent of Paul Pope, and this substantial volume (400+ pages) should bring one of the southern hemisphere's great talents to a whole new readership. If you're not familiar with Ant Sang's work, get over to his site and check out these preview pages.
Ant Sang (W/A) • Conundrum Press, $25
– Tom Murphy
Prison Island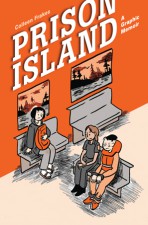 Ignatz Award-winning creator Colleen Frakes had a somewhat unusual childhood growing up on McNeil Island, the last prison island in the US. The child of two of the prison's employees, Frakes lived through a decade of her formative years in the "company town" that had been established in this remote location to house around 50 families.
Apart from her rather distinctive surroundings she had to deal with the particular challenges that this isolated lifestyle threw up – from its restrictive effects on her teenage social life through to the logistical problems of ordering a pizza.
A graphic memoir that serves up a very different "slice of life", those who have already enjoyed Frakes's Island Brat minicomics will be aware of just how engaging and oddly relatable this subject matter is in her hands. This is a coming-of-age story set against a truly unique dramatic backdrop.
Colleen Frakes (W/A), Zest Books • $16.99
– Andy Oliver
Sacred Heart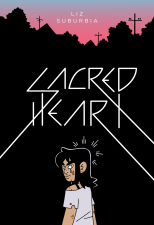 Redrawn from scratch from the original webcomic, Sacred Heart – the debut graphic novel from Liz Suburbia (Cyanide Milkshake) – is a coming-of-age tale set in a town without adults. In the absence of parental authority, Alexandria's high-schoolers try to keep society ticking over. However, kids will be kids, and the chaos of summer vacation-style bacchanalia is never far away.
Against this background, punky outlier Ben Schiller has to cope with her younger sister Empathy's habit of going missing for days on end, as well as – more seriously – a series of violent and mysterious deaths that starts to befall the students.
Suburbia's lean, manga-inflected art style and youthful cast bear comparison with another Broken Frontier favourite, Kat Verhoeven's Towerkind. This 312-pager marks the start of an ambitious four-volume project that will follow Ben to old age, highlighting that for all her punky aesthetic Liz Suburbia is a creator of vision as well as style.
Liz Suburbia (W/A) • Fantagraphics Books, $24.99
– Tom Murphy
The Z-Word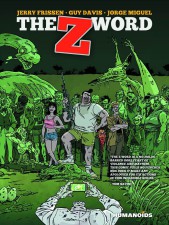 Exports can be a weird thing. You know those  Japanese advertisements featuring US actors that are so comically bad? Well that is totally NOT the case with US comic artists working for European publishers.
Sean Philips, Terry Dodson et al have all delivered stellar work, and the larger format of European comics really shows off the grandeur of their artwork. Guy Davis is the next in line to follow them to the European mainland with The Zombies That Ate The World – a hilarious buddy comedy featuring zombies in the future.
Los Angeles, the 2060s: in a world where humans have to co-exist alongside the living dead, a new work opportunity arises: zombie pest control. Karl, his sister Maggie and their Belgian friend Freddy Merckx embrace this 'career choice' in the hope of making some easy money. It goes without saying that the job requires a lot more work than they counted on, and hilarity ensues.
So if you have a solid craving for stellar Guy Davis artwork and/or sitcom zombies, I can heartily recommend this hardcover, collecting the single issues of The Zombies That Ate The World
Jerry Frissen (W), Guy Davis & Jorge Miguel (A) • Humanoids Publishing, $16.99
– Bart Croonenborghs

The Last Days of American Crime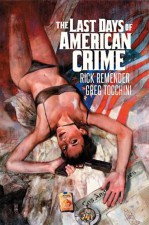 With the recent success of Rick Remender and Greg Tocchini's Low, it's not surprising that Image Comics would bring the pair's first collaboration back into print in the deluxe edition it's always deserved. This handsome new hardcover serves as both introduction for a new generation and a collector's showcase for Tocchini's pitch-perfect art.
The story itself is a little bit noir and a little bit sci-fi, with a healthy dose of pulp paranoia. The American government has engineered a secret broadcast signal that will make it impossible for anyone to willfully commit a criminal act. The cunning Graham Bricke's plans for one last big heist take on a new urgency when a news story alerts him – and the rest of the country – to the government's plan.
It's hard to beat a great ticking-clock tale, and Tocchini's stunning character design and Remender's prescient script both set this thriller a cut above the rest. Enjoy it while there's still time.
– Paul Mirek
Rick Remender (W), Greg Tocchini (A) • Image Comics, $24.99
Lady Killer Vol. 1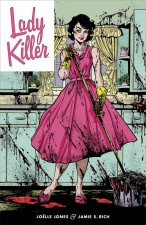 Who knew that being both a housewife and a hired assassin could make such a perfect combination? And by this, I mean it makes for a great story. For Josie Schuller, lead character of Lady Killer, it's all quite a bit to handle all at once… what, with having to watch the twins, take down her latest target and make sure dinner is on the table by the time her husband comes home from work.
It's clear that artist Joelle Jones has created a comic that fits her skills and sensibility to a T: she calls upon her experience drawing tales of both romance and brutal violence on such titles as 12 Reason Why I Love Her and Helheim respectively. She even brought along long-time collaborator Jamie S. Rich to help pen this first arc, as well as colorist Laura Allred to add some pop to her work.
The result is an incredibly stylish and sharp look into the lifestyles of the 1950s, what it meant to be a housewife at that time, and the extent to which people went to achieve the American Dream. Well, hopefully it didn't involve this much blood, but that's what makes the comic so much fun!
Joëlle Jones & Jamie S. Rich (W), Joëlle Jones & Laura Allred (A) • Dark Horse Comics, $17.99
– Tyler Chin-Tanner

Miracleman #1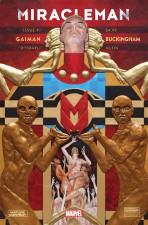 In the early 1990s, Neil Gaiman (Sandman) and Mark Buckingham (Fables) picked up the reins of Miracleman from 'The Original Writer' and John Totleben. Taking over at issue #17, the plan was to produce three unique six-issue story arcs: The Golden Age, The Silver Age, and The Dark Age. Unfortunately, in 1994, just eight issues into their run, Eclipse Comics folded and the story was never completed.
Until now.
Ensuing legal issues over the ownership of Miracleman were finally settled, and in 2013 Marvel Comics purchased the rights to the character. Now this dream team of comics creators is back in action and breathing new life into the series. The plan is to remaster the original eight books and release them with new work by D'Israeli and Todd Klein – the series' original colorist and letterer – and then to carry on the story through all 18 issues. Each issue will also feature behind-the-scenes bonus material, including concept sketches and script pages.
Run, don't walk, to your local comics shop and add Miracleman to your pull list. The stunning imagery will give the most devoted art junkies their fix of the year, and story hounds will find the cunningly crafted scripts to be equal parts challenge and delight.
Neil Gaiman (W), Mark Buckingham (A), D'Israeli (Colors), Todd Klein (Letters), Marvel Comics • $4.99
-Karen O'Brien