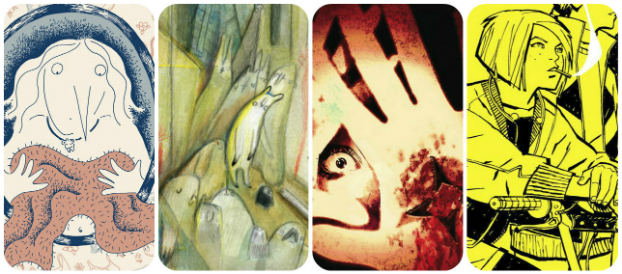 It's nearly Wednesday, and you know what that means: a fresh load of comics and graphic novels! With so many publications hitting your local comics store or digital storefront, the BF staff is here to lead you through the woods with our weekly staff picks. Satisfaction guaranteed!
Comic of the Week
The Story of My Tits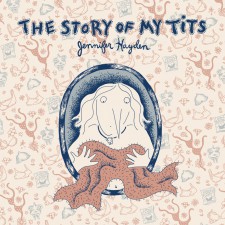 Jennifer Hayden's graphic autobiography is sure to be flagged as one of the books of the year, but it's much more than "just" a cancer memoir. Beyond the eye-catching title is a zinger-laden trip through the joys and heartaches of a woman's life, from the insecurities of childhood to the elation of love, the despair of loss and her ultimate arrival at a uniquely personal form of spirituality.
Of course, certain of Hayden's bodily particles are the primary focus here, and when she was diagnosed with breast cancer at the age of 43, "she realised that her tits told a story. Across a lifetime they'd held so many meanings… And then they were gone."
That story is told with an earthy humour and honesty that kick sentimentality firmly out of the window. Hayden's busy and energetic style drives the book, never flagging during its 350 pages and finding potent images to shed new light on life's complexities. As the Top Shelf blurb promises, "The Story of My Tits will leave you laughing, weeping and feeling grateful for every day."
(Check out an 11-page preview from the book here.)
Jennifer Hayden (W/A) • Top Shelf Productions, $29.99 (print), $9.99 (digital)
– Tom Murphy
Survivors' Club #1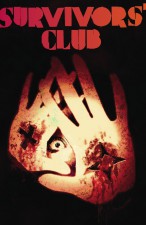 Joss Whedon's The Cabin in the Woods could be seen as a turning point for the horror genre, taking the genre's self-aware fixation to the next level while also injecting a healthy dose of actual terror back into the formula. Survivors' Club, the first title in Vertigo's expansive new slate, looks like it could deliver the same winning combination.
Lauren Beukes (an acclaimed novelist and contributor to the Fables universe) and Dale Halvorsen co-write, while Ryan Kelly draws the story of several seemingly unrelated individuals with one thing in common: each survived a different but similarly traumatic experience in the 1980s that made them the people they are today.
Beukes and Halvorsen are drawing on the classics of the genre for these characters' "origin" stories (a poltergeist, a killer doll), but promise to keep the tone deadly serious. Then again, what would horror be without a little gallows humor? Kelly's tension-filled pages and a stunning cover from legend Bill Sienkiewicz combine to make this debut issue a must-read.
Lauren Beukes & Dale Halvorsen (W), Ryan Kelly (A) • Vertigo Comics, $3.99
– Paul Mirek
Paper Girls #1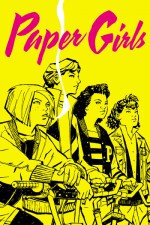 In his latest creator-owned effort from Image Comics, Brian K. Vaughn (Saga, We Stand on Guard) pairs up with
fan-favorite artist Cliff Chiang (Wonder Woman) for a highly anticipated ongoing series set in the 1980's. Billed as "Stand By Me meets War of the Worlds", the plot follows a squad of bike-riding newspaper girls as they uncover a story that will change the world forever.
Laden with hefty doses of both mystery and painfully familiar 1980s references, Vaughn and Chiang's love letter to the decade we all love to hate is more than a simple exercise in nostalgia for nostalgia's sake. The creators wear their passion for the era plainly on their sleeves, embracing the period's unique look and feel – its cadence – unconditionally, and with relish.
This is a series with the makings of an instant classic. Perhaps a little too early to tell at this point, but my money's on BKV and Chiang.
Brian K. Vaughn (W), Cliff Chiang (A) • Image Comics, $2.99
– Jason Wilkins
Rabbit Thoughts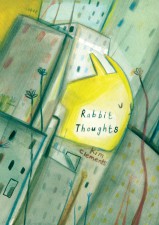 It's always difficult to build an audience when you begin your self-publishing journey, but if the successful debut of Kim Clements' Rabbit Thoughts at the Bristol Comic and Zine Fair this past weekend is anything to go by, then she's already establishing a readership at an impressive rate.
Advance reviewed last week here in our 'Small Pressganged' column at Broken Frontier, Rabbit Thoughts is an autobiographical account of one young woman's discovery of her place in the world and how she deals with feelings of self-doubt and anxiety, using an anthropomorphic rabbit as her on-page persona and dreamlike visuals to enhance mood and tone.
A remarkably empathic piece of storytelling from an exciting new voice on the UK self-publishing scene, we first alerted you to Clements' work way back last November, and she has also been mentioned recently by both the Forbidden Planet International Blog and The Comics Reporter. Part of our philosophy at BF is not just to review and actively champion talented new creators but also to discover them in the first place. Kim Clements is the latest – but certainly not the last – in a long line of promising self-published artists that you read about first here at Broken Frontier.
You can order copies of Rabbit Thoughts online here.
Kim Clements (W/A) • Moustache Cupboard Press, £4.00
– Andy Oliver
Oyster War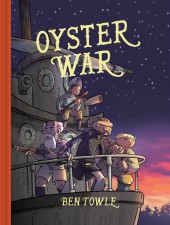 Eisner-nominated cartoonist Ben Towle's popular web series Oyster War hits the shelves this week in a beautiful hardcover print edition, thanks to Oni Press. Although known primarily for his historical graphic narratives, Amelia Earhart: This Broad Ocean and Midnight Sun, Towle takes a magical detour into the rich imaginary territory of wily pirates and legendary sea artifacts in this wonderful all-ages fantasy.
Plagued by oyster pirates, the coastal town of Blood's Haven tasks the intrepid Commander Davidson Bulloch and his colorful crew of misfits to capture the scurvy raiders, unaware that Treacher Fink, the pirate leader, wields an ancient mystic artifact that grants him power over the very sea itself.
A grand adventure on the open sea that evokes classics like Treasure Island and Pirates of the Caribbean, Towle's rich, magical graphic novel provides a whimsical escape from the drudgery of the everyday, no matter what age you cop to.
Ben Towle (W, A) • Oni Press, $29.99
– Jason Wilkins
Bitch Planet Vol.1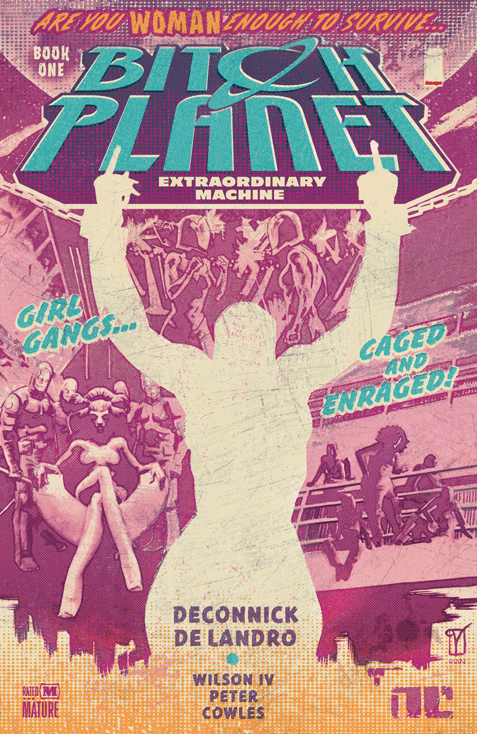 After a slight scheduling hiccup, the premiere story arc in this vicious sci-fi satire is collected into a single volume. On a future version of Earth even more entrenched in patriarchal values, everyone must obey the elite male rulers known as "fathers". Women who misbehave are label as "non-compliant" and jettisoned to the off-world penitentiary commonly referred to as "Bitch Planet".
For Kamau Kogo, the only chance to save her family is by agreeing to put together a team of female prisoners to compete in the blood-sport known as Megaton, which the inhabitants of Earth are obsessed with watching. The only problem? They know they're being set up to die as a live television event. In order to survive, the women of Bitch Planet will need to come together as a team and outsmart their captures at their own game.
This collection features the standalone story that reveals the events leading to Penny Rolle's incarceration, as well as plenty of back matter, including "non-compliant" tattoos and guest essays on feminist issues. Bitch Planet is one hell of a read, and not for the faint of heart!
Kelly Sue DeConnick (W), Valentine De Landro & Robert Wilson IV (A) • Image Comics, $9.99
– Tyler Chin-Tanner

Doctor Strange #1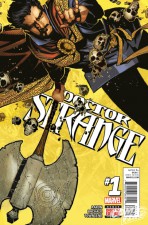 Does the Marvel Universe need a "strange" new title to explore the mystic depths in the wake of Secret Wars? Yes. The problem is that Secret Wars hasn't wrapped up yet, and the publishing schedule is moving forward anyway.
Thus, the new title featuring Dr Strange debuts this week to mixed enthusiasm, as longtime fans make the good point that Marvel seems to be deliberately courting younger readers by having this reboot version appear younger. I don't mind a younger version – or one that never ages at all. The House of Ideas has already unleashed old versions of Logan and Steve Rogers, and that's quite enough.
Dr Strange will be in the hands of writer Jason Aaron (Thor, Original Sin) and artist Chris Bachalo (Uncanny X-Men), and Marvel has revealed that the first story arc will find the Sorcerer Supreme heading to hell to settle the debt incurred by his magic use.
Marvel has a host of non-major characters that have done well with their own titles lately – Moon Knight is a good example – and Dr. Strange is certainly deserving of his own ongoing series. There is a wealth of mystical material in the Marvel Universe, and I hope the creative team dives into the weird and wonderful immediately. Setting Secret Wars aside, I'm looking forward to the new adventures of Stephen Strange.
Jason Aaron (W), Chris Bachalo (A) • Marvel Comics, $4.99
– Karen O'Brien