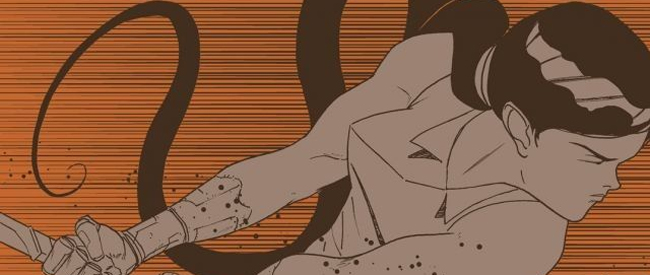 With wit and belligerence, Jonathan Hickman and Nick Dragotta continue their masterclass in world-building and character development.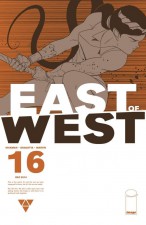 When Year One ended, the Great Beast was unleashed on the world, war erupted among the fragmented nations, and the Horsemen were pursuing their own twisted agendas while continuing to dismiss the Message.
As a brilliant bridge between issues #15 and #16, writer Jonathan Hickman and artist Nick Dragotta released East of West: The World. This "sourcebook, atlas, encyclopedia, timelines, apocrypha" provided an original story for the Horsemen and delineated the geography, history, and capabilities of every political entity at work in the systematically crumbling world.
With issue #16, we finally witness the raw power of the Endless Nation as it declares war on and soundly defeats the Texas Republic. The Texas Rangers are rendered nearly extinct, and governor Bel Solomon (who killed a Shaman of the Nation and effectively started the war) is set for public execution when he is rescued in dramatic Western fashion.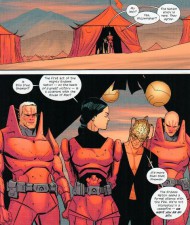 Meanwhile, the President of the Union receives undeniable (and gross) proof that the Nation is not interested in peace. Well, at least not a peace with the Union. The Nation does seek alliance with the PRA and the House of Mao, but that could be complicated by the imminent arrival of Death.
The collapse of all they know is coming, and with the Horsemen in play, the winners may not live long enough to enjoy their victories.
Witty, belligerent, and intriguing, East of West is a clinic in world-building, and Hickman's careful attention to character development leaves readers genuinely worried for the pawns in this masterful chess game.
Meanwhile, Dragotta's clean art is the perfect deceptive complement to a world without good guys. His depictions hint at underlying motivations while offering glimpses of hope that we know will soon be dashed. His art is simultaneously frustrating and terrific. Frank Martin's earthy colors add texture and gravity to the story in a way that makes each character and setting both calculating and unpredictable.
I won't be at all surprised when these guys end up nominated for a few Eisner Awards.
Jonathan Hickman (W), Nick Dragotta (A) • Image Comics, $3.50, December 31, 2014