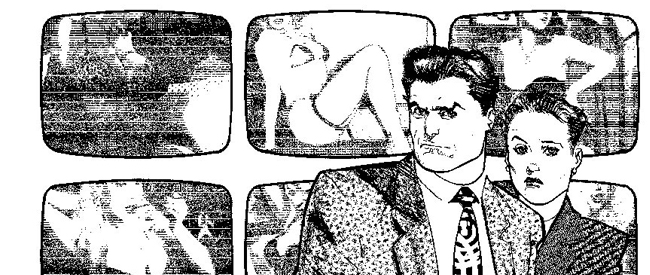 Steamy, sexy, and downright seductive, Matt Fraction and Howard Chaykin's murder mystery set against the Golden Age of Television raises the benchmark for modern crime noir comics.
When two masters of their craft come together to collaborate on a project they are both so obviously passionate about, the result is graphic storytelling magic. Howard Chaykin has been pushing the boundaries of comic book creation since he first burst onto the scene in the early 1970s. Combining a penchant for innovative storytelling and production techniques with his love of pulp-era adventures, sex, and sci-fi, Chaykin's influence on the craft of comics cannot be underestimated. Matt Fraction, on the other hand, is a spring chicken when compared to his esteemed collaborator, though no less a comics virtuoso as critically acclaimed runs on Uncanny X-Men, The Immortal Iron Fist, and most recently Hawkeye attest.
With Satellite Sam, Fraction and Chaykin find their common ground during the dawn of television, as they examine the fast-paced, often seedy behind-the-scenes shenanigans of a live TV broadcast. Set against a backdrop of hardass, cigarette-smoking directors, long-suffering producers, shallow talent, and naïve network demagogues, Fraction and Chaykin's crime thriller reads like an episode of Mad Men – if it were written by Raymond Chandler and directed by David Lynch. Cynical, dark, and impeccably researched, Fraction's script brilliantly sets the tone and pace of the series through exquisitely crafted dialogue and characterization. Instantly drawn in by the snappy patter and realistic interplay between each member of the ensemble cast, the audience may not even remember or care that they're supposed to be reading a murder mystery until they realize Satellite Sam himself, has yet to make an appearance.
Still one of the best storytelling artists in the business today, Chaykin's textured black-and-white rendering is the perfect match for Fraction's intelligent, complex script. There are only a handful of artists working today capable of visually realizing the complexity and finesse inherent to this story. His ability to clearly convey action and emotion in what is essentially a static environment without losing a sense of urgency and bogging down the pace is a revelation. Entire conversations between multiple participants are infused with the kinetic range of a stereotypical comic book slobberknocker thanks to his use of innovative page layouts and panel designs. This is essentially a book full of talking heads and while Fraction's razor-sharp dialogue helps keep the audience engaged, without Chaykin's dynamic visual storytelling, there's a real chance Satellite Sam would fall flat.
With its frenetic TV pace, stunning visuals, and attention to style and nuance, Satellite Sam is smart, sizzling summertime reading that will leave audiences wanting more of Fraction and Chaykin's period, crime noir masterpiece.
Matt Fraction (W), Howard Chaykin (A) • Image Comics, $3.50, July 3, 2013.