It's almost Wednesday, and you know what that means: a fresh load of comics and graphic novels! With so many publications hitting your local comics store or digital storefront, the BF staff is here to lead you through the woods with our weekly staff picks. Satisfaction guaranteed.
Comic of the Week
Lost Property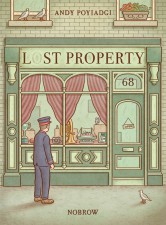 Andy Poyiadgi's work was first covered at Broken Frontier way back in 2012 when he contributed to David O'Connell's ink + PAPER anthology. Since then he's made a number of appearances in our 'Small Pressganged' column with his carefully constructed comic strips being consistently acclaimed for their lyrical, pensive qualities. You can also read our full-length interview with Andy here.
Lost Property represents his first longer-form work and is published by Nobrow Press as part of their '17×23' series of one-shots. It tells the story of postman Gerald Cribbin who finds out by chance that somehow his local Lost Property Office contains every single item he has ever lost or mislaid. A discovery that will change his life forever…
It's no secret that this 24-page offering has been one of the most eagerly anticipated projects by both fans and creators alike on the UK indie scene for the last year and, having seen an advance copy, we can assure readers this is one purchase that will not disappoint. You can look forward to a review of the book later this week but those searching for visual evidence of how beautifully crafted a piece of storytelling this is need go no further than our preview.
Andy Poyiadgi (W/A) • Nobrow Press, £6.50
– Andy Oliver
Descender #1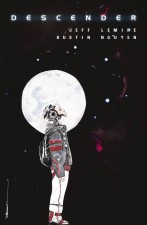 With the film rights to Jeff Lemire and Dustin Nguyen's creator-owned space opera already snapped up by Sony well before the first issue's release this week, there is already a significant amount of hype surrounding the boy robot known as Tim-21. And let me tell you, after reading the first issue of Descender, all that fanfare isn't wasted.
Set in a universe where all artificial intelligence has been outlawed thanks to a galaxy-wide catastrophe orchestrated by a cadre of nine Celestial-class, genocidal robots, Descender follows the adventures of Tim-21, who becomes the most wanted robot in the galaxy, when it's discovered his android DNA is the key to unravelling the mystery of what spurred the unwarranted attack on civilization.
A powerful tale playing to Lemire's specialty of finding poignant, intimate moments in the midst of epic, sprawling adventure, Descender is at once accessible, exciting, and lushly illustrated by the ultra-talented Nguyen. With its sweeping, intelligent world-building, sublime characterization, and distinctive visual tone, it's no wonder Sony wasted little time acquiring the film rights to Lemire and Nguyen's space fantasy.
Keep an eye out on this one, because something tells me we'll be seeing a lot of Descender in the near future – on the shelves, in the toy stores, on the big screen, and wherever else Sony and Image can position this sure-fire money-maker.
Jeff Lemire (W), Dustin Nguyen ( A) • Image Comics, $3.99
– Jason Wilkins
HaloGen #1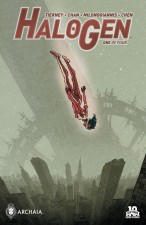 Writer Josh Tierney (Spera) has teamed up with his fellow webcomic creators Afu Chan (Spera) and Giannis Milonogiannis (Old City Blues, Prophet) on an exciting new creator-owned sci-fi project for Archaia.
HaloGen #1 debuts on Wednesday, and if you're a fan of sci-fi hits like Rocket Girl, Prophet, or the film The Fifth Element, you're going to enjoy the exploits of Rell, an agent for the HaloGen organization.
On the Cityship Q, rumor has it that the giant body of the dead god Det'Houna was seen floating through space. Rell is charged with the task of finding Det'Houna's body and retrieving it for HaloGen at all costs. Rell has the ability to form hyper-realistic holograms, and she is going to have to make full use of her gift to survive this adventure.
Josh Tierney (W), Afu Chan, Giannis Milonogiannis (A) • BOOM! Studios/Archaia, $3.99
– Karen O'Brien
All-New Hawkeye #1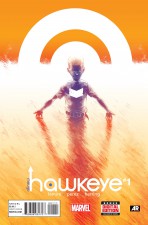 With style and narrative wit coming out of its ears, the Hawkeye series launched in 2012 by Matt Fraction and David Aja (with invaluable assistance from colorist Matt Hollingsworth) was the Marvel comic for people who don't read Marvel comics.
However, when it ran into the turbulence of scheduling problems, it lost speed, stalled and started to lose altitude. After 22 issues, the plug was pulled.
But you can't keep a good pair of archers down, and Clint Barton and Kate Bishop are now back with a new #1 and a new creative team: man of the moment Jeff Lemire, making his Marvel debut, should bring his thoughtful insight to the new book, while Ramon Perez promises to put a fresh stylistic imprint on this corner of the Marvel U.
Jeff Lemire (W), Ramon Perez (A), Ian Herring (C) • Marvel Comics, $3.99
– Tom Murphy
Winterworld #0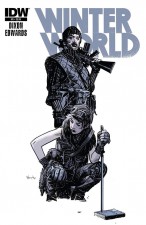 Both the perfect jumping on point for those who've never read Winterworld and an important "flashback" story for readers between volumes. Find out how Wynn became such a tough and resilient teenager as we journey back to the time before she met Scully. It was a brutal and short childhood as she learned how to survive on her own in this violent, frozen world.
Chuck Dixon continues to get top-notch artists to join him in telling the tales of this apocalyptic ice world and those trying to survive in it. Tommy Lee Edwards draws this special one-shot, following up on the classic first volume drawn by the late, great Jorge Zaffino (originally published by Eclipse back in 1988 and recently reprinted in black & white by IDW) and Butch Guice on the most recent volume.
Chuck Dixon (W), Tommy Lee Edwards (A) • IDW, $3.99
– Tyler Chin-Tanner

Princess Decomposia and Count Spatula

First Second has a history of putting out great works by new and established creators, so it's a safe bet that their latest release should be on your pull list this week. In addition, Andi Watson has one of those imaginations that's particularly suited to the anything-goes world of all-ages stories, as readers of his Glister or Gum Girl series know.
Watson's latest graphic novel may draw on some familiar genres, but you've probably never seen them quite like this. A romantic comedy set in the royal kitchen of the underworld? It could be a recipe for disaster, but Watson keeps things as light as a puff pastry with his simplified (but not simplistic) art style and expressive characters.
Younger readers will love Princess Decomposia, a precocious and self-assured character tasked with running the day-to-day affairs of the underworld while he father plays sick. Sparks fly when Count Spatula, whose fangs have been worn down by his sweet tooth, enters the picture. Can these haunted lovers find a happy ending, or will Decomposia's father stop their love story in its tracks?
Andi Watson (W/A) • First Second, $14.99
– Paul Mirek
Big Man Plans #1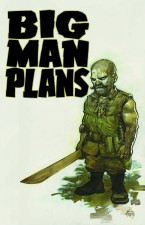 From the man who created The Goon and a guy who used to be a bricklayer comes the promise of a crime drama both unflinching and deeply shocking. Eric Powell and Tim Wiesch's Big Man Plans was born out of the idea of showing the most marginalised in society exacting their revenge, in the most brutally depicted ways.
The idea when coming up with the story was to embody a truly marginalised man – without worn-out tropes and cliches – who would never be considered remotely tough in society. And then transform them into a "violent specter of revenge and death." A little person in a big man's world, with no special powers or unrealistic fighting art, just rage and burning revenge pushing a man beyond his own limits. Tired of being pushed down one too many times, our anti-hero gets up and lashes back.
This is a comic that promises to be dark. Really really dark. And violent, and bloody, and probably deeply disturbing on a very visceral level. It's ugly, twisted and in many ways a damning indictment of society.
Eric Powell & Tim Wiesch (W), Eric Powell (A) • Image Comics, $3.50

– Conori Bell-Bhuiyan