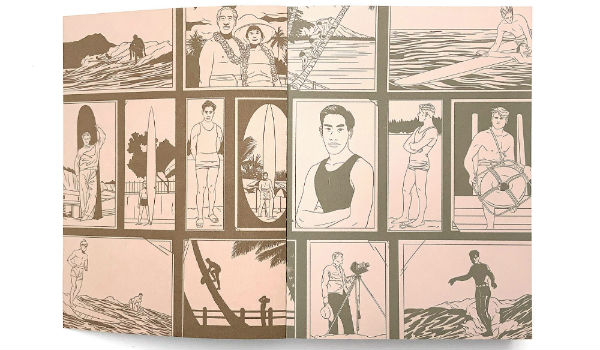 ELCAF FORTNIGHT!
In Waves is obviously not the first graphic memoir to deal with themes of bereavement and grief. But what makes AJ Dungo's exploration of loss such a distinctive approach to the subject is the artist's use of interweaving narratives that are discrete entities unto themselves and yet inextricably interlinked as well. A remembrance of his late partner Kristen, In Waves is also a celebration of their shared passion for surfing. A fragile and heartfelt account of love and loss it acts as both beautiful but unflinchingly honest memorial, and as a historical record of the development and the heroes of the surfing world.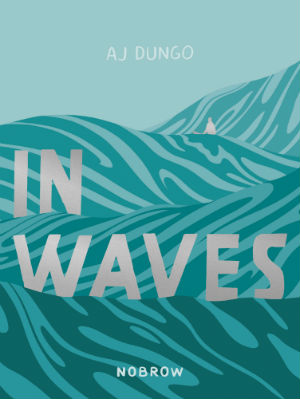 Told in alternating chapters, the personal narrative of In Waves details Dungo's relationship with Kristen from their first awkward meetings as teenagers to early love, through to her battle against cancer and life-changing treatments to her eventual passing. Through it all surfing is a central motif, and a profound connective force, on multiple layers. Dungo dips in and out of the history of the sport tracing its Hawaiian origins and heritage, examining in great depth the importance of pioneering figures like Duke Kahanamoku and Tom Blake, and underlining its sociological and cultural importance. This strand will eventually dovetail into the book's contemporary setting, feeding in the exuberant qualities of surfing and its cathartic properties, and providing a poignantly realised thematic and metaphorical connection between both episodic narratives.
Dungo uses two distinct monochromatic colouring schemes; his and Kristen's story using a deep and rich blue and the decades-spanning historical account told in sepia browns. In the latter the fluidity and motion of surfers in action is imaginatively captured throughout with the sea acting as a roiling canvas for the surfers' art, dwarfing them in its natural magnificence. The liberal use of white space around images constantly invites us to stop, pause and reflect on the visual poetry of what we are observing.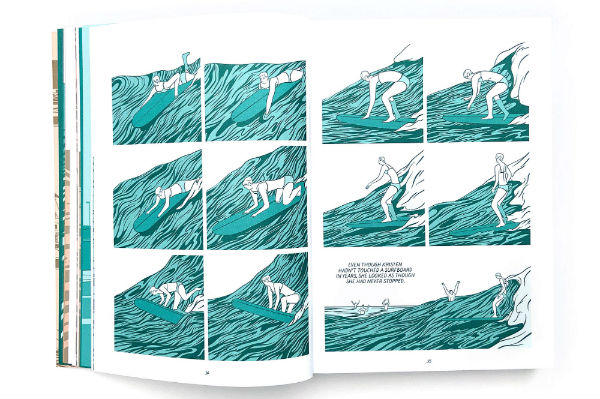 Visual characterisation is of integral importance in allowing the reader to connect more profoundly with Dungo and Kristen. It's carefully realised in composition, portraying all the subtle idiosyncrasies, little conflicting nuances of interaction, and moments of tenderness and warmth that the reader needs in order to feel they are experiencing events rather than having them explained to them; the unsaid speaking far more eloquently here than the said ever could.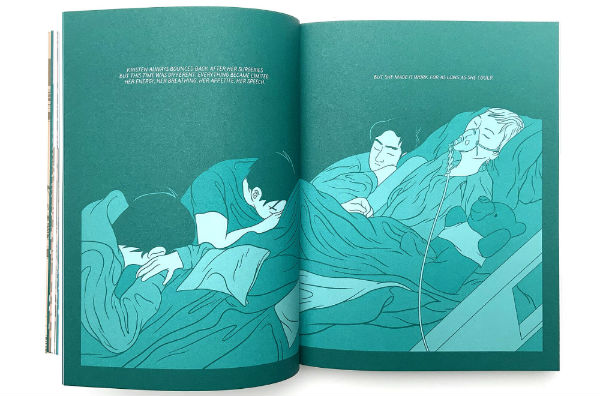 In Waves is obviously a story where a sense of impending, inevitable sadness is a constant companion but it's also, in its own delicate way, an accepting and hopeful read. Its greatest strength is that in this limited window into the lives of Kristen, her family and Dungo we connect with their stories so deeply that our empathy with events could not be more profound at story's end. Expect this one to be on multiple 'Best of' lists at the end of 2019.
AJ Dungo (W/A) Nobrow Press • £16.99/$18.95
Review by Andy Oliver
AJ Dungo will be talking about 'Sequential Self Help and Surfing' at ELCAF.
For more on ELCAF 2019 visit the festival site here and follow them on Twitter here.