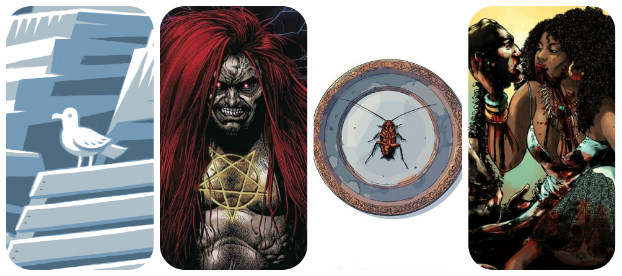 It's nearly Wednesday, and you know what that means: a fresh load of comics and graphic novels! With so many publications hitting your local comics store, comics event or digital storefront, the BF team are here to lead you through the woods with our weekly staff picks. Satisfaction guaranteed!
Comic of the Week
Kingdom
The idiosyncratic rituals and weary expectations of a British family holiday form the basis for Jon McNaught's new book from Nobrow Press. We follow a family on their weekend caravan break as they encounter the mundanity of motorway cafes, cheesy gift shops, seaside landscapes and musty museums. Familiar and unremarkable experiences that McNaught, as ever, depicts with the same surprising sense of the profound that that we have come to expect from his work in books like Dockwood and Birchfield Close.
We're quoted on the back of Kingdom from some of our previous Broken Frontier coverage of the artist's work saying "McNaught has a canny knack for finding something compelling in the humdrum and the monotonous; of imbuing each tiny moment with a flowing, rhythmical splendour of its own." A soundbite that is as appropriate to Kingdom as it was to Dockwood a few years back. While you await our full Broken Frontier review of one of the most eagerly anticipated comics releases of the year don't forget that Kingdom has its launch night this Friday at London's Gosh! Comics.
Jon McNaught (W/A) • Nobrow Press, £16.99/$19.95
– Andy Oliver
The Umbrella Academy: Hotel Oblivion #1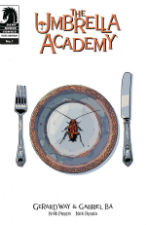 The Umbrella Academy, the thinking goth's best-selling superhero franchise is soon to be coming to Netflix, but not before this new outing for the dysfunctional family. A long time in development since plans were first announced in 2009, Hotel Oblivion looks to be well worth the wait from veterans Gerard Way and Gabriel Ba.
The run follows the Umbrella Academy's wunderkinds in their now somewhat scattered lives in the years following the death of Sir Reginald Hargreeves, but also addresses the fate of their previous nemeses, housed as they are in the titular hotel. Expect some appropriately bizarre takes on a fairly classic story format as the team is drawn back together to face their collective past.
Gerard Way (W), Gabriel Ba (A), Nick Filardi (C) • Dark Horse Comics, $3.99
– Jenny Robins
Bastard
Anglophones got a teasing glimpse of this gripping "road movie" by Belgian artist Max de Radiguès (Moose, Weegee) a few years ago, when Charles Forsman's Oily Comics produced a translated collection of the first three minicomics in the series. Now Fantagraphics are publishing the story in its entirety, so we can finally see how the tense mix of family relationships and crime caper plays out.
It's the tale of May and Eugene – a mother and son living an exhausting fugitive lifestyle to prevent their past catching up with them. Before long we find ourselves deep in a potentially deadly world of dishonour among thieves. With their shared penchant for strong, spare storytelling, it's easy to see how de Radiguès and Forsman became kindred spirits and collaborators; if you enjoy the latter's work, you should definitely check this out.
Max de Radiguès (W/A) • Fantagraphics Books, $14.99
– Tom Murphy
Sparrowhawk #1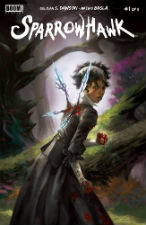 It's Alice in Wonderland from hell as a reluctant hero will have to literally fight to save the world that has dealt her a lifetime of mistreatment. BOOM! Studios described its newest fantasy epic as a "Teen Victorian Fairy Fight Club," and they weren't kidding as this five-issue mini-series is set to deliver an unforgettable adventure.
Artemisia, the illegitimate daughter of a naval captain, has never fit in with her family or its high-class social standings. When she's captured by the Faerie Queen and thrown into a brutal fantasy realm that exists alongside her normal reality, the deadly threats are real and it's time to fight or die.
From the devious mind of writer Delilah Dawson (Star Wars: Phasma, Ladycastle) comes a dark epic fantasy set in Victorian England that will appeal to fans of Labyrinth, Princeless, and those who have read Alice in Wonderland and wondered, "What if Wonderland was a dark, violent realm, and what if Alice was the opposite of a proper English lady?" Matias Basla's (The Claw and Fang) powerful visuals will capture your imagination and evoke the rebellious emotions Artemisia faces as she fights for her life and questions whether or not the world that rejected her is worth saving.
Delilah Dawson (W), Matias Basla (A) • BOOM! Studios, $3.99
– Karen O'Brien
Brat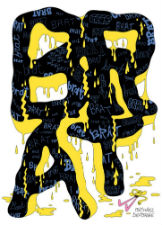 This will probably be the easiest sell of the week: a new Michael DeForge book from Koyama Press will be a blind buy for a lot of you out there. However, beyond the much-copied visual invention, there's always something a little deeper in DeForge's work that rewards a bit of scrutiny.
Previews of Brat – a 160-page hardback – suggest that he's returning for another sideways look at one of his recurrent themes: adolescent metamorphosis and the transition into adulthood. It focuses on Ms D, a high-profile juvenile delinquent who ponders her relevance as she finds herself growing out of the scene she helped to create. In a world where such delinquents are pop media celebrities, are youthful rebellion and transgression just two more commodities to be bought and sold? And what happens when you have to grow up?
Michael DeForge (W/A) • Koyama Press, $19.95
– Tom Murphy
Chlorine Gardens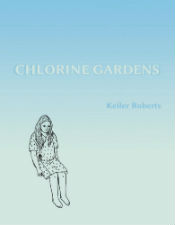 A quick Staff Pick is never going to do full justice to the unique approach to comics autobiography of a Keiler Roberts offering. So while you wait for my full review here at Broken Frontier in the not-too-distant future you might want to refer back to previous coverage here at BF of Keiler's fragmentary but beautifully captured accounts of daily life in the Roberts household in Miseryland and Sunburning.
Expect more uncompromising honesty and pithy observations from one of contemporary comics' most accomplished autobio practitioners in this new collection that includes "dealing with pregnancy, child-rearing, art-making, mental illness, and an MS diagnosis." Koyama Press put out some of the best indie books on the market but there's nothing I look forward more to from them than a new Keiler Roberts volume.
Keiler Roberts (W/A) • Koyama Press, $12.00
– Andy Oliver
Jook Joint #1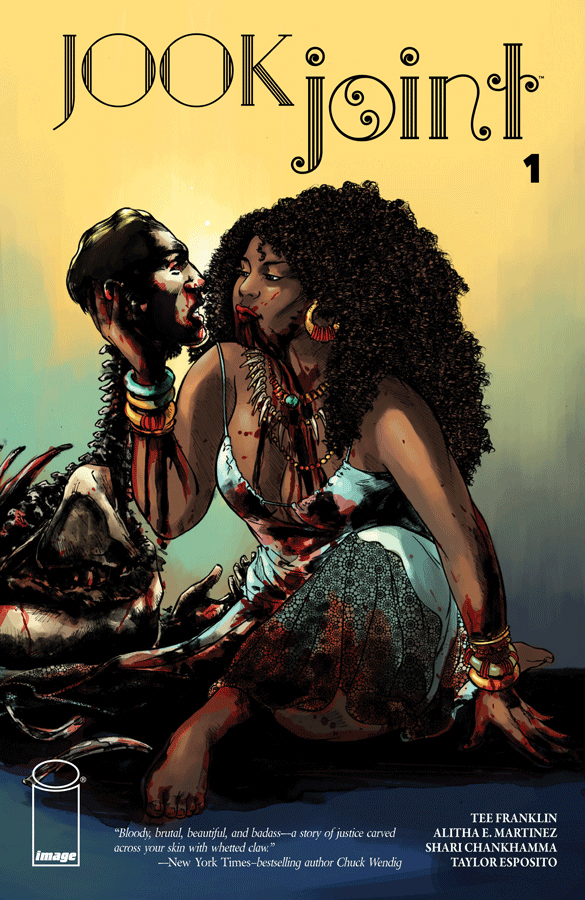 Welcome to the Jook Joint, where no one is judged and all desires can be fulfilled, but where disrespect of any kind will not tolerated.
Mahalia runs the hottest spot in 1950s New Orleans. Downstairs the jazz keeps the people bopping, and upstairs your deepest fantasies can be fulfilled, just so long as you follow the rules. For those who step out of line, Mahalia and her coven of slain women have no problem reminding them what happens to those who can't keep their hands to themselves.
The story deals heavily with of harassment and abuse, so much so, it posts a trigger warning before the first page. But for those who feel they're up for it, this southern-style horror series is worth the read.
Tee Franklin (W), Alitha Martinez (A), Shari Chankhamma (C), Taylor Esposito (L) • Image Comics, $3.99
– Tyler Chin-Tanner
Hellstorm by Warren Ellis Omnibus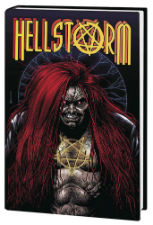 The '90s was not the strongest era for Marvel Comics but there were still gems to be found among the decade's dodgier output and Warren Ellis and Leonardo Manco's Hellstorm run was undoubtedly one of them. In his Marvel debut Ellis took the 1970s horror character Daimon Hellstrom, the Son of Satan, and re-invented him for a growing audience of readers looking for an extra edge to their serial comics. Those issues are collected in Omnibus format by Marvel this week.
If you've never read a Son of Satan comic (or the earlier issues of Hellstorm) then don't worry. Hellstorm used the name and basic premise of the original series but the title character bears little, if any, resemblance to the tortured, noble soul of before. Just sit back and enjoy this decidedly dark take on an already dark concept as Hellstorm and his allies investigate supernatural serial killers, otherworldly entities and demonic happenings.
Also included in the collection is Ellis's brutally abrupt take on Doctor Druid in the Druid miniseries…
Warren Ellis (W), Leonardo Manco (A) et al • Marvel Comics, $75.00
– Andy Oliver