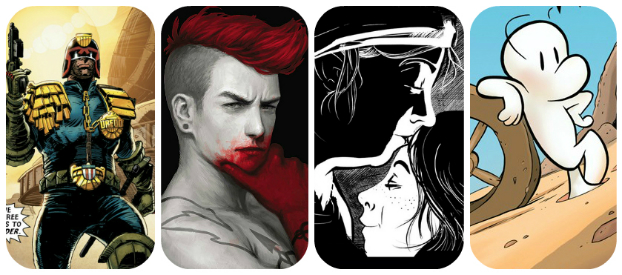 It's nearly Wednesday, and you know what that means: a fresh load of comics and graphic novels! With so many publications hitting your local comics store or digital storefront, the BF staff is here to lead you through the woods with our weekly staff picks. Satisfaction guaranteed!
Comic of the Week
Bone Coda 25th Anniversary Special
It's been twenty-five years since the first issue of Bone hit shelves and over a decade since the concluding chapter of the series. To mark this momentous occasion, Jeff Smith is back at it with a new (and completely superfluous!) adventure featuring the Bone cousins, Fone Bone, Phoney Bone and Smiley. Ride along with the boys and their friend Bartleby the Rat Creature as they brave the dangerous journey across the desert back toward Boneville in their rickety cow cart.
Also included in this edition is the Bone Companion, a fully illustrated look behind the scenes with photos and memories of the journey brought to you by librarian and comics historian Stephen Weiner.
Don't miss out on this opportunity to celebrate the anniversary of one of comics' most beloved characters. This could be your last chance to read a new adventure set in world of Bone!
Jeff Smith (W/A) • Cartoon Books, $14.95
– Tyler Chin-Tanner
Rom #1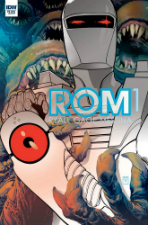 While many of Marvel's 1970s licensed properties were very hit and miss (for every Micronauts there was a Human Fly, for every Conan the Barbarian a Man from Atlantis…) those that captured the imagination of a now middle-aged fanbase are still remembered with great fondness. One such comic was Rom Spaceknight which debuted at the very tail end of that decade.
Admittedly, the book was based on a rather uninspiring Parker Brothers action figure but nevertheless the tragic tale of the alien hero trapped in a cyborg suit of armour and his valiant defence of the Earth from the evil shape-changing aliens known as the Dire Wraiths became a cult hit, due largely to that most under-rated creative team of Bill Mantlo and Sal Buscema.
Essentially long lost to comics since his Marvel series came to a conclusion in the 1980s, Rom is back this week in a new IDW book written by Chris Ryall and Christos Gage and with art by David Messina. Whether this proves to be an exciting rebirth or whether nostalgia for the Spaceknight is too firmly bound up in his once prominent place in the Marvel Universe remains to be seen. But for fans of a certain age an old friend is finally returning to the comics page…
Chris Ryall & Christos Gage (W), David Messina (A) • IDW, $3.99
– Andy Oliver
Predator vs Judge Dredd vs Aliens #1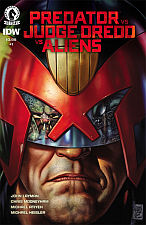 Neapolitan ice cream. Larry, Moe, and Curly. The original Star Wars trilogy. It's tough to argue the fact that some things are simply fantastic when they come in threes. Dark Horse Comics certainly understands this, for this week they release issue #1 of a new series that brings together a holy triumvirate of epic sci-fi characters in Predator vs Judge Dredd vs Aliens.
At the helm is the seasoned creative team of writer John Layman (Chew, Batman Eternal) and artist Chris Mooneyham (Predator, Prometheus Five Ghosts), who are both well-suited to handle the duties that this wild crossover requires. In addition to the trinity of title characters, the inaugural issue also features a cast which includes a Dr Frankenstein-ish mad scientist, a robotic emoji messiah and his minions of Mega City One-terrorizing apostles, and a band of beast-headed bounty hunters! Many thrills are sure to come out of this crazy milieu.
Obviously, it may take a few issues for this series to really get cranking. But, with its exciting art and pulpy dialogue, the opening salvo of PvsJDvsA certainly promises three times the charm when it finally hits its stride.
John Layman (W), Chris Mooneyham (A) • Dark Horse Comics, $3.99
– Matthew Box
Deeds Not Words Book One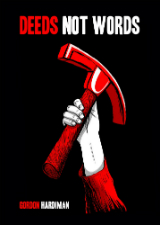 Successfully Kickstarted last year, this first instalment of Howard Hardiman and Sarah Gordon's two-part graphic narrative officially launches on Friday July 29th at London's Orbital Comics. Set in the reign of King Edward, it charts a period when the British Empire is disintegrating and vested interests are clinging to their power bases.
As the official Deeds Not Words site says "it is a dangerous time for a cooper's daughter and her mother to be displaying a queer strength beyond the usual limitations of mankind. Emily Downings is young, deaf and angry, with questions that need answers. To get them, she must deal with those who would deny her choices and chances… hearing people."
Howard Hardiman was a familiar name in our 'Small Pressganged' column in its early years for his gritty drama The Lengths (collected by Soaring Penguin) which made my 'Ten UK Small Press Comics You Need to Own!' round-up for 2012 while Sarah Gordon is a versatile artist whose one-shot Strip was nominated for a British Comic Award last year. With a creative team of that quality be assured this is one of the keynote UK self-publishing events of 2016. You can order copies online here.
Howard Hardiman (W), Sarah Gordon (A) • Self-published, £10.00
– Andy Oliver
Mae #3
The departure of Star Wars comics from Dark Horse has created a new era of opportunity for the publisher to release creator-owned titles in a variety of genres. From supernatural mysteries like Fred Van Lente's Weird Detective to the futuristic family drama in Van Jensen's Crytocracy, Dark Horse is doing a fine job of thinking outside the box. Its latest fantasy-based title is Gene Ha's Mae, a tale of estranged sisters who are literally from two different worlds.
Mae started as a Kickstarter project, and if you missed out on that, Dark Horse has you covered. The title is publishing monthly, and it's a gorgeous marriage of story and art. In issue #3, Mae and Abbie travel to Abbie's world to search for their kidnapped father and learn about each other after years of separation. Mae's adjustment to the new setting is easier because of her immersion in pop culture, and it's an amusing introduction for the readers, as well.
Ha's bold art is full of emotion. Influenced by anime but not adherent to its tropes, Ha (along with colorist Wesley Hartman) creates a stunning world that looks like stills from an animated feature film. Whether you come to the title for the art and stay for the story or vice versa, Mae is the kind of fun adventure that made you start reading comics in the first place.
Gene Ha (W/A) • Dark Horse Comics, $3.99
-Karen O'Brien
Suicide Squad: The Silver Age Omnibus Volume 1
The original DC Suicide Squad was a very different proposition from its current incarnation. Before John Ostrander and Kim Yale's ragtag assortment of B-list super-villains and unpredictable mavericks, the first Squad was a quartet of soldiers and scientists – Rick Flag, Karin Grace, Jess Bright and Dr. Hugh Evans – whose late 1950s/early '60s adventures in the pages of The Brave and the Bold saw them pitted against a plethora of Silver Age-style monster adversaries.
Rarely reprinted since. outside of the odd Best of DC Digest, this volume contains both those The Brave and the Bold issues alongside the wartime Suicide Squadron tales from Star Spangled War Stories, later retroactively established as the first incarnation of the team. Once again we have the upcoming Suicide Squad film to thank for this collection of classic work from the likes of Robert Kanigher and Ross Andru.
Robert Kanigher (W), Ross Andru (A) • DC Comics, $49.99
– Andy Oliver
Dream Gang TPB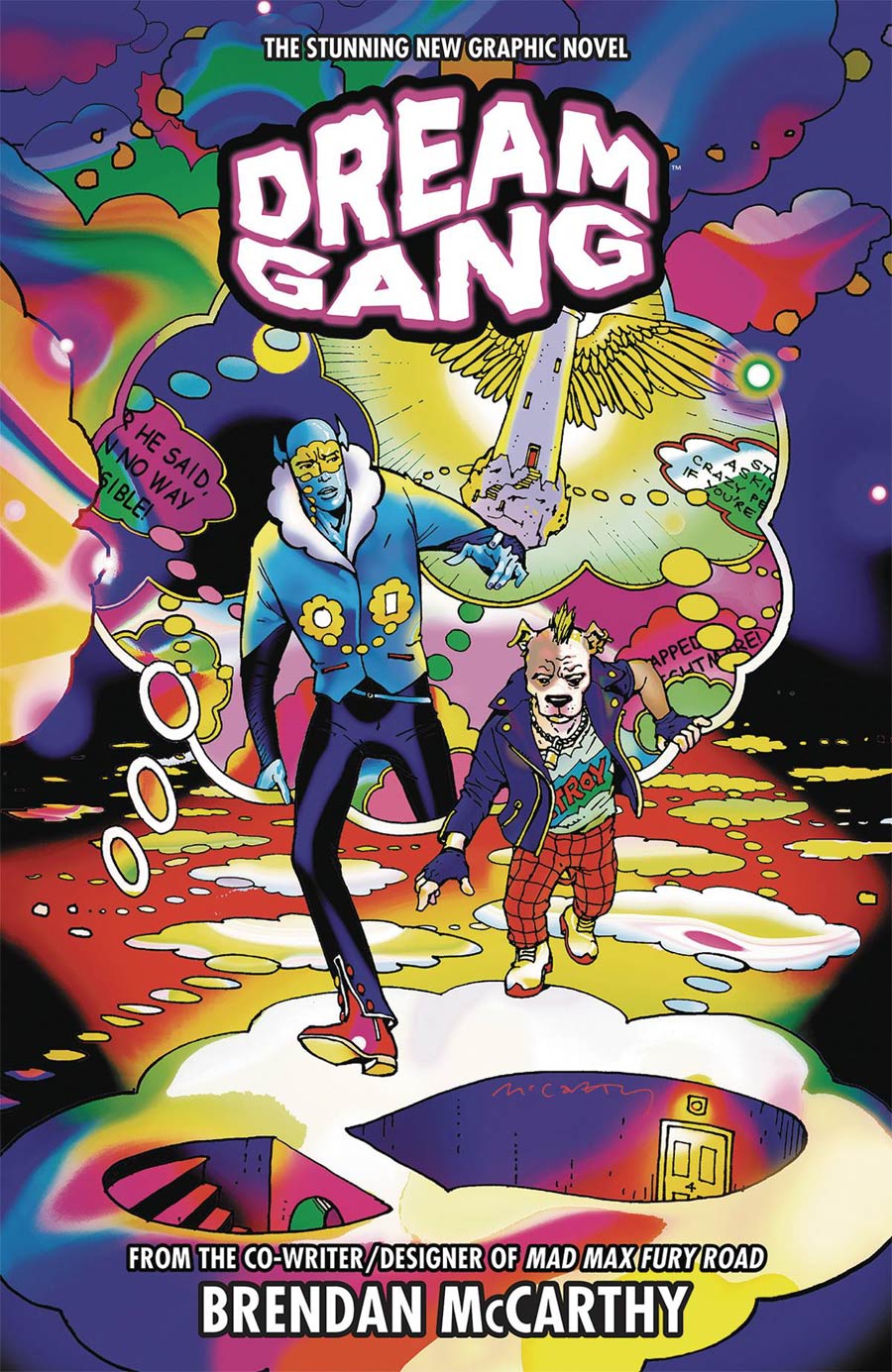 Brendan McCarthy's psychedelic strips from the latest iteration of Dark Horse Presents are collected in this new trade paperback. The set-up (an amnesiac blue-skinned Dream Voyager races to defuse a psychic bomb with a leather-clad canine at his side) recalls McCarthy's vintage collaborations with Peter Milligan.
The storyline's fast pace and short chapters leave little time for explanation, adding to the overall surreality of the atmosphere. But even if the plot has you scratching your head, the incredible art and unconventional character designs make each page worth savoring.
Brendan McCarthy (W/A) • Dark Horse Comics, $14.99
– Paul Mirek
Red Thorn Volume 1: Glasgow Kiss
David Baillie and Meghan Hetrick's acclaimed Vertigo series gets the trade paperback treatment this week as the first seven issues are collected with the appropriate sub-title of 'Glasgow Kiss'. Set in Scotland's largest city, the book embraces the familiar Vertigo standard of otherworldly forces impinging on a very recognisable urban reality.
The first arc centres on Isla, an American woman of Scottish descent. Her arrival in Glasgow sees her caught up in a conflict between the Scottish gods as one of their number, trapped for millennia beneath the city, attempts his escape…
Meticulously researched with atmospheric visuals this is a book where environment is as much a character as its more obvious protagonists. If you haven't been following the monthly instalments of Red Thorn then this is the perfect moment to step into Baillie and Hetrick's epic narrative.
David Baillie (W), Meghan Hetrick (A) • DC/Vertigo Comics, $14.99
– Andy Oliver