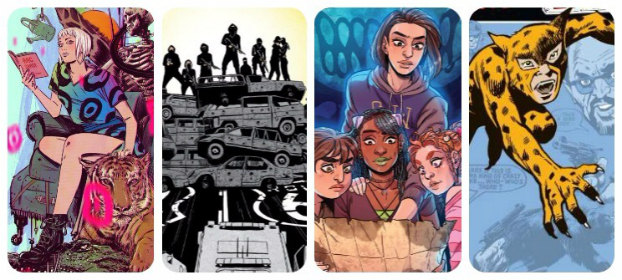 It's nearly Wednesday, and you know what that means: a fresh load of comics and graphic novels! With so many publications hitting your local comics store, comics events or digital storefront, the BF team are here to lead you through the woods with our weekly staff picks. Satisfaction guaranteed!
Comic of the Week
The Leopard from Lime Street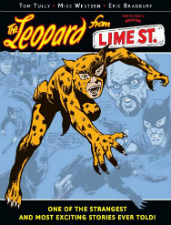 2000 AD publisher Rebellion's acquisition of the rights for many much loved characters and comics from the history of British weekly comics was one of the news highlights of last year. Whether you're a long-time enthusiast looking to recapture the nostalgic warmth of childhood or simply looking to discover top comics of yesteryear for the very first time, Rebellion's Treasury of British Comics series of reprint volumes is well worth your consideration.
This week sees the second book in the range as Tom Tully, Eric Bradbury and Mike Western's The Leopard from Lime Street strips from anthology comic Buster are collected for the first time. Homegrown super-heroes were, of course, something of a rarity in UK comics in the 1970s and this tale of young Billy Farmer – who acquires super-powers after being scratched by a radioactive leopard – unabashedly borrows from the premise behind a certain US web-slinger.
But make no mistake, despite its obvious inspirations The Leopard from Lime Street is a peculiarly British affair in tone and style. Revisit the adventures of Billy Farmer this week as he prowls the streets of Selbridge fighting crime, encountering the mistrust of the locals and dealing with a miserable home life with his bullying uncle. Classic comics brought back to life for a whole new generation of readers!
Tom Tully (W), Eric Bradbury and Mike Western (A) • Rebellion, £14.99
– Andy Oliver
Calexit #1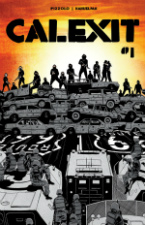 Sociopolitical turmoil is proving to be a hot topic in the world of comic books lately. Events like the election of US President Trump and the nefarious things surrounding his administration that make headlines on a daily basis have seemingly edged the modern world ever closer to the kind of dystopic existence that was once only the stuff of fiction.
Recent series like Brian Wood's Briggs Land, Howard Chaykin's Divided States of Hysteria, Kaare Andrews' Renato Jones, and others are all striking nerves with readers because of their basis in darkly plausible near-futures that eerily resemble the present day more and more.
This week, Black Mask Studios finally releases the highly anticipated new series Calexit from writer Matt Pizzolo and artist Amancay Nahuelpan, and it's sure to whet the appetite of anyone who likes a little political turmoil mixed with their comics.
When a fascist president takes control of the Oval Office, the economically vital state of California becomes the scene of the largest resistance movement in American history. The climate is ripe for a new civil war that will pit the might of the US military-industrial complex against the unshakable will of regular folks who refuse to be ruled by an autocratic fist.
Blending headline-worthy topics like immigration policy, the rise of nationalism, the over-reach of Law and Order, and the impact of climate change with grassroots characters trying to survive it all, Calexit promises to give readers a pathway back to a hopeful future in these tumultuous times.
Matt Pizzolo (W), Amancay Nahuelpan (A), Tyler Boss (C) • Black Mask Studios, $3.99
– Matthew Box
Misfit City #3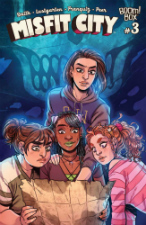 Published under the BOOM! Studios BOOM! Box imprint, Misfit City may have flown under the radars of some readers but this delightful adventure comics romp has been a serial comics highlight every month since its debut in May.
Screenwriter Kiwi Smith (Legally Blonde) and Kurt Lustgarten's story hearkens back to cult kids film The Goonies with something of a meta flourish in this tale of a group of teen girls whose humdrum home town has stagnated since a popular 1980s movie was shot there. When the group discover an ancient pirate map drawn by the mysterious Black Mary, though, their small town existence suddenly takes on an exciting new life…
With engaging character-led visuals by Naomi Franquiz Misfit City is a wonderful piece of pure comics escapism. We may have been a little late in spotlighting it in our weekly Staff Picks but it couldn't be more heartily recommended.
Kiwi Smith & Kurt Lustgarten (W), Naomi Franquiz (A) • BOOM! Studios, $3.99
– Andy Oliver
The Victory Motel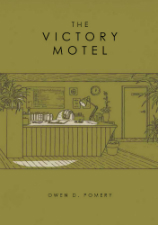 From the ridiculous shenanigans of the drunken scientific explorers of The Megatherium Club to the psychogeographical existential drama of Between the Billboards we've been huge fans of Avery Hill Publishing stalwart Owen D. Pomery here at Broken Frontier over the years.
Pomery has a new book out this weekend at the very first South London Comic and Zine Fair and new ODP work is, of course, always worthy of a shout-out in our Staff Picks. The Victory Motel is a collection of five interconnected short stories taking place in the locale of the comic's title over the course of a day.
New Pomery comics have been in short supply since Avery Hill's Reads concluded so this will be an absolute must-buy if you're visiting SLCZF this weekend.
Owen D. Pomery (W/A) • Self-published
– Andy Oliver
Shade the Changing Girl Vol. 1: Earth Girl Made Easy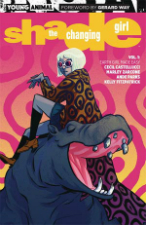 While the Young Animal imprint has taken a little time to find its feet at DC one book has been consistently excellent throughout its run. Cecil Castellucci has both built on Peter Milligan's radical re-imagining of Steve Ditko's classic character and taken the concept in exciting new directions.
This first trade paperback collects the initial six issues of the book as Loma, a young native of the planet Meta, steals the madness coat that once belonged to the legendary Rac Shade and escapes to Earth. Once there, however, she finds herself trapped in the body of schoolgirl bully Megan Boyer. Reality-warping madness on an alien world is nothing compared to dealing with the trials and tribulations of high school…
Marley Zarcone's pitch perfect visuals bring the weirdness of this newest incarnation of Shade to life. One of the best books to come out of DC in many years.
Cecil Castellucci and Asher Powell (W), Marley Zarcone (A) • DC Comics/Young Animal, $16.99
– Andy Oliver
A Cup of Tea Will Sort You Out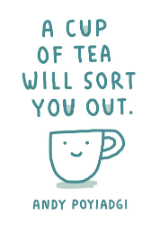 Also debuting at this weekend's South London Comic and Zine Fair Andy Poyiadgi's humorous zine focuses on one of his favourite pastimes – partaking of a welcoming cup of tea!
Poyiadgi, of course, was the 2015 Broken Frontier Award Best One-Shot Award winner for his critically acclaimed Nobrow Press book Lost Property and also featured in my last annual list of 'Ten UK Small Press Comics You Need to Own!' for 2016's thought-provoking Veripathy.
A Cup of Tea Will Sort You Out is a collection of tea-related cartoons masquerading as beverage-based advice and wisdom that positively revel in the absurd. Make sure to pick up this charming minicomic style offering if you're at the the inaugural SLCZF on Saturday. It will also be on sale on his online store shortly thereafter.
Andy Poyiadgi (W/A) • Self-published
– Andy Oliver