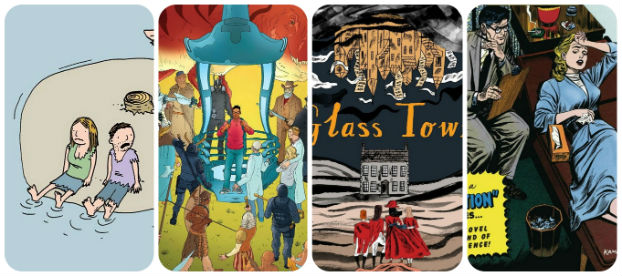 It's nearly Wednesday, and you know what that means: a fresh load of comics and graphic novels! With so many publications hitting your local comics store, comics event or digital storefront, the BF team are here to lead you through the woods with our weekly staff picks. Satisfaction guaranteed!
Comic of the Week
Glass Town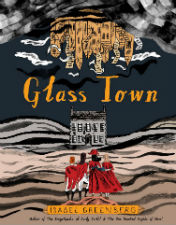 Can it really be six years since Isabel Greenberg won the Breakout Talent category in our 2013 Broken Frontier Awards? Whether it's been for her original graphic novels like The Encyclopedia of Early Earth and The One Hundred Nights of Hero, her micropublished comics including Dreadful Wind and Rain and Tall Tales and Outrageous Adventures, or her books for younger readers like Athena: The Story of a Goddess, her collaboration with sister Imogen, Greenberg's work has been a constant favourite here at BF in the intervening years.
This week sees her latest and eagerly anticipated graphic novel Glass Town debut via Jonathan Cape. Exploring the Juvenilia of the Bronte siblings Charlotte, Branwell, Emily and Anne, it's an exploration of the fictional world the children imagined between them and asks what happens to it when its creators grow up?
It's a premise we've seen before in comics in the pages of Sandman and Kingdom of the Wicked but, in this instance. one with a very specific focus. We're going to predict this here and now… this is doubtless going to be one of 2020's most acclaimed books and if you're in London on Friday February 7th you really need to get down to Gosh! Comics for the signing and launch party.
Isabel Greenberg (W/A) • Jonathan Cape, £18.99
– Andy Oliver
Why Did We Trust Him?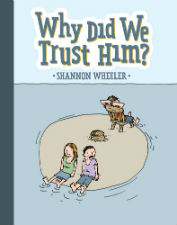 A couple of years ago, Eisner-winning Shannon Wheeler illustrated the dubious wit and wisdom of America's Commander in Chief in a laugh-out-loud collection titled Sh*t My President Says. Where that book highlighted Wheeler's razor-sharp intellect, this new collection serves to showcase other sides of his undeniably provocative brain.
It's a more personal take on everything from pets to relationships, and somehow manages to crowd entire essays on human behaviour into single panel comics. It is a great lesson on how to combine succinct writing with compelling art. Buy yourself a copy, then pick up a few for family and friends.
Shannon Wheeler • Top Shelf Productions, $14.99
– Lindsay Pereira
The Man Who F#&%ed Up Time #1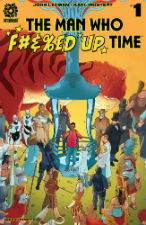 Most jobs dangle some sort of temptation in front of you. But when you're a lab technician working on a prototype time machine, the consequences could go a whole lot further than a bit of illicit photocopying and a few biros in your back pocket…
This rollicking sci-fi action comedy from writer/letterer John Layman (Chew, Eleanor and the Egret) and the art team of Karl Mostert and Dee Cunniffe tells the tale of Sean Bennett, who thinks it can't do any harm to pop back in time and fix a few of the things he'd like to change about his life.
As you'll probably guess from the title of the book, when he gets back to the present day he finds that his efforts have been what you might call, at best, a partial success. And with the ferocious Future Police on his tail, Sean has to somehow repair the damage he's caused – which turns out to be harder than it sounds.
It looks like Layman has thrown himself into the wild possibilities that go with cross-temporal shenanigans, and the slick, Quitely-tinged artwork by emerging South African star Mostert seems a perfect fit for the irreverent romp.
John Layman (W/L), Karl Mostert (A), Dee Cunniffe (C) • AfterShock Comics, $4.99
– Tom Murphy
Sports is Hell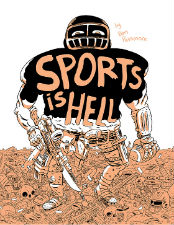 From Moe Abbas's review today at Broken Frontier…
In addition to war, Seinfeld and Ben & Jerry's Ice Cream, America is known for its sports fanaticism. Nothing unites this melting pot of socially siloed people than wearing overpriced tribal colours at modern coliseums and having a collective meltdown whenever their overpaid gladiators risk death and dignity through the handling of a ball.
Sports as a form of politics-laden "war" isn't the most subtle metaphor, but Ben Passmore's Sports is Hell shows that tackling it (sorry) head-on with humour can turn literary groans into moans (not sorry!).
Ben Passmore (W/A) • Koyama Press, $14,99
– Moe Abbas
EC Archives: Psychoanalysis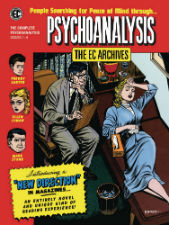 Psychoanalysis was one of EC Comics' New Direction line of books, published in the wake of the 1950s hysteria provoked by Frederic Wertham's Seduction of the Innocent and the backlash that led to the Comics Code Authority.
Ellen Lyman, Freddy Carter and Mark Stone are the three patients whose personal issues and subconscious minds are explored by the unnmamed analyst who works with them in the stories collected here for the first time in 20 years.
It's one of the more curious books EC published – verbose even by their standards and noticeably slower in pace – and it's perhaps unsurprising that it was cancelled after just four issues. Arguably, given the newsstand demographic of the time it probably did well to even reach that number! But it also represents material from an era that redefined US comics and proved a pivotal point for the industry. No doubt EC completists will snap it up but it's a fascinating piece of comics history for the more casual reader as well.
Robert Bernstein (W), Jack Kamen (A), Marie Severin (C) • Dark Horse Comics , $39.99
– Andy Oliver