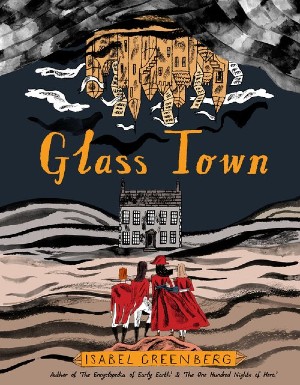 Isabel Greenberg's previous books from Jonathan Cape – The Encyclopedia of Early Earth and The One Hundred Nights of Hero – adapted and re-imagined myth and legend to create a fictional reality that was both fantastic and knowing. In Glass Town Greenberg once again takes existing source material – this time the "juvenilia" written by the Brontë children before the famous novels of their respective adulthoods – and puts her own distinctive spin on it.
There's far more to Glass Town than simply a repurposing of historical biography though, however entertaining that may be. What Greenberg achieves here is a meta commentary on the very nature of story itself and on the author's relationship with their characters.
Jumping between a historical account of the Brontës' early forays into writing and the growing importance that the fictional worlds they created had to them, Glass Town breaks down the fragile borders between imagination and reality and shows how inextricably interlinked they are. After the deaths of their older sisters the close-knit Brontës – Emily, Ann, Charlotte and Branwell – escaped to the convoluted plots and characters of Angria (where Glass Town was situated) and eventually Gondal (a breakaway land founded when Ann and Emily had, in a more modern parlance, creative differences with their siblings).
Built with words, Glass Town is "a city of stories" for the children. Initially based on a set of toy soldiers their father bought, its population soon grows with each child having favoured characters amongst the cast but acting as group architects of its environs. As the years progress the interrelationships and power struggles between characters like leader of the exploited Ashantee people Quashia Quamina, Northangerland (Branwell Bronte's stand-in) and daughter Mary Percy, Mary's ambitious husband Zamorna, and Northangerland's wife Lady Zenobia, become ever more intricate and complex, often reflecting developments in the lives of their creators. And, as Branwell's deteriorating state worsens in the real world, Charlotte becomes Glass Town's sole custodian…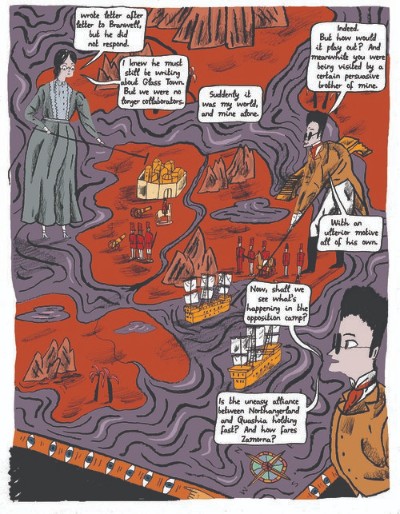 Part speculative biography, part metafiction, Glass Town is Greenberg's most confident and accomplished work to date. It's main focus is on Charlotte Brontë who maintains a cross-narrative dialogue with Charles Wellesley, her own main character in Glass Town, as the two retrace the development of the fictional location in relation to events in the Brontës' lives in Haworth. In that regard it becomes as much a celebration as an exploration of the art, essence and mechanics of storytelling; of how characters shape their creators as much as their creators shape them; and how fiction becomes both a refuge and a responsibility to those who fashion it.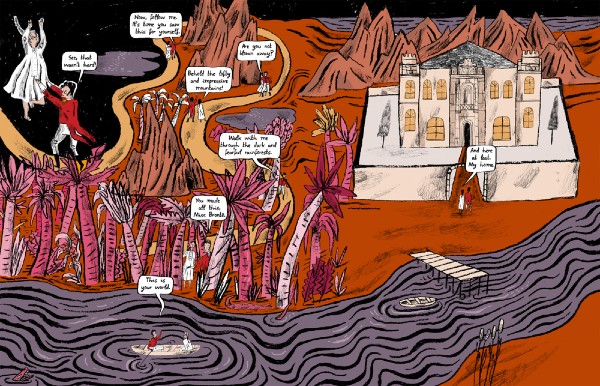 Greenberg's pages with their loose and flowing visuals perfectly encapsulate childhood imagination run riot in the fantasy based sequences – the scenes where the children are portrayed as god-like entities or the way in which reality and fiction merge and interweave in key sequences – but it also catches the mundane and sometimes grim everyday that the Brontës seek to escape. A beautifully constructed ode to childhood's passing, the relationship between creator and creation and, in its own way, a coming-of-age story quite unlike any other you may have read, this is indisputably Greenberg's strongest use of the form yet and an excellent entry point into a lesser known part of the Brontës' output.
Isabel Greenberg (W/A) • Jonathan Cape, £18.99
Review by Andy Oliver