Back in 2013 Isabel Greenberg was the winner of the Breakout Talent category in our annual Broken Frontier Awards for her much lauded debut graphic novel The Encyclopedia of Early Earth published by Jonathan Cape. It used the tale of two ill-fated lovers as a framing device to explore this unrecorded period of Earth's history with Greenberg adapting and re-imagining stories from myth, religious sources and legend. I described it then here as "a heady mix of the spellbinding, the poignant, the wacky and, at times, the heartbreaking, this is a book worth both the wait and the hype that has surrounded its release."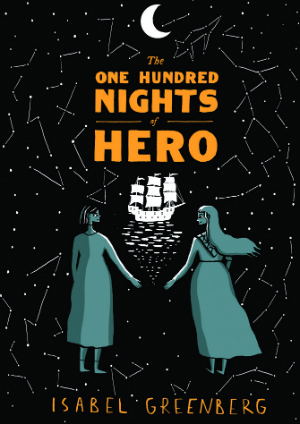 Set in the same fictional universe as that original work – but entirely accessible as a standalone offering – The One Hundred Nights of Hero makes use of a similar plot structure to delve once more into the fantastical lives and locations of this captivating realm.
This time it centres on the relationship between the titular maid Hero and her lover Cherry. Cherry's odious husband Jerome has made a bet with his even more repellent friend Manfred that the latter will not be able to seduce his wife over a 100 day period. Jerome, unaware of certain realities and having never consummated their marriage, believes Cherry is the embodiment of chastity.
In a One Thousand and One Nights-style twist, Hero manages to keep the repugnant Manfred at bay by recounting hypnotically entrancing stories of the denizens of Early Earth, fixing his attention on the power of her narratives and away from his eagerly sought after prize. What follows is a succession of familiar (and not so familiar) tales, retooled with an often pronounced feminist perspective, lending an acute air of irony to the proceedings as their telling continues to derail the rapt Manfred's insidious intentions…
As was the case with The Encyclopedia of Early Earth the stories in these pages are a glorious combination of the dramatic, the allegorical, the affecting, the humorous and the irreverent. Characters, locations and situations weave in and out of each other as subtle and more obvious links between each tale become apparent as the main story progresses. Particularly in regard to the women who make up the League of Secret Storytellers, who play a crucial representational role throughout.
Those legends, fairy tales and folk songs elaborated on and given a Greenberg-ian slant include the Brothers Grimm's 'The Twelve Dancing Princesses' wherein a perplexed father seeks aid in uncovering the truth behind his many daughters' nocturnal festivities; 'The Dead Moon' recounting how the moon came to Earth in human form and what she encountered there (a story previously also adapted in comics form by artist Emma Raby); and 'Dreadful Wind and Rain' (previously published in single comic format and reviewed here at Broken Frontier). Celestial entities, ghoulish musical instruments, twilight magic and manipulative suitors abound as the audience are left to wonder just how long Hero and Cherry can outwit their slimy nemesis…
The One Hundred Nights of Hero is a book that is full of extreme and yet complementary storytelling contrasts. The often muted colouring, for example, creates a most sombre atmosphere in visual terms but its subdued hues are nevertheless punctuated by Greenberg's anachronistic use of language, witty asides and knowing winks in the reader's direction.
Similarly, the deceptively storybook illustrative style carries a narrative that is cutting and incisive in its social commentary, and there's an essentially meta quality to the work as tales fit within tales, overlapping and merging, and exploring the intrinsic power of storytelling in the process. One overarching thematic thread runs throughout though; the struggle against a cruelly patriarchal world that is archaic even in the context of this ancient civilisation.
Though following a similar framework to The Encyclopedia of Early Earth, this is a considerably tighter and more cohesive work. Individual stories link thematically into the central plotline, advancing its core ideas and there's a greater comparative sense of structure and forward momentum. Where Greenberg's first entry in this series had a slightly patchwork feel to it, The One Hundred Nights of Hero is a noticeably more confident offering; the world-building excellence of The Encyclopedia of Early Earth survives intact but is now enhanced by her deft interlacing of motif, characters and story threads.
There's no Difficult Second Album Syndrome to Hero and Cherry's story here. Quite the contrary. The One Hundred Nights of Hero improves on its already critically acclaimed predecessor and underlines Greenberg's position as one of the UK's most vitally important contemporary graphic novelists.
Not that any of us who have been following her work over the last several years were ever doubting that…
Isabel Greenberg (W/A) • Jonathan Cape, £18.99 (also available from Little, Brown in the US)