While 2013's The Encyclopedia of Early Earth was the graphic novel that brought Isabel Greenberg to a deservedly wider audience – indeed she was the winner of our Breakout Talent category in last year's Broken Frontier Awards – perceptive followers of the UK small press scene have had an eye on her self-published minicomics work for a number of years. If you became a fan of her comics via that quirky Cape-published epic, though, and are looking for more easily obtainable Greenberg "further reading" then fret not. Published by Great Beast, Tall Tales and Outrageous Adventures is a semi-regular ongoing series where, in the same vein as Early Earth, she appropriates fantastic stories from other sources and re-presents them in her idiosyncratic signature style.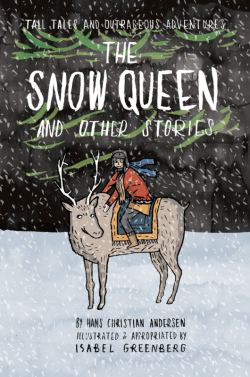 In Tall Tales, Greenberg moves from re-fashioning stories from myth and religion to repurposing those of children's fantasy. This debut issue features distinctively Greenbergian slants on Hans Christian Andersen's fairy tale quest 'The Snow Queen' and the moral object lesson of 'The Emperor's New Clothes'. 'The Snow Queen', as underlined on the book's cover, takes centre stage with a 20-page adaptation of the story of Gerda's adventures on her travels as she seeks to rescue her chum Kai from the malign influence of the titular villainess.
Tall Tales echoes the irreverent approach that Greenberg adopted in The Encyclopedia of Early Earth. She puts her own playful spin on these stories but she does so without ever losing any of the joy of the original subject matter; there are moments of gentle mocking, yes, but with an obvious fondness for the source material. Outside of Greenberg's characteristic creative voice the main strengths of these retellings are twofold. Firstly, her art is such a fitting match for Andersen's original fables. It has that blend of the folkloric and the story book that ideally captures both the childlike innocence and the pure magic of its inspiration; uncomplicated yet highly detailed, a faux naivety deceptively draped over confident and assured storytelling technique.
Backing this up Greenberg is clever enough to know that updating the surroundings of these tales would be to lose the charm of the original but modernising the dialogue and frames of reference – well that's another matter. And so in 'The Snow Queen' we have the incongruous yet rather witty conceit of Andersen's characters speaking with modern slang and idioms – references to "BFFs", cast members exclaiming "My bad!" and so on. A far more readable and engaging way to make these classic seem relevant to a younger audience than tediously placing them in a contemporary setting.
In 'The Emperor's New Clothes' that becomes all the more obvious with its rapid fire digs at the shallow worlds of the fashionista; all hourly outfit changes and mentions of "skinny jeans". It's a 5-page adaptation but it's particularly good fun because it works as a caustic satire on the fashion industry as well as whimsical parable and, if at times, the knowing wink at the reader is so pronounced that it enters into Eric Idle territory then all the better.
Greenberg is a canny enough operator to understand that those darker elements of fairy tales are far more of a draw to the young mind than the "Happy Ever Afters" and that, combined with the same delightfully calculated naughtiness that made The Encyclopedia of Early Earth such a critically acclaimed book, plays a large part in making this mischievous re-imagining of Andersen's world such an engaging read. If you've yet to dive into the realms of Early Earth and want of a taster of Isabel Greenberg's impish imagination then Tall Tales and Outrageous Adventures #1 is a perfect starting point.
For more on Isabel Greenberg's work visit her site here. Tall Tales and Outrageous Adventures #1 is available from Great Beast from their online store here priced £4.99 for a print copy and just 69p for a digital copy.