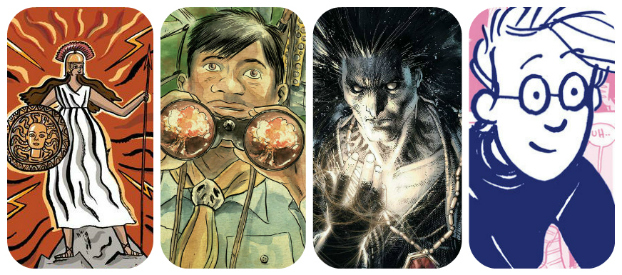 It's nearly Wednesday, and you know what that means: a fresh load of comics and graphic novels! With so many publications hitting your local comics store, comics events or digital storefront, the BF team are here to lead you through the woods with our weekly staff picks. Satisfaction guaranteed!
Comic of the Week
Athena: The Story of a Goddess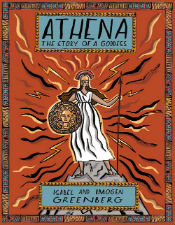 I've been following the work of Isabel Greenberg from the very early pre-The Encyclopedia of Early Earth days when I first picked up her zines and minicomics at fairs on the London small press circuit. She's been a regular presence at Broken Frontier since, including being our Broken Frontier Breakout Talent Award winner back in 2013, and in that time has become one of the most respected names among the new wave of British graphic novelists.
This week sees another collaboration for younger readers between Greenberg and her sister Imogen in Athena: The Story of a Goddess from publishers Bloomsbury. The Greenberg sisters have a proven track record in this area on previous books like The Ancient Egyptians and The Roman Empire. This time around they're tackling Greek mythology from the viewpoint of the titular deity Athena. The book launches at London's Gosh! Comics this Thursday.
Imogen Greenberg (W), Isabel Greenberg (A) • Bloomsbury, £14.99
– Andy Oliver
Sandman Universe #1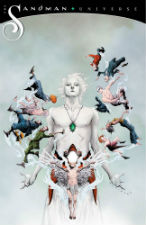 The richly populated fantastical world created in Neil Gaiman's original Sandman series (almost) 30 years ago, and explored or touched upon with varying levels of depth by a range of Vertigo titles on and off since, is having a relaunch. This one-shot issue launches four separate storylines under well historied titles; Lucifer, The Books of Magic and The Dreaming and launching a delicious sounding new one:  House of Whispers set in a dreamworld voodoo swamp.
The overarching story seems to centre on a 'rift between worlds' that has opened in The Dreaming, which should provide both the scope for familiar faces (and faceless characters, and characters that exist on their own plane and could or could not be said to have what one might refer to as a face, probably) and whatever excitement is offered on the other side of said rift. While it will never get old to hear it bemoaned that all is not well in a place where the status quo is bizarre by default, Bilquis Evely's art is more than up to the challenge of balancing spectacle with pathos.
Neil Gaiman, Simon Spurrier et al. (W), Bilquis Evely, Sebastian Fiumara et al. (A), Jae Lee (CA) • DC Comics/Vertigo $4.99
– Jenny Robins
Love Letters to Jane's World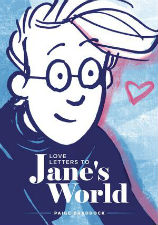 Over 20 years after Paige Braddock's groundbreaking comic strip Jane's World first appeared, this 300-page collection compiles material from all eras of the feature's long history. The slice-of-life strip follows the misadventures of Jane Wyatt and her colourful cast of friends.
Jane's World was the first syndicated newspaper strip to feature a lesbian protagonist to appear in many major newspaper markets so this collection has a wider social relevance as well. The comics content is interspersed with "love letters" from some familiar fans of the series to add to the celebratory feel of the occasion.
Paige Braddock (W/A) • Lion Forge, $22.99
– Andy Oliver
Black Badge #1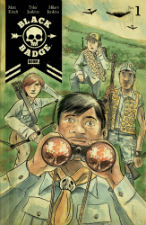 A top-secret branch of the boy scouts is tasked by the government to take on covert missions. The Black Badges are the organization's elite, respected by all other scouts and representing the ultimate in boy scout skills. Specializing in dangerous missions, the team is in for a true test of its skills as the team leader's attention is divided between the mission itself and tracking down a lost team member who disappeared years ago and is presumed dead.
From the Eisner Award-nominated creative team of writer Matt Kindt and artist Tyler Jenkins (Grass Kings), Black Badge offers a "haunting look at foreign policy, culture wars and isolationism through the lens of kids who know they must fix the worlds that adults have broken."
"Sometimes being a boy scout means learning how to sew a badge. Other times it means sneaking into North Korea to stop global warfare…and maybe sewing up your teammates," said Eric Harburn, Senior Editor at BOOM! Studios. "Matt and Tyler bring the unbridled creativity that's earned Grass Kings both Eisner and Ringo Award nominations and marry it to a fun, provocative, and absolutely unpredictable story in Black Badge."
Matt Kindt (W), Tyler Jenkins (A), Hilary Jenkins (C), Jim Campbell (L) • BOOM! Studios, $3.99
– Karen O'Brien
Hot Lunch Special #1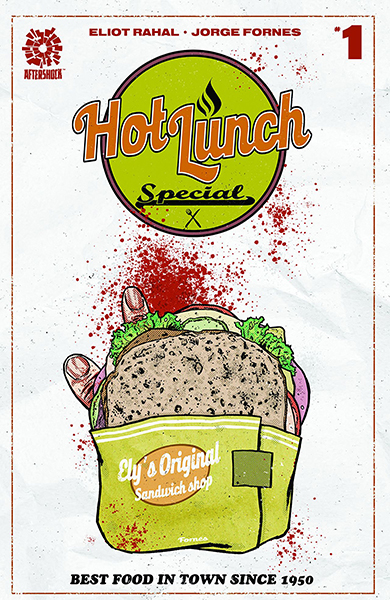 Food is becoming a hot topic in comics these days, and it makes for a good mix with a number of different genres. In this case, we've got a family crime drama.
The Khourys are a Lebanese family who carved their slice of the American dream by becoming the largest distributor of sandwich vending machines. But it turns out they did so with the help of the Irish Mob, who've come to collect what's owed them.
Don't miss out on this tasty tale of midwestern meat, mobs and murder.
Eliot Rahal (W), Jorge Fornes (A), Taylor Esposito (L) • Aftershock Comics, $3.99
– Tyler Chin-Tanner
Fantastic Four #1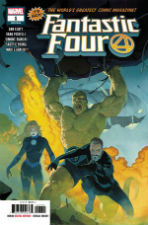 A rare sidestep into super-hero territory for us here at Broken Frontier but the return of the first family of the Marvel Universe after too many years is worthy of a mention this week. It remains a damning indictment of the state of 21st century corporate comics that the book that started the modern Marvel Universe has been absent for so long in such circumstances.
But that's in the past and,  as of this week, the "World's Greatest Comics Magazine" is back on the shelves where it belongs at last. This new chapter in the lives of the Fantastic Four is brought to us by writer Dan Slott (whose Amazing Spider-Man run may have divided critics but whose collaboration with the Allreds on Silver Surfer was arguably the definitive take on the character) and artist Sara Pichelli.
The Marvel Universe just hasn't been the same without them.
Dan Slott (W), Sara Pichelli (A), Esad Ribic (CA) • Marvel Comics, $5.99
– Andy Oliver