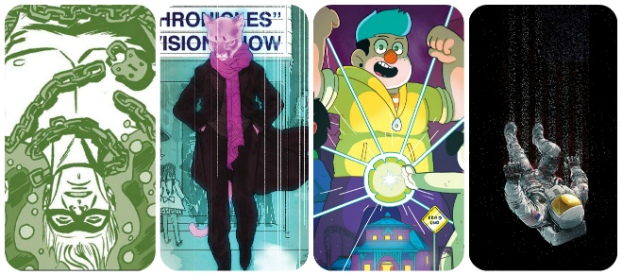 It's nearly Wednesday, and you know what that means: a fresh load of comics and graphic novels! With so many publications hitting your local comics store, comics events or digital storefront, the BF team are here to lead you through the woods with our weekly staff picks. Satisfaction guaranteed!
Comic of the Week
Exit Stage Left: The Snagglepuss Chronicles #6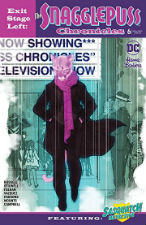 After the huge critical acclaim for the cutting social commentary of his The Flintstones series from DC – which must surely have forced those who vociferously pre-judged that re-imagining to seriously consider some urgent retrospective tweet-deleting – writer Mark Russell's follow-up series based on a Hanna-Barbera property was eagerly anticipated.
Exit Stage Left: The Snagglepuss Chronicles has not disappointed, recasting the cartoon character as a gay Southern Broadway playwright who finds himself the target of the House Committee on Un-American Activities in an early '50s US. Ably abetted throughout by Mike Feehan and Mark Morales on art chores, Russell's saga comes to an end with this final issue in the miniseries. An instalment that follows on from the dramatic events surrounding Huckleberry Hound last month and with the title character's life disintegrating around him.
One of the very best books DC have published in the last decade, this is a comic that latecomers should be snapping up when the trade paperback is published later this year. There's also another Sasquatch Detective back-up episode by Stillwell and Vazquez as a bonus.
Mark Russell, Brandee Stillwell (W), Mike Feehan, Sean Parsons, Gus Vazquez (A) Ben Caldwell (CA) • DC Comics, $3.99
– Andy Oliver
About Betty's Boob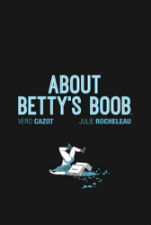 In a bold, accessible and timely look at how society expects women to regard their bodies, this translation of the bande dessinée by writer Véro Cazot and artist Julie Rocheleau is a welcome migrant to anglophone shelves (even if much of the storytelling within is wordless.) Between its covers we follow a woman's "painful, surreal and oddly humourous journey" of self-discovery in the wake of cancer surgery.
The eponymous protagonist of About Betty's Boob wakes up after a mastectomy to find herself disoriented by the body that greets her. Suddenly confronted by a world obsessed with 'normal' standards of beauty, she – along with those around her – is at a loss over how to deal with her new look. When she loses her job and her boyfriend, she finds herself on a remarkable journey of self-discovery.
With its promise of humour and humanity, this definitely sounds like one to file next to Jennifer Hayden's The Story of My Tits.
(For a list of international breast cancer resources, go here)
Véro Cazot (W), Julie Rocheleau (A) • BOOM! Studios, $29.99
– Tom Murphy
Apollo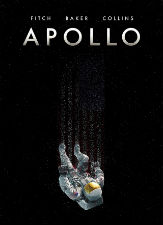 Graphic biography has become a staple element of the SelfMadeHero publishing ethos over the last several years. It's a storytelling strand that has ensured the influential publisher's books have continued to appeal to a crossover audience with notable publications like Reinhard Kleist's Nick Cave: Mercy on Me getting national newspaper attention.
This week sees Apollo officially released, detailing the story behind the first manned mission to the moon by Neil Armstrong, Buzz Aldrin and Michael Collins. Mixing historical fact, dramatic reconstruction and powerful dreamlike symbolism it's written by Matt Fitch and Chris Baker (of Dead Canary Comics fame) and illustrated by DC, Marvel, 2000 AD (and just about everyone else!) artist Mike Collins whose tour-de-force work here is some of the very, very best of his long career. Look for a BF review in the near future.
Matt Fitch and Chris Baker (W), Mike Collins (A) • SelfMadeHero, £15.99
– Andy Oliver
Michael Chabon's The Escapist: Pulse-Pounding Thrills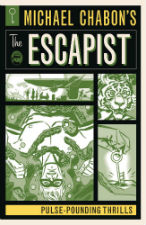 One time I spoke about The Amazing Adventures of Kavalier & Clay to a friend in a bookshop with such enthusiasm that someone approached us afterwards to say she had overheard my recommendation and immediately bought it. So, y'know, I'm quite fond of Michael Chabon's Pulitzer Prize-winning historical novel that takes in the Golden Age of superhero comics, homosexual repression in the early 20th century, the Second World War and Houdini.
The nexus around which those elements circled was The Escapist, the hero created by protagonists Sammy and Joe. In the years since the book was published, Dark Horse have published a number of actual comics starring the character, produced by a Murderers' Row of talent. Chabon penned some of the stories, but the best may be those handed over fully to writer/artist combos, including a Spirit–inspired adventure from Will Eisner himself. A postmodern, old-school collection of superhero stories that may or may not transcend its source material, but will be of immediate interest to Chabon dorks (like me!)
Michael Chabon, Matt Kindt, Will Eisner, Howard Chaykin (W) Matt Kindt, Jeffrey Brown, Eduardo Barreto, Howard Chaykin, Will Eisner (A) • Dark Horse Comics, $24.99
– Tom Baker
Deadendia: The Watcher's Test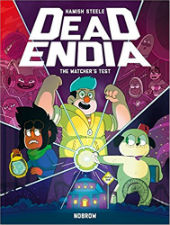 We were huge fans of Hamish Steele's last book, the wildly witty Pantheon: The True Story of the Egyptian Deities, here at Broken Frontier last year and UK stores will now have a copy of his latest Nobrow offering DeadEndia: The Watcher's Test.
Focusing on the employees of a haunted house theme park that might also be a portal to the Netherworld, DeadEndia follows Mike and Barney as they face the supernatural forces that invade their workplace while simultaneously trying to keep their jobs. With its diverse cast, and appealing comedy-drama set-up, this is another book to underline Steele's rapidly rising profile in UK indie comics. He'll also be tabling at ELCAF this year for those in London wanting to pick up his books personally.
Hamish Steele (W/A) • Nobrow Press, £12.99/$14.95
– Andy Oliver
Feast of Fields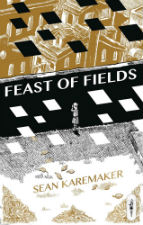 The title of this touching memoir refers to the picnics that writer/artist Sean Karemaker would take with his mother while at school in British Columbia in the 1990s. Moving between past and present, Karemaker looks back at her life, from her childhood in a Danish orphanage, after her mother was stricken by mental illness and her father deserted the family, leaving her to raise her brothers.
Using objects from her youth as gateways to another time, Karemaker inherits and tries to understand her memories. The book is a tribute to the qualities of selflessness, sacrifice and love associated with motherhood.
Karemaker's graphic approach is also noteworthy: as in his previous book, The Ghosts We Know, he constructs his work on a series of densely illustrated scrolls that he then cuts up to make the pages of the book. You can have a look at some of his work in its original form here.
Sean Karemaker (W/A) • Conundrum Press, $18.00
– Tom Murphy
Red Hook Vol. 1: New Brooklyn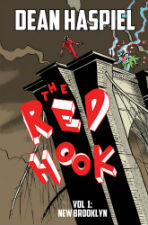 Previously serialised online at Webtoon, Dean Haspiel's throwback superhero — resident of "New Brooklyn" and named for an actual neighbourhood in the borough — is intended to be a "return to Golden Age romance and Silver Age dynacism," according to an editor's note. In fact, it's screamingly contemporary. A sentient Brooklyn annexes itself from the rest of New York following a global financial crisis, which proves to be a catalyst for a rise in both masked villains and vigilantes, although the moral line dividing the two is decidedly shaky.
Haspiel's art, too, is not quite of the same stripe as other Golden/Silver Age-inspired peers like Doc Shaner. While he has done work for the Big Two, he cut his teeth on American Splendor, and both the thick brush lines and freewheeling, abstract layouts speak to an indie sensibility. Not unlike Michel Fiffe and his work on the sublime Copra, Haspiel's art and storytelling bears the influence of peak Frank Miller, Klaus Janson and Lynn Varney. Unfortunately, the political message of Red Hook can seem as muddled as The Dark Knight Strikes Again, but it's much prettier.
Dean Haspiel (W/A) • Image Comics, $17.99
– Tom Baker
Doctor Who: The Seventh Doctor #1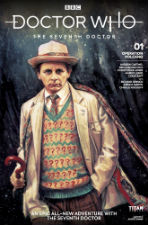 Andrew Cartmel and Ben Aaronovitch's names are synonymous with the Seventh Doctor's television era in the late Eighties so it seems only fitting that they should be the guiding lights (with Aaronovitch credited as "executive producer") to launch Titan's latest Doctor Who offering. This one, of course, features the mysterious, manipulative, sometimes brooding, and yet often rather loveable Sylvester McCoy incarnation of the character.
But, from a Broken Frontier perspective, we're far more interested in the Richard Dinnick-written back-up story featuring art from a creator whose work we've been championing since her very early days of comics self-publishing. Artist Jessica Martin was the actress to play Mags the Werewolf in 'The Greatest Show in the Galaxy' in McCoy's second season of Doctor Who so there's something neatly cyclical about this convergence of worlds. An accomplished graphic novelist (Elsie Harris Picture Palace) now working on her graphic autobiography Life Drawing from Unbound Books, the ever versatile Martin is also currently starring in Shirleymander at the Playground Theatre.
Andrew Cartmel & Ben Aaronovitch, Richard Dinnick (W), Christopher Jones, Jessica Martin (A) • Titan Comics, $5.99
– Andy Oliver