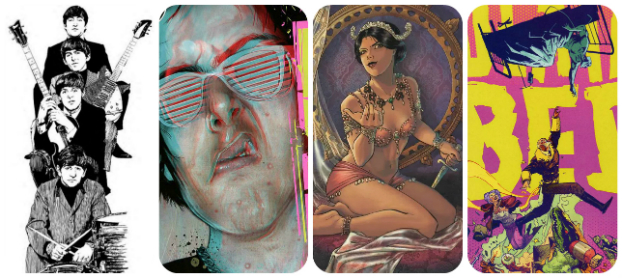 It's nearly Wednesday, and you know what that means: a fresh load of comics and graphic novels! With so many publications hitting your local comics store, comics events or digital storefront, the BF team are here to lead you through the woods with our weekly staff picks. Satisfaction guaranteed!
Comic of the Week
Punks Not Dead #1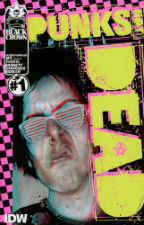 If there are two publisher imprints at the moment that we should all be taking notice of it's IDW's Black Crown and Dark Horse's Berger Books. That, of course, is hardly surprising given the provenance of both curated lines. This week sees the latest book from Shelly Bond's expanding Black Crown group of comics when David Barnett and Martin Simmonds' Punks Not Dead arrives in stores.
Fifteen-year-old "Fergie" Ferguson finds himself with a phantom oppo when Sid, the ghost of a punk rocker from 40 years ago, becomes his constant companion. A supernatural headache for a teenager already dealing with bullies, an erratic single mum and, soon, the attention of the Department for Extra-Usual Affairs.
This one sounds like it's a welcome channelling of the era of classic Brit-influenced Vertigo. But make no mistake… the Black Crown books aren't simply a reflection of past glories. They're very much charting their own course giving us hardcore weirdness with an equally hardcore attitude and carving out a very singular niche for themselves on the serial comics shelves.
David Barnett (W), Martin Simmonds (A) • IDW Publishing/Black Crown, $3.99
– Andy Oliver
Mata Hari #1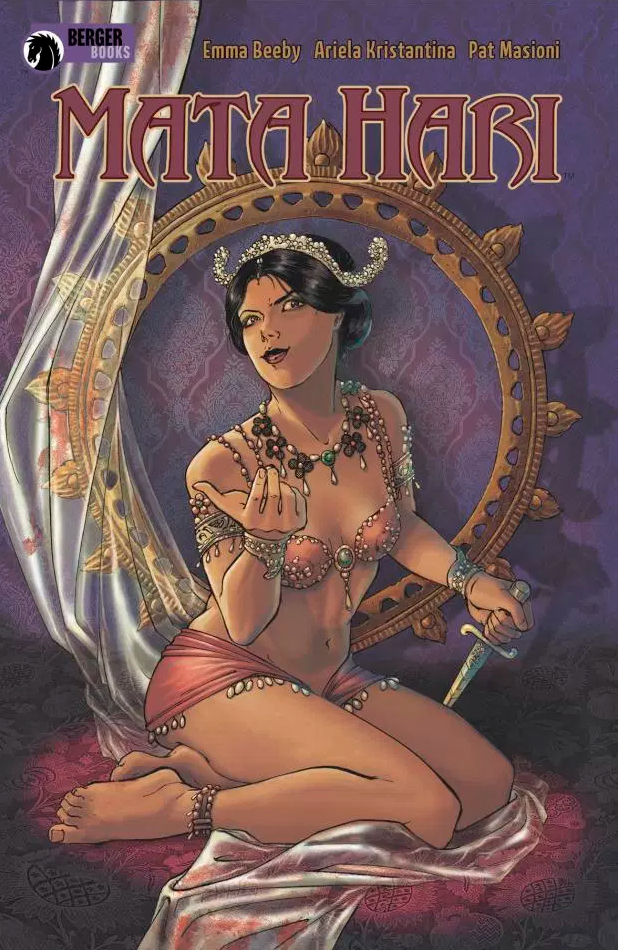 The Berger Books imprint continues to tackle ambitious projects by digging into the real-life mystery behind the woman known as Mata Hari, an exotic dancer and courtesan who was executed by a French firing squad in 1917 for being a German spy during World War I.
Written from the perspective of Mata Hari herself just before her execution, witness her account of a double life filled with scandal and espionage. Was she a Javanese princess trained in ritual dance or an abused housewife looking for an escape? And most importantly, will we ever discover the truth as to whether the charges of treason were justified?
Emma Beeby (W), Ariela Kristantina (A), Pat Masioni (C) • Dark Horse Comics/Berger Books, $3.99
– Tyler Chin-Tanner
Deathbed #1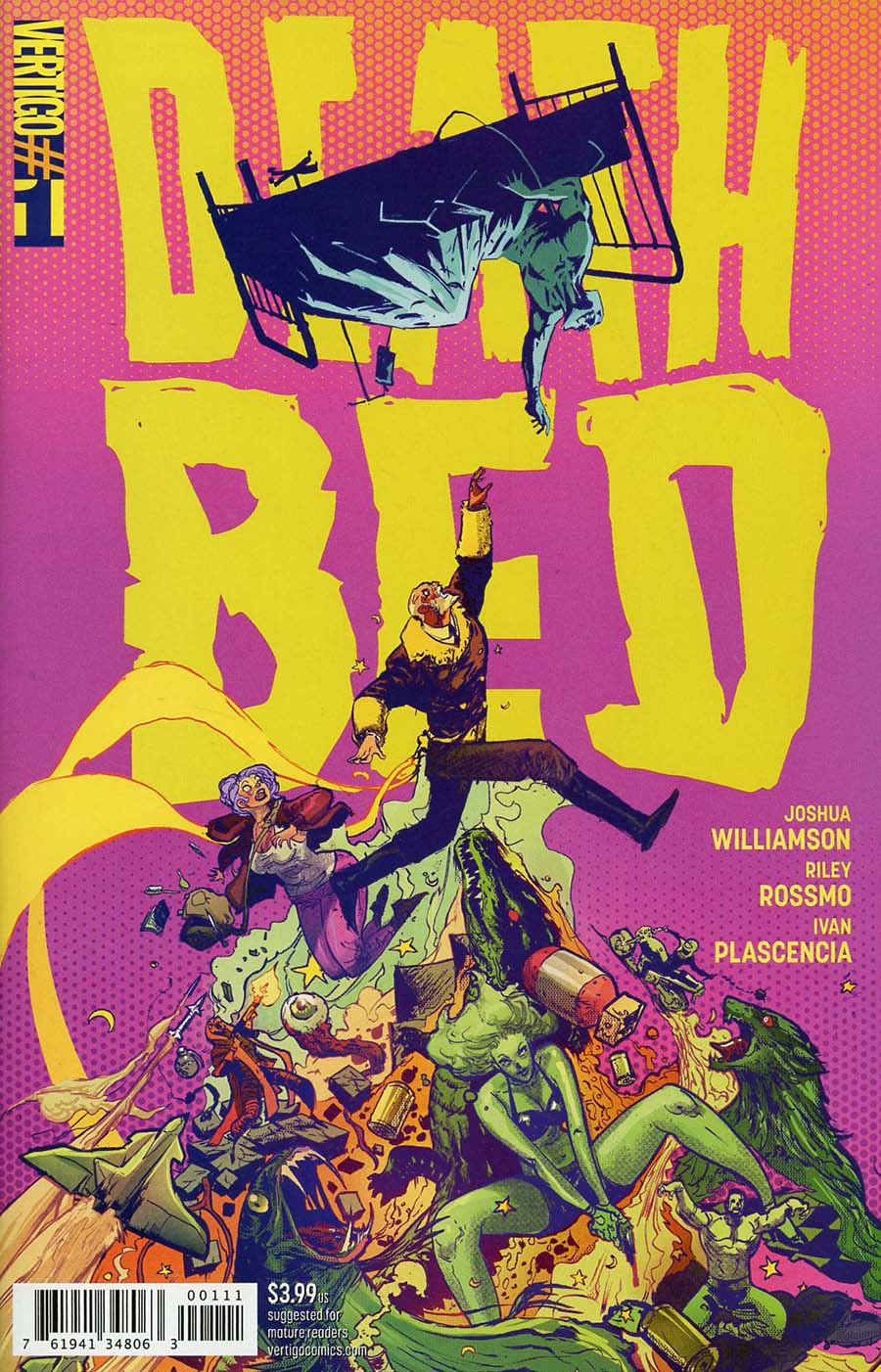 As the world's greatest living adventurer, Antonio Luna also had a legitimate claim to be the world's most interesting man. Described as a "myth, hack, sex symbol, stark raving lunatic" and worse, his life was the stuff of legend—or it was until he disappeared from the public eye 20 years ago. Now 90 years old, Luna has returned and claims to be on his deathbed. Reporter Valentine Richards is recruited to travel to Luna's remote estate and get the scoop, if there is one. Upon hearing Luna's tales, however, Val's career takes a turn for the far out as she is swept into "an insane world of psychedelic violence and explosive supernatural adventure."
Writer Joshua Williamson (The Flash, Frostbite) and artist Riley Rossmo (Batman/The Shadow, The Batman Who Laughs) team up to deliver a wild new series. I'm expecting Williamson to deliver a lot of unsettling twists and turns with these characters as Val unravels Luna's story (there has to be more going on with him than just 20 missing years, right?). And after enjoying Rossmo's art in Batman/The Shadow, I can't wait to see what he does when it's time to unhinge and embrace the weird.
Joshua Williamson (W), Riley Rossmo (A) • DC Comics/Vertigo, $3.99
– Karen O'Brien
Dust-Ship Glory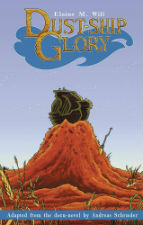 Elaine M. Will's Look Straight Ahead – an intense and inventive look at the experience of mental illness – was one of the first books I reviewed for Broken Frontier back in the salad days of 2013, and I've been a keen follower of the Canadian artist's work ever since.
Adapting the 1986 novel by Will's compatriot Andreas Schroeder, Dust-Ship Glory tells the true history of Damanus 'Tom' Sukanen, a Finnish immigrant farmer who, amid the dustbowl of the 1930s Canadian praries, took on the apparent folly of building a full-sized ship in his farmyard, hundreds of miles from the sea.
A former winner of the now defunct Xeric Grant, Will is a consistently interesting creator who deserves a much wider audience, and it's good to see Renegade putting a bit of, um, wind beneath her wings. As I wrote in my initial review of the first self-published part of Dust-Ship Glory, this is "a compelling character study in the hands of a supremely confident storyteller".
Elaine M. Will (W/A) • Renegade Arts Entertainment, $19.99
– Tom Murphy
The Beatles Story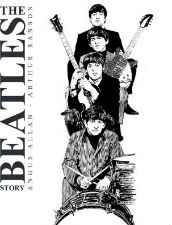 It's not as if Arthur Ranson is an unsung talent in the history of UK comics but sometimes it does feel like that recognition over the years should have been even more clamorous. This week sees the official release of another fine collection from Rebellion's Treasury of British Comics which showcases Ranson's art on a comic strip history of the Fab Four themselves – charting the story of The Beatles from their early days performing in Hamburg clubs to their seminal albums and their meteoric rise.
Written by Angus Allan, the strip was originally published in serial form in the pages of Look-In magazine in the 1970s. Given all our coverage of the Treasury of British Comics range here at BF over the last few months you probably know the drill by now. Make sure you take the opportunity to get your hands on yet another gorgeous publication bringing classic UK comics material to a new audience!
Angus Allan (W), Arthur Ranson (A) • Rebellion, £12.99/$17.99
– Andy Oliver
TrumpTrump Vol 1: Nomination To Inauguration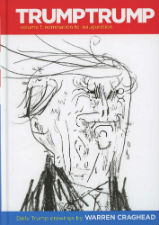 The inauguration of a new, hated US President will inevitably result in a surfeit of "satirical" liberal products featuring less-than-flattering depictions of the nascent commander-in-chief. As with George W Bush and Ronald Reagan before him, Donald Trump's hideous tangerine maw has been as unavoidable on television and print news as he is on t-shirts, in comic strips, on late-night talk shows and Comedy Central shows (a cafe down the road from me still has a signing hawking the best "covfefe" in East London). These parodies are often as exhausting and mentally draining as the tyrant themselves. Plus, you can't help but think the Artist of the Deal would somehow, begrudgingly, have a level of respect for the entrepreneurial sorts making a quick buck off of his divisiveness.
All of which is what had me initially writing off artist Warren Craghead's intention to draw a caricature of Trump every single day of presidency, documented on his TRUMPTRUMP Tumblr blog, with the first six months of the illustrations which accompanied Trump's ascendancy through the GOP to the highest state in the land collected here. Craghead, though, neither lampoons the white supremacist, migoynist, fascist demagogue in a way that softens those horrifying prospects into a recognisable comedic archetype, nor gives the monstrous capitalist the dignity of appearing human. His Trump drawings are truly grotesque, Ralph Steadman pencil sketches of a decomposing Western democracy, a suitably bleak and frequently nightmarish "witnessing" of history as it happens.
Warren Craghead (W/A) • Retrofit/Big Planet, $25.00
– Tom Baker