PRIDE MONTH 2023! One of the important aims of our Pride Month celebrations here at Broken Frontier this June was to emphasise the incredible diversity of approaches to LGBTQ+ comics work. We've covered material aimed at every age range from kids to adult readers, and including autobio, slice-of-life, alt comics, literary adaptation and photo-comics. What we haven't, as yet, explored is the world of genre comics. So today's subject, Basil and Oregano from Dark Horse Comics, allows us to tick that area off the list.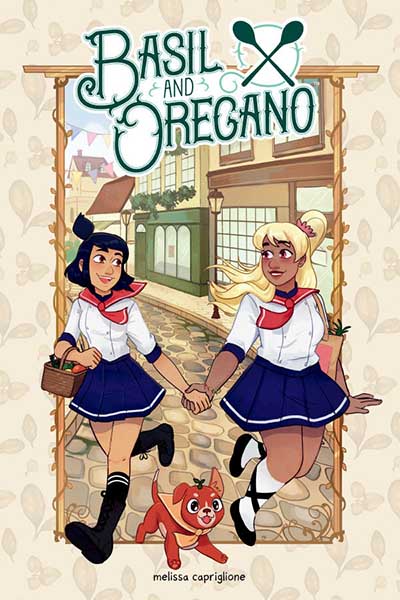 Melissa Capriglione's graphic novel revisits that much explored locale of the school for young magic-users but with a couple of important twists. Unlike a certain series of popular children's books this is an environment where representation is at the forefront of the narrative. Secondly, Porta Bella Magiculinary Academy is an institution with a very specific mystical remit. It teaches teenagers the art of cooking with magic.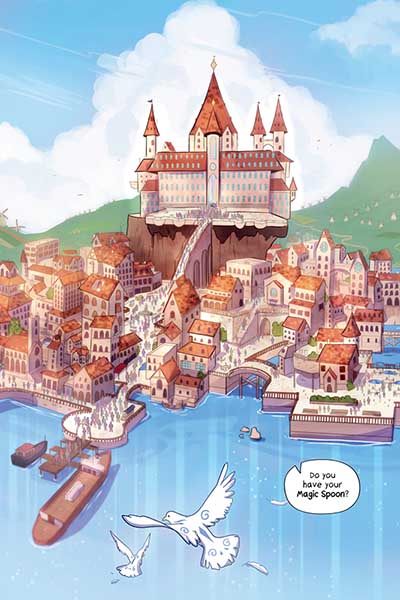 It's here that we meet Basil Eyres, a student whose scholarship will only be paid out if she comes top of her year. When Arabella Oregano, the daughter of a famous chef, arrives at the school Basil's place is threatened and she fears for the debt that it could put her Dads into. As Basil and Arabella become more attracted to each other it becomes obvious that Arabella has her own secrets. Ones that will threaten Basil's own future…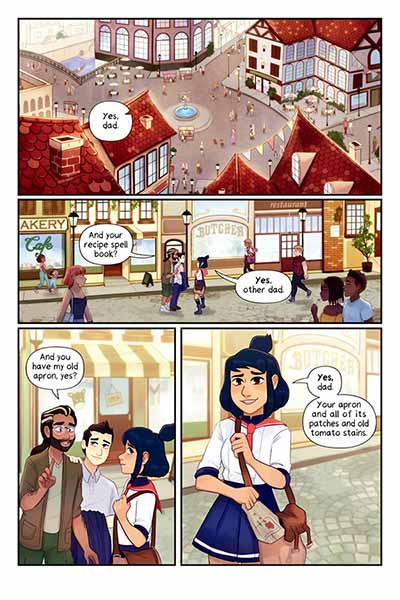 Importantly for its target audience, Capriglione provides us with an engaging cast of characters that looks to give every reader someone to identify with, including non-binary and trans friends Villy and Addy. In among all the spell-casting and magical explosions there are plenty of very relatable themes and subplots, including school rivalries, divorce, peer pressure and bullying. Capriglione's plotting and pacing allows the story to build up a careful narrative rhythm before the big reveals and that element of jeopardy Basil must face in the book's denouement.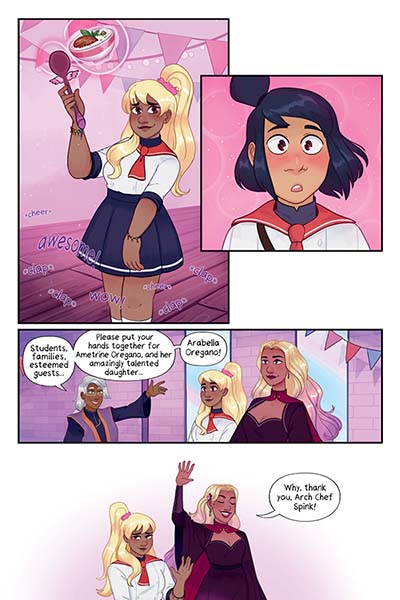 Capriglione's art focusses on characterisation over elaborate page structures. There's a careful eye to guiding reading speed; from the flash-bang excitement of the action sequences to the quieter and more considered character interactions. Basil and Oregano is more about accessibility than experimentation, with a storyline that is not densely or intricately plotted but instead holds our attention through its likeable cast and the familiarity of their struggles.
An engaging read for a younger audience with a worthy message about self-acceptance, friendship, and finding purpose. This is the kind of level of representation we need to see far more of in children's publishing.
Melissa Capriglione (W/A), Sara Todd (L/Flat colours) • Dark Horse Comics, $19.99
Publisher rating: Ages 10+
Review by Andy Oliver