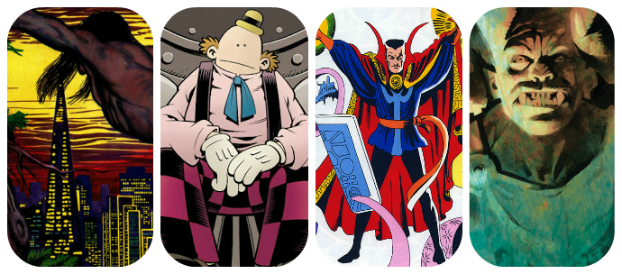 It's Wednesday, and you know what that means: a fresh load of comics and graphic novels! With so many publications hitting your local comics store or digital storefront, the BF staff is here to lead you through the woods with our weekly staff picks. Satisfaction guaranteed!
Comic of the Week
Fred the Clown: The Iron Duchess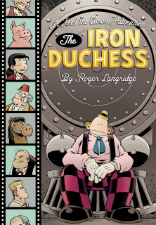 Officially debuting at SPX last weekend, The Iron Duchess is the first Fred the Clown offering from the fertile imagination of cartoonist Roger Langridge in a decade. Originally self-published online and in print, the titular character's misadventures were collected in a single Fantagraphics volume back in 2004 with Langridge receiving multiple Awards recognition for his work.
A hybrid of silent film tribute and the underground comics scene, this latest Fred the Clown book takes his Buster Keaton-influenced protagonist on another journey of violent slapstick, unrequited love and brilliant visual gags. You can also read the full story online here but we recommend grabbing a physical copy from Langridge's online store here. Watch out for a full Broken Frontier review in the very near future.
Roger Langridge (W/A) • Hotel Fred Press, £7.99
– Andy Oliver
Britannia #1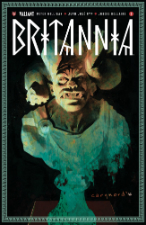 After several years of meandering through university, I finally decided to get a Classics degree and worked hard to earn a specialization in Ancient Rome. While that was nearly two decades ago now (and, with better post-academic choices, I'd likely be working in a museum in addition to writing comic book reviews), my studies awakened in me a passion for that bygone world that remains with me to this day.
Thus, it is with great excitement that I choose as my Staff Pick for this week the new Valiant series Britannia by the prolific and often controversial British writer Peter Milligan. Joining Milligan on this 4-issue mini-series are artist Juan Jose Ryp (Ninjak) and multiple-Eisner-Award-winning colorist Jordie Bellaire, forming a team that can surely deliver a unique and thrilling experience.
They take readers to the frontier of the Roman Empire during the reign of Nero, a realm of mystery and barbarism. Antonius Axia, an ex-soldier, is tasked with investigating strange supernatural phenomena that threaten to unravel the empire's fragile hold on its far-flung colonies in one of its most important regions – Britannia. In this pagan world of monsters, horrors, and magic, Axia encounters forces that will test both his resolve and that of the empire as well. Britannia is certain to be an exciting journey through the mists of time.
Peter Milligan (W), Juan Jose Ryp (A), Jordie Bellaire (C) • Valiant, $3.99
– Matthew Box
Kingsway West #2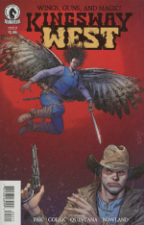 Last month this new gunslinger epic set in an Old West overrun with magic opened with a bang with a first issue that both lived up to the hype with an intriguing premise and established enough mystery to leave us wanting more. That's why the second installment makes its way on our list of comics not to be missed this week.
Kingsway Law heads back west in search of his missing wife with his new traveling companion, the swordswoman Ah Toy and her flying dragon, Zoszo. When they reach the town of Rio Chino they discover clues that she still lives, but just how far has she gone? And can they outrun the winged Buffalo Soldier named Strode and the Engineer's monstrous posse?
For a six page preview of Kingway West #2, be sure to check out Greg's post on Angry Asian Man blog.
Greg Pak (W), Mirko Colak (A), Wil Quintana (C), Simon Bowland (L) • Dark Horse Comics, $3.99
– Tyler Chin-Tanner

Tarzan: The Beckoning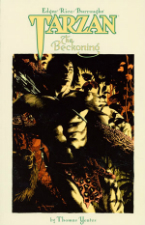 Originally published by Malibu Comics as a seven-issue series in 1992-93, Tarzan: The Beckoning is being released this week by Dark Horse Comics as a 208-page collected trade paperback. The story finds the ageless Tarzan and his wife, Jane, living in America and fighting the illegal ivory trade to stop the slaughter of elephants. Their quest soon draws the pair back to Africa as they become entangled in a dangerous web of intrigue that threatens their lives.
Artist Thomas Yeates readily admits that Tarzan is his favorite character. In a career that includes the creation of Saga of the Swamp Thing #1-8, 10-13 in 1982-83, Tarzan #1-6, 17-20 in 1996-98, and taking over the Prince Valiant comic strip from Gary Gianni in 2012, Yeates also worked on Groo vs. Conan with Sergio Aragones and Mark Evanier in 2014. His creation of Tarzan: The Beckoning came as a direct result of his prior work with the character, as Danton Burroughs called Yeates to request his work on the project.
This is the first time the epic tale has been collected in its entirety. Tarzan fans have had precious little on comic shop shelves of late, and they will definitely enjoy this modern classic.
Thomas Yeates (W/A) • Dark Horse Comics, $19.99
– Karen O'Brien
Doctor Strange Omnibus Volume 1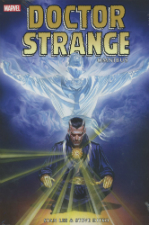 With the latest film in the Marvel Cinematic Universe imminent, a corresponding glut of Doctor Strange compilations are about to flood the book market. These range in quality from a volume of the easily forgotten The Secret Defenders through to some of the '70s best Strange stories in a new Epic Collection edition. But of all the Doctor Strange material you'll see this Autumn it's this first Omnibus volume featuring the character's first appearances from Stan Lee and Steve Ditko that you simply need to own.
This is Ditko at his trippy, brilliantly bizarre best in a set of stories from Marvel's 1960s Strange Tales series that include Strange's origin and an introduction to all those vital elements of his mythos – the Ancient One, Clea, Wong, Baron Mordo, Dormammu and more. And for those who worry about cracking the spines of some of the more unwieldy Omnibus volumes you can rest easy in the knowledge that this one has a far shorter and more manageable page count.
Stan Lee (W), Steve Ditko (A) • Marvel Comics, $75.00
– Andy Oliver