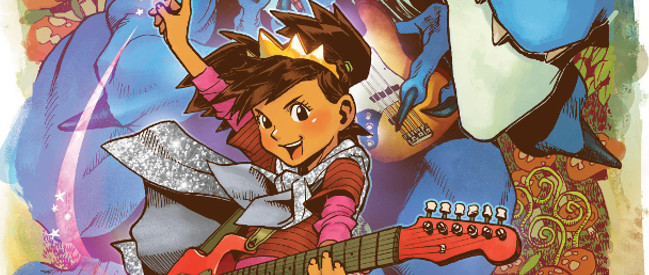 From big-screen dinosaur-fighting action in the 13th century to all-ages collaborations with songwriter Jonathan Coulton, you never know where Greg Pak's wondrous writing will take you next.
Greg Pak is contributing to the Broken Frontier Anthology, created to celebrate the magic of creator-owned comics. Check our Kickstarter campaign and please share it with your friends on social media using #BFanthology. You can find Greg on Twitter @gregpak.
Many fans are aware of Greg Pak's long runs on Marvel's heavy-hitting Hulk and Incredible Hercules, as well as his current Superman gigs in the pages of Action Comics and Batman/Superman. However, one need only look at his extensive list of projects in comics and film to see a truly impressive diversity in genre, tone, and character.
Thanks for taking the time to speak with us, Greg. Could you talk a little about the moment you first knew you wanted to write comics?
I grew up drawing and writing — my mom was the kind of mom who gave her kids crayons and blank paper rather than coloring books. So in a way I've been making comics almost as long as I can remember ,and I ended up drawing cartoons for my high school and college papers and beyond.
At the same time, I never thought about pursuing comics writing as a profession — I went to film school to become a filmmaker. But around the time I had my first feature film in festivals, my agent called up and asked if I'd be interested in talking with Marvel about writing comics. I said heck yes, had a bunch of meetings, starting developing projects, and ten years later here I am.
In your superhero work, I often see a fascination with strong, charismatic characters yearning to find a place for themselves in an unfamiliar world (Hulk, Hercules, and Superman, to name a few). What do you think makes these sorts of characters so compelling (and so ubiquitous)?
I think everyone on the planet feels like an outsider at some point. And everyone harbors this feeling or hope deep inside that we've got something to give to the world, that we're special in some way. Those are some pretty universal human experiences. And superhero comics provide a perfect venue to explore them.
In your recent blog post marking the end of your Turok run, you discuss your ongoing focus on representation throughout your creative career and the choices you made to help readers identify with the character (such as putting "foreign language" brackets around the Crusaders' dialogue). What kind of research goes on behind the scenes to create such authentic characters?
I don't know if I always hit the mark as squarely as I like, of course. But I do my best to research as much as possible.
For Turok, I bought a bunch of books about pre-Columbian America and the Lenni Lenape tribe in particular and about the Crusades. For Magneto Testament, I had a six-foot shelf of books and memoirs and testimonies about the Holocaust. And whenever I'm writing characters of backgrounds different from my own, I try to educate myself about the stereotypes and critiques and pitfalls in how these kinds of characters have been represented in the past.
But the most important thing, of course, is just to strive to see the world through your characters as human beings rather than icons or symbols or stereotypes. That's part of how the "foreign language" brackets around the Crusaders' dialogue arose with Turok. I wanted to immerse myself as a writer in Turok's point-of-view. The Crusaders were the foreigners in that story.
There's also a great sense of humor in all of your work, obviously in your collaborations with Jonathan Coulton (Code Monkey Save World and the recently funded Kickstarter, The Princess Who Saved Herself), but also in your more dramatic work. How does your creative process lend itself to bringing out the lighter side of a story?
I did improv comedy for many, many years in college and beyond. Appreciating the funny in everyday situations is probably just one of the things I'm wired to do. There's a bit of humor in everything I write, no matter how serious the book might be, because that's how life is, I guess. And there's some tragedy in every funny thing I write.
What can you tell us about your work for the Broken Frontier anthology?
I'm working on a story with the great Tom Raney called "Phantom Limb Ghostpuncher", about a man who discovers that his missing arm actually exists in ghost form — and can punch ghosts. It's a ridiculous idea I had and posted on Twitter a few years back, and Tom piped up and said he'd draw it. And we're finally going to actually do it! I can't wait.
What other current and upcoming projects should readers be on the lookout for?
There's the Princess Who Saved Herself children's book you mentioned. We're just about to print hardcovers! You can pre-order now at www.princesswhosavedherself.com.
I'm writing Action Comics and Batman/Superman, both of which have huge new storylines beginning in June. Storm #11 hits in May. And I have a few new projects I can't talk about just yet, but I'm very excited about them. I'll plug 'em all soon at www.twitter.com/gregpak.