Award-winning photographer Seth Kushner turns the lens on his own past in order to create Schmuck, the graphic novel based on his exploits after getting dumped by the woman he loved.
Schmuck will be released this September by Hang Dai Editions, an independent publishing company founded by Seth, Gregory Benton and Dean Haspiel. They're currently running a Kickstarter campaign in hopes of funding the project.
Seth reflects back on that time in his life and explains how he turned his "schmuckiness" into a graphic novel.
Broken Frontier: Schmuck is obviously a very personal work based on your experiences after being dumped by a woman you loved, but you describe it as "semi-autobiographical". How closely do the exploits of the story's protagonist, Adam Kessler, follow reality?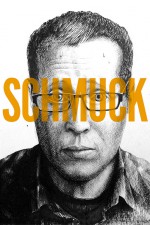 Seth Kushner: Everything in Schmuck actually happened. I originally wrote it as a straight memoir, but I felt "shackled" to the truth and that was stifling as a writer. When I finally decided to add the word "semi" in front of autobio, and change my protagonist's name from "Seth Kushner" to "Adam Kessler", it freed me up to write a 'story.'
I make no secret of the fact Adam is me, but he's me 12 years ago. Or, at least he's my perception of myself at that time of my life. I titled the work, "Schmuck" because I was one. I was schmucky for years, and in 2002, that schmuckiness finally caught up to me, and I had to face it. I had to grow up and grow into a guy who could be less of a schmuck. It was a two-year journey, and it's that period on which my narrative focuses.
While everything in Schmuck is based upon reality, I like to say it's more emotionally true than factually. Names have been changed, various friends and women I dated were combined, timelines changed, etc., but the schmucky journey remains.
You had originally intended Schmuck to be a novel. What made you switch gears to a comic and in what way to you feel the story suits this medium?
Kushner: I spent five years writing Schmuck as a prose novel, all the while thinking I was writing the great American novel. What I really had was 392 pages of raw narrative that was too sarcastic and angry. Part of it was written while the events were actually occurring, while I was single and miserable, so that might explain the tone.
It wasn't until 2008 when I began working with and befriending the amazing comic book creators on the project that would become my book, Leaping Tall Buildings: The Origins of American Comics (with Christopher Irving, powerhouse Books, 2012), that I had the notion of turning my story into a comic.
I've been a comics fan all my life. Comics are actually my first love, even before photography (my "day job"), so obviously the same holds true for my main character, Adam. His love of comics is referenced throughout Schmuck, most notably in the episode taking place at a "gentlemen's" club (drawn by Christa Cassano) where Adam and a stripper bond over a shared love of comics during a lap-dance (true story).
I saw Schmuck as an opportunity to do something in comics, the industry I've only looked at from the outside in. I've long loved autobio comics like Harvey Pekar's American Splendor, Bob Fingerman's Minimum Wage, Chester Brown's Yummy Fur, Craig Thompson's Blankets and I figured maybe there was room for a Schmuck in that esteemed group.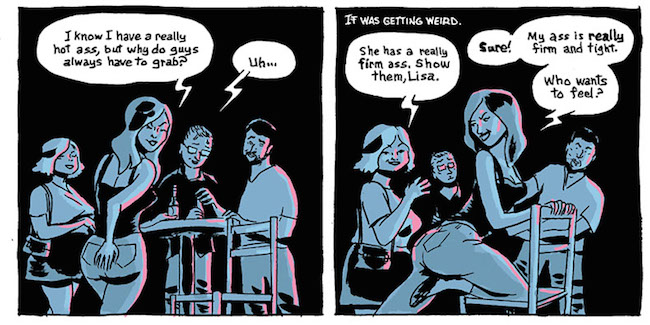 What was your process like learning to write a comic script? What resources did you use?
Kushner: When I began adapting my manuscript to comics format, I had no idea how to write a comic. Sure, I had read thousands of comics, but never written one. Using Brian Michael Bendis' Powers Script Book, a Neil Gaiman Sandman script found in the back of one of his trades, I learned how to form a comic script. I learned how a writer must pre-envision the layout of the page, deciding how many panels to use, whether horizontal, vertical, some combination, and also what will be told in dialogue, caption or through art. There was definitely a learning curve.
Over a week's time, I eked out 17 pages of comics script from my prologue. It was challenging but a real learning experience. I felt pleased when I read it over, but my lack of experience left me wondering if it was actually any good. I sent an email to my good friend, cartoonist extraordinaire Dean Haspiel and asked if he'd mind taking a look.
Dean (God bless him) came back with great, constructive feedback. He instructed me to be careful about using too many words, a mistake many novice comics writers make. He told me not to be afraid to let the pictures tell the story, since there's no reason for the text to describe what's already seen. He also pointed out I was using too many panels per page. The average is usually five panels give or take.
I took another crack at it, eliminating as many words as I could. Dean was right (of course!) and I could see how there was no need for the caption: "He opened the door," if the panel shows the character opening a door. Duh. I also broke up some pages into two, allowing the whole thing to breathe. Dean explained the need for finding the beats of the story and figuring out the best place to end each page on a cliffhanger of sorts.
Schmuck was originally presented as a webcomic on Trip City. How was this helpful in getting the comic started? Did you make any changes to content or format for the graphic novel?
Kushner: Schmuck is presented on Trip City as a series of bite-sized schmucky shorts, meant to be read individually. The book will be a different animal. First off, they will be presented all together, 21 stories in all, and placed in a particular order so that the reader will be given a narrative journey with a beginning middle and end. Also, most of the Schmuck stories appeared online in black & white while for the book, they've been colored.
Finally, there will be several stories in the book that have not appeared online, including a prologue drawn by Gregory Benton (of B+F fame) about my Bar Mitzvah that helps to create a context for the book, and the final two stories that give readers the ending. The penultimate chapter is a superhero homage drawn by the legendary Tony Salmons and James Smith (Gang of Fools) and the final chapter is drawn by one of my favorite cartoonists, Josh Neufeld (A.D.: New Orleans After the Deluge).
I like to think of the online version as beta testing. The book is the real and final version. It will be a beautifully designed package by Eisner Award winning designer, Eric Skillman, who designed my book Leaping Tall Buildings and who does all those stunning Criterion Collection DVD packages. The cover on the Kickstarter exclusive version is by Dean Haspiel and the cover on the general release trade paperback version is by Joseph Remnant (Harvey Pekar's Cleveland). Both covers are beautifully schmucky. Also, Jonathan Ames, one of my favorite authors and a major influence on my writing, is writing the forward.
You've had quite a number of talented artists work on Schmuck. What was it like working with 22 different artists on one project? Did you change your collaboration process from artist to artist?
Kushner: Working with such an array of artistic talent, from super-talented newcomers like Shamus Beyale to acclaimed seasoned pros like Nick Bertozzi was an amazing experience and I learned from every one of them.
I did my best to match up a particular story with the right artist. For example, one very tragcicomical story is about a double date gone very awry when the girl Adam is dating fixes up his friend with her very unattractive girlfriend. Obviously, this could be very touchy because of how the unattractive friend would be portrayed, which is why Stephen DeStefano ('Mazing Man, Lucky in Love) was the perfect artist because of his crazy but classic cartoony style. He amped up the comedic elements by making the girl so hideous one can't help but laugh.
Every collaboration was different. Some artists showed me sketches and layouts prior to drawing, others simply delivered final art. Nick Bertozzi (The Salon) who is one of the finest and smartest storytellers in comics, came back at me with script notes on how to strengthen my narrative. He was spot-on with every note! I made the edits and then he came back at me with more notes, again, all spot-on. I sent them off and then I didn't hear from Nick for a while and I was about to check in when he sent me the final art, lettered and colored and amazing.
Making Schmuck was like comic book school for me, and the experience has prepared me to graduate to other projects.
Kushner: Back in 2008, when artist Kevin Colden (The Crow) was drawing the very first pages of Schmuck for a pitch to publishers, Dean Haspiel said to me, "You're a photographer, your main character is a photographer, why aren't there photographs?" Yeah, why weren't there photographs? So, I planned out a flashback sequence that would tell the story of my relationship with my ex-girlfriend, to illustrate the back-story. I called upon some friends to play the roles of me and "Jenny." It was a very odd experience recreating moments of my past for the shoot, but I pushed the nostalgia aside and got to work.
I decided to utilize a style of imagery that is obscure with lots of shadowing and blurring to create a dreamlike effect representing hazy memory. The photos are laid out in a fumetti style, blurring the lines between art and reality, fact and fiction. These pages eventually became the third chapter of Schmuck, for which Dean recently drew bookend pages of Adam telling this story to his therapist.
Now that you've had some time to reflect on that time period, as well as creating a graphic novel about it, what would you say are the biggest things you learned from that experience? Anything you'd like to pass on to other people?
Kushner: So, this is a real-life question not a comics one? I think my Schmuck years were a necessary thing for me. I think we all have to have it tough sometimes in order to appreciate the good times. I think the situations I endured while looking for love are universal and I think schmuckiness is too. My writing about this period was therapeutic and there was an element of making lemonade from lemons. That's a good thing.
One interesting thing to note, while I had revelations about my life at the time, I also had some important ones while writing the comics. I wrote the penultimate chapter just a few months ago. In the story, Adam has a dream where he's a superhero called "The Schmuck" and he has to confront supervillain versions of all his ex-girlfriends.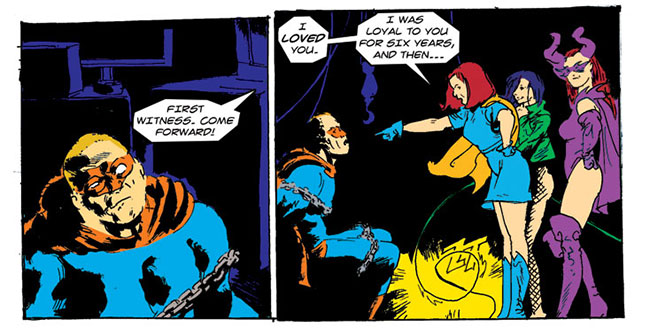 I had the concept before I started writing, but as I was typing the words coming out of the mouths Adam and the girls, I had a major revelation, just as Adam did. Even after years of actual therapy, something new occurred to me while writing a comic, and right then and there, after 11 years, I had a deeper understanding of how and why I ended up in my schmucky situation. It was kind of amazing. So, I encourage everyone to write their stories!
How does the Kickstarter campaign and eventual publishing of Schmuck tie-in with the future of Hang Dai Editions and what can you tell us about the future plans of this publishing company?
Kushner: Hang Dai Editions began a dream shared by Dean Haspiel, Gregory Benton and me. Josh Neufeld joined us later, with the same dream We all have signature, personal works we want to produce and we want to make them on our terms, which means we need to be our own publishers. So, we created Hang Dai as the banner under which we plan to do it.
We four began this new imprint by producing one floppy comic each – Dean made Psychotronic Comix, Gregory Force of Nature, Josh Vagabonds #3 and I did Schmuck Comix. Also, the imprint is about to debut the anthology, Hang Dai Studios Comix at MoCCA Fest in April. We printed a limited amount of these floppies, on the fairly cheap, and we're putting them out into the world by offering them at cons and various public appearances. We've been referring to this as "HDE Phase 1."
Phase 2 would be to make books, which is our ultimate plan. Books are much more expensive than floppies, and we want to distribute them to stores, Amazon, etc., so a large amount of money would be needed in order to properly produce each book. Since we have no capital, I am turning to Kickstarter to make Schmuck. My project is the first one ready, so I guess I'm the guinea pig! It's an experiment to see if the Kickstarter model can work for us. Should the campaign prove successful (fingers crossed!) you will surely see more books coming from the imprint in 2015.
To find out more about Schmuck and to support Seth Kushner's campaign, please visit their Kickstarter page. Also, check out the Hang-Dai Editions website to see more about their future publishing plans.