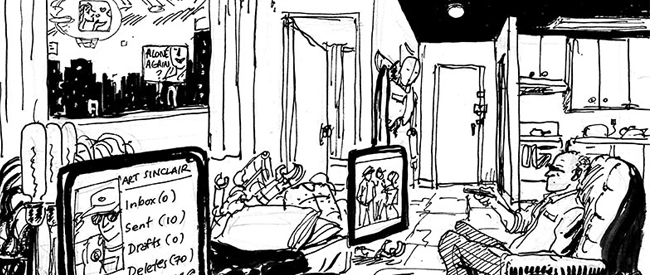 Noel Tuazon has made a name for himself with one of the most distinctive styles in the business. His work on such celebrated books as Tumor (with Joshua Hale Fialkov) and The Broadcast (with Eric Hobbs) never fails to deliver atmospheric settings and expressive characters – this despite an artistic style that has been described as a little rough around the edges.
Noel Tuazon is contributing to the Broken Frontier Anthology, created to celebrate the magic of creator-owned comics. Check our Kickstarter campaign and please share it with your friends on social media using #BFanthology. You can find Noel on Twitter @NoelMTuazon.
Most recently, Tuazon's work has appeared in a number of different anthologies, including two collections published by Red Stylo Media – the first (with writer Bobby Breed) dedicated to the music of Queen, called Killer Queen: A Comic Anthology, and the second, a Frankenstein-themed book called Unfashioned Creatures, with writer James W. Powell. Tuazon has also appeared in Monstrosity Vol. 2 with writer James Turner.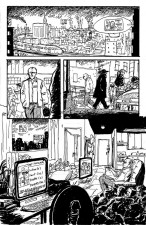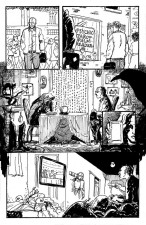 It is this dedication to his unique artistic vision, while balancing the needs of the story, that continues to draw readers in, with a quirky visual tone and clear storytelling. The Broadcast remains a masterpiece of suspense, while the gritty noir setting found in Tumor oozes atmosphere and features a wonderful sense of depth and attention to detail seldom found in the medium.
Paired up with critically-acclaimed writer A. David Lewis for our anthology, Tuazon looks forward to exploring the Golden Age of comics and took some time away from the drawing board to discuss his current projects and upcoming work on the leading edge of comics' "broken frontier".
Noel, please bring us up to speed…What are you working on currently?
I'm juggling three projects for now. Two are children's books while the other is a 70-page graphic novel. Or maybe that's a "graphic novella". One of the children's book projects involves dogs (with writer Katy McDermott) while the second (by Scott Sussman) is more in the fantasy/ sci-fi genre. The graphic novel/novella is written is by Patrick Kindlon and I'm still trying to figure out what it's exactly about.
You've garnered a lot of critical praise for your last two OGNs, the Eisner-nominated Tumor with Joshua Hale Fialkov and The Broadcast with Eric Hobbs. Do you have any plans to return to the longer format in the near future?
I do, but I'll need to make sure the schedule fits my 9-5 job at an animation studio and, hopefully, have a writer & publisher patient enough for any late pages.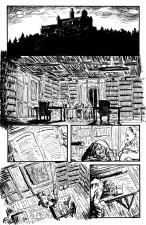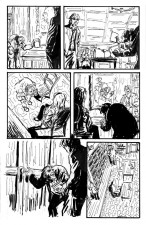 You have extensive experience in animation, thanks to your work with Nelvana. How does animation – related to but far different from comics – impact your drawing style?
Well, I should clear up that I only do storyboard clean-ups in the studio, but it has really helped in the way I pace my comic pages, along with the depiction of expressions on the characters I draw in comics.
You have a very distinctive artistic voice that on the surface appears "scratchy" or "rough around the edges", yet still manages to convey loads of emotion, depth, and detail. Do you feel there is a lack of unique/original artistic voices among today's comic book artists?
I think there are more original artistic voices among today's comic book artists. There are guys like Jeff Lemire and Matt Kindt, for example, whose drawing styles I find refreshing. I actually prefer it when they illustrate their own stories rather than giving the script to other artists. There's also the European, Gigi, plus the roster from publishers like Drawn & Quarterly, First Second, and Top Shelf.
What artists did you turn to for inspiration in the development of your own style? Who excites you today?
First that comes to mind is the late Jeffrey Catherine Jones and his studio mates, Michael W. Kaluta & Bernie Wrightson. There's also Jon J. Muth & Kent Williams from their late '80s period. Man, too many to mention! I can't forget the EC Comics artists and illustrators from the golden age of illustration.
Ones whose works excites me today are, again, Gipi, Lemire and Kindt. Francesco Francavilla and Jillian Tamaki are others, plus I still purchase works from Chester Brown, Seth, and Paul Pope.
You've been paired with A. David Lewis (The Lone and Level Sands, Some New Kind of Slaughter) for the anthology. How much do you know about the story you will be collaborating on? How do you plan on approaching the material?
For now, all I know is that it deals with a character from the Golden Age of comics named Kismet, as well as one of his descendants – the grandson, Qadar. The elder Kismet went under the name, Kismet: Man of Fate and he appeared in Bomber Comics. I'm unsure yet as to how I'll approach the material. Once I get the script I'll start figuring out what style/look I'll be giving ADL's story.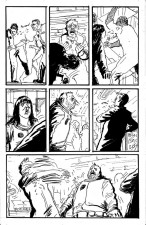 You've appeared in a number of collections over the past few years. What do you find so attractive about anthology projects?
I find it's a good break from the longer format, plus I enjoy being part of a project involving other creative people.