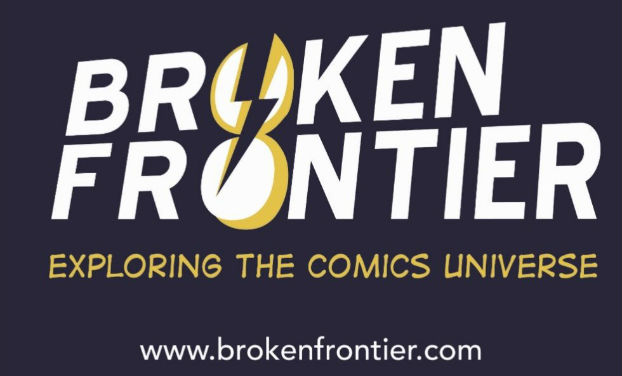 PINNED POST! Introducing Broken Frontier Connects, the next stage in our evolution!
Broken Frontier Connects is our new initiative designed to extend our community hub philosophy. BF already has an established history of community activism including our annual "Six Creators to Watch" mentoring programme, event partnerships with shops and festivals like Gosh! Comics and ELCAF, running communal tables at comics fairs, and hosting panels designed to support emerging creators at cons, in stores and at festivals. From 2023 we want to expand that work in the ways outlined below. This is, by definition, an ongoing work-in-progress so your input is appreciated and valued.
Broken Frontier's current mission
To spotlight work that embraces the unique language of comics, focussing on indie, micropublished, self-published and alternative comics
To act as a community hub, bringing together all areas of the scene including practitioners, publishers, organisers and retailers
To actively champion exciting emerging and/or underappreciated artists
To embrace a socially conscious ethos that seeks to prioritise, where possible, the work of marginalised voices in comics
Broken Frontier Connects and its core aims
To work more closely with publishers, especially in regards to promoting the work of marginalised creators
We have already started offering Zoom call meetings to publishers to discuss how we can work together to better promote work from marginalised creators and material with a socially relevant focus. We are happy to run advance previews of comics/graphic novels that fit into this category, try to set up interview coverage, and run creator commentaries as well. Advertising slots on BF will also be offered for free to publishers wanting an extra spotlight for socially conscious books.
To offer more opportunities to emerging artists
From this year we will be looking to set aside a Broken Frontier Connects Day a couple of times a year for emerging voices in the self-publishing scene to book short 1-2-1 Zoom meetings where we can chat about their work. The core aim here is to offer advice from our many years of experience in getting artists in front of publishers on how to promote their work, how to build up a network in comics, raising their profiles, and talk about routes into publishing. Outside of free portfolio review opportunities at cons/festivals meetings like this can be prohibitively expensive so this will be offered for free in line with our community ethos, along the lines established by the ELCAF Springboard meetings. Curated advertising is already free for marginalised creators and we will continue to offer this.
Prioritise and expand our socially relevant resource lists
Over the last two years we have been tagging articles to create resource lists of socially relevant comics material. These include, among others, the subject areas below. We will be looking to prioritise this exercise, including older publications where appropriate, and we welcome coverage submissions.
Liaise with academic institutions, libraries and organisations involved in social activism
We have begun a programme of guest presentations at UK academic institutions with comics-based courses. This covers Broken Frontier's work with an emphasis on advice for aspiring creators. Our presentation lasts around 45 minutes with 15 minutes for questions and is provided to form links between BF and new voices in the medium.
A number of academic libraries are already using our resource lists for collection development and we will be aiming to foster more links in this regard. We have established relationships with organisations who use comics as part of their social activism, including refugee charities and LGBTQ+-focussed groups, and will continue to proactively approach other relevant institutions to discuss ways in which we can partner with them.
Please contact our Andy Oliver at andyoliver@brokenfrontier.com if you would like to discuss any of these opportunities in more detail.
And, please, spread the word!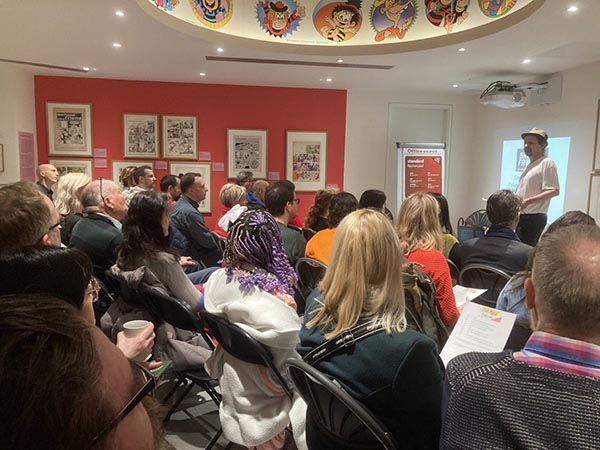 Broken Frontier's Andy Oliver presenting at the Cartoon Museum Conference in February this year
What commentators say about Broken Frontier:
"There's a good chance that without [Broken Frontier], Avery Hill wouldn't exist" – David White, co-founder and co-publisher of Avery Hill Publishing
"The Broken Frontier team are my first port of call for upcoming work… delivering the most provocative, engaging and beautiful reviews and discoveries the world has to offer" – Sabba Khan (The Roles We Play/What is Home, Mum?, Myriad Editions/Street Noise Books)
"Can I recommend that you follow Broken Frontier? It's a marvellous celebration of the endless creativity of comics" – Ian McMillan, BBC Radio Presenter (The Verb), writer and poet